This week's episode of "Saturday Night Live" parodied Republican front-runner Donald Trump's controversial statements about women in a spoof of CNN's "At This Hour" with Kate Bolduan (Kate McKinnon).
The clip featured female Trump supporter, Scottie Nell Hughes (Cecily Strong), who defended the candidate even after Bolduan showed her a clip of Trump (Darrell Hammond) leading at "women suck" chant at a campaign rally.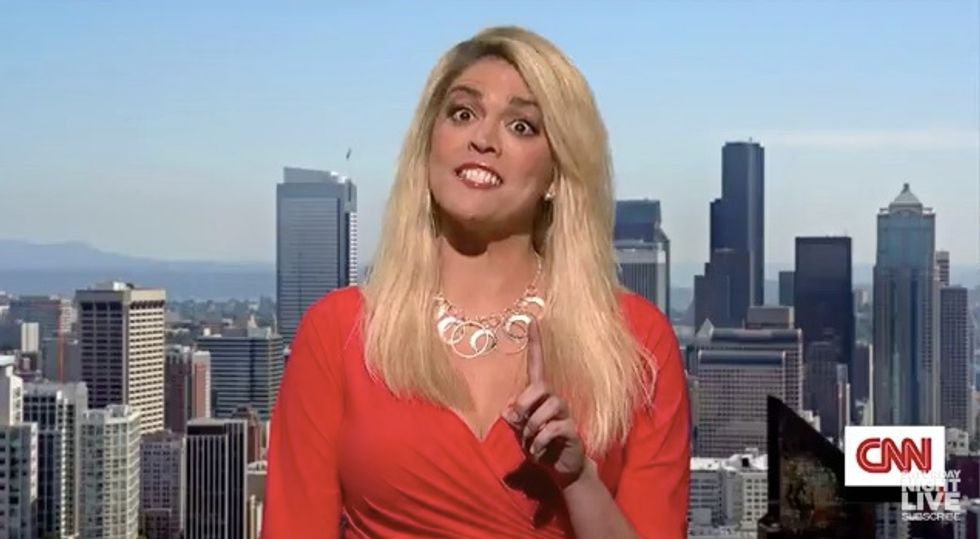 Image source: YouTube/'SNL'

"As a woman, I like Donald Trump, but as a full-blown nutjob, I freakin' love him," Hughes (Strong) said.
The day after the episode aired, the real Scottie Nell Hughes appeared on CNN. Hughes, who saw the parody, had a surprising reaction.
"You know, I have a great sense of humor. My mother loved it — she thought it was the funniest thing; she's gonna watch it every morning," Hughes, a longtime conservative, said.
Despite being called a "full-blown nutjob," the political radio commentator said, "you've gotta have a sense of humor and laugh about yourself."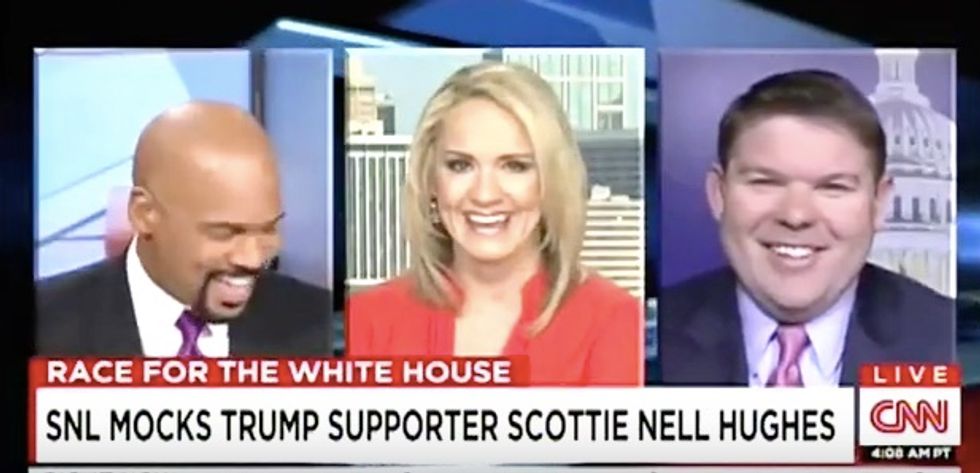 Image source: YouTube
Hughes was not, however, entirely pleased with the premise of the skit.
"Talk about the ultimate shaming, the ultimate sexism," she said Sunday. "What does 'SNL' want me to do, be barefoot and pregnant or maybe just talk about parenting issues?"
After her appearance on CNN, Hughes spoke candidly with TheBlaze about how she was portrayed.
"You've never known 'SNL' to parody any conservative in a positive way — either male or female," she said, adding, "I don't get paid to be positive about Mr. Trump. I've never been paid by him."
Hughes, a mother, wife, small business owner and political activist said that she tries to be respectful to people when discussing issues she cares about.
"I'm a little shaken after this," she said of the "SNL" skit. "I had no idea this was coming."
Since the episode aired, Hughes shared that "tears have been shed" and friends have reached out to ask how she is doing.
"Those who know me know that I'm actually a very insecure person. I read every tweet," she said.
One dig that particularly struck Hughes was the implication that she lacks intelligence. Hughes, who paid her own way through college with academic scholarships and graduated magna cum laude from the University of Tennessee, shared that she wants the Republican party to be united and strong for the sake of her children's futures.
The mother of two recalled that while she was watching the spoof, her daughter asked her, "Why do they think you're crazy?"
"So that was hard," she said. "I had to explain that mean people and bullying doesn't stop in elementary school. It continues throughout your life."
The blows that hurt the most, according to Hughes, are the attacks she receives from the conservative media.
"I've always been in the conservative movement," she said. "I feel like we're all a part of the same family and our family is currently divided."
Hughes shared that she has "always been optimistic that we can have unity" within the GOP, but, she noted, "that doesn't make headlines."
Watch: