This week's episode of "Saturday Night Live" kicked off with a cold open spoof of CNN's "At This Hour" with Kate Bolduan (Kate McKinnon) in which female Donald Trump supporter Scottie Nell Hughes (Cecily Strong) defended the Republican front-runner's controversial comments about women.
"As a woman, I like Donald Trump, but as a full-blown nutjob, I freakin' love him," Hughes said.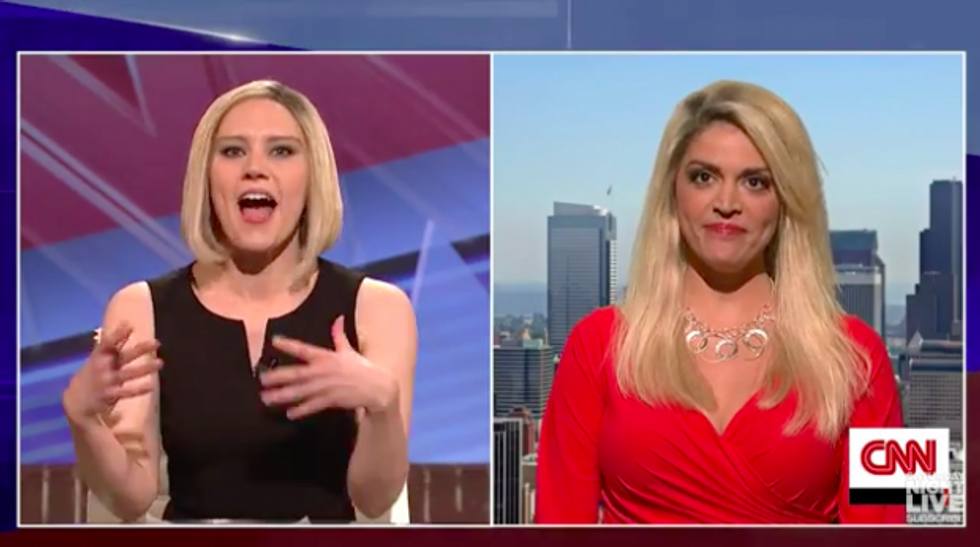 Image source: YouTube

After her guest expressed her avid support for Trump, Bolduan mentioned multiple instances in which Trump's behavior was deemed misogynistic.
"As a woman, how can you keep defending Mr. Trump? He retweeted a sexist, unflattering photo of Ted Cruz's wife," Bolduan noted, referring to an incident last month for which Trump has since offered a public apology.
Hughes then proceeded to rationalize the tweet, which Trump confessed was a "mistake" in an interview with the New York Times published Saturday.
"Okay, so that was an accident. Okay, 'cause Donald's hands are just so big, he can't see every little tweet his fingers retweet," she said, defending the subject that in the past has been a sore spot for the candidate.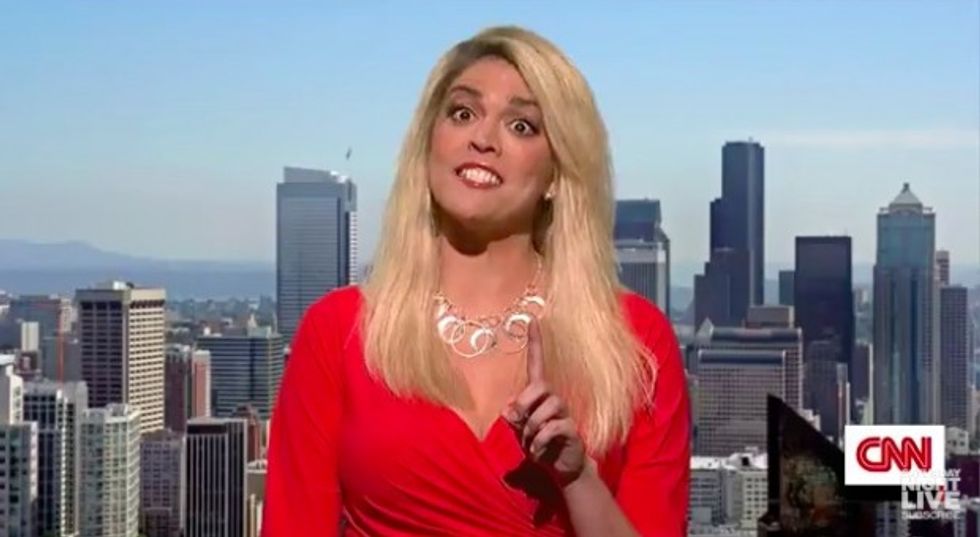 Image source: YouTube

When Bolduan pressed Hughes on Trump's recent proposal that entailed "some sort of punishment" for women who have abortions, she claimd Trump was "just making an April Fools' joke because it was April Fools' Day." Bolduan then corrected her guest, noting that it was actually March 30.
CNN then cut to a clip of Trump (Darrell Hammond) making inappropriate comments at one of his rallies about his daughter Ivanka.
"Isn't my daughter Ivanka the best?" he asked a crowd of supporters. "She's so smart, so talented — and what a rack. And she just had a baby, can you imagine that rack now? It is just tremendous."
"At least Donald Trump is creating a dialogue about women," Hughes responded. The show then cut to the same clip, which showed Trump leading the crowd in a chant: "When I say women, you say suck!"
"Okay, well Kate, some women do suck, okay?" Huges asserted.
She concluded by offering her final three-point case for Trump:
"One, he is drop-dead gorgeous. Two, he is bringing trade back, so we can make American grapes again," Hughes said. "And three, he is way better than Ted Cruz."
Bolduan expressed her disapproval for every point except the last one regarding Cruz.
Watch: