The head of the North Atlantic Treaty Organization argued that defense alliance of the U.S and allies "is as important as ever" when asked about comments by Republican presidential frontrunner Donald Trump about exiting NATO.
NATO Secretary-General Jens Stoltenberg was at the White House Monday where he met with President Barack Obama and Vice President Joe Biden before speaking to reporters outside the White House. He declined to directly address Trump's comment, but in response, talked about the importance of the organization.
He called it the "cornerstone" of cooperation between Europe and North America in the fight against terrorism.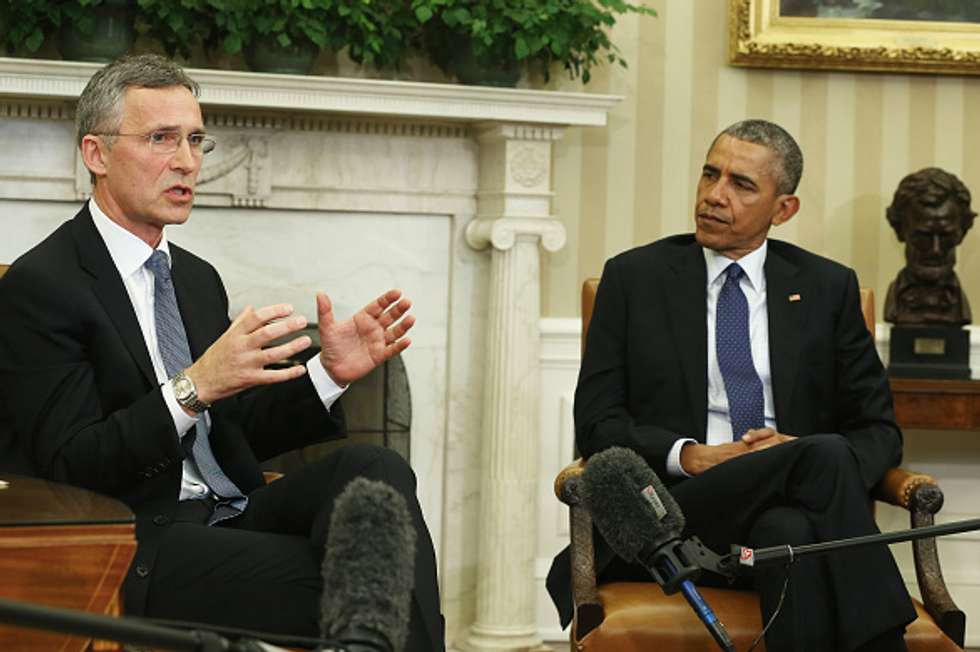 President Barack Obama (R) meets with NATO Secretary General Jens Stoltenberg in the Oval Office at the White House on April 4, 2016 in Washington, DC. Obama and Stoltenberg discussed how NATO could assist in training troops to fight ISIS. (Mark Wilson/Getty Images)
Last month, Trump questioned the need for the United States to have membership in NATO, arguing, "It's a different world today." He further complained that the United States is carrying too much of the defense burden.
TheBlaze asked Stoltenberg if he was concerned that the leading Republican presidential candidate talked about withdrawing from NATO.
"I will not comment on the election campaigns in the NATO allied countries," Stoltenberg told TheBlaze. "I will not be part of the U.S. election campaign. It's up to the American people to decide. I will not be part of a U.S. election campaign. What I would like to do is say what NATO is doing. NATO is as important as ever, for North America, the United States and Europe because we live in a more dangerous world.
"We are standing together in the war against terror," the secretary general continued. "That is important for the United States and for Europe. We have been together in Afghanistan fighting terror for many, many years and soldiers from Canada, Europe, have paid the ultimate price in the fight against terror in Afghanistan."
He noted that the trend of defense cuts by European allies have been reversing. Further, he said that NATO has made a special commitment to the United States.
"Our presence in Afghanistan is a dire response to an attack against the U.S., 9/11, and is the only time NATO has invoked our collective defense tools," he continued. "And we stand together of course when it comes to responding to Russia, implementing assurance measures, increasing our collective defense. All of this is important, both for North America and for Europe and NATO is the cornerstone of cooperation between Europe and America."
At a campaign event in Wisconsin Monday, Trump repeated his criticism of NATO.
"We are paying a tremendous amount of money for NATO and it's not fair, folks. It's not fair," Trump said. "And I would get together and I'll say to the countries that haven't paid and are paying not their fair share, and they know they're getting away with murder, but why should they do it? Nobody calls and talks to them and says we're defending you and you're not paying."
The meeting between Obama and Stoltenberg was scheduled early in the year, according to the White House.
"This meeting was on the books long before Mr. Trump's ill-advised comments of the importance of the US-NATO partnership," White House press secretary Josh Earnest said Monday. "I don't have a detailed readout of the meeting, but I would be surprised if Mr. Trump's name came up."
Obama will travel to Warsaw in July for the NATO Summit, marking the organization's 67th anniversary. After the bilateral meeting, Obama told reporters, "NATO continues to be a lynchpin, a cornerstone."
Obama also praised NATO's assistance in Afghanistan.
"NATO has obviously been an extraordinary partner with the United States," Obama said according to the press pool report. "We are grateful for the sacrifices that NATO countries have made. The men and women have fought alongside US troops. They have fought together and they've died together."
This post was updated to include a comment by Donald Trump.