A black female rapper who at one time demanded $100 trillion in slavery reparations is now going after former 2008 vice presidential candidate Sarah Palin, saying she should be gang-raped by black men and "then be locked in a cupboard."
In a stream of tweets, rapper Azealia Banks' suggested that Palin "needs" to have her head shaved and be forced to perform oral sex on black men before "you start talking s*** about 'black people willingly accepting slavery.'"
The tweets were deleted shortly after being posted, but the Media Research Center captured screenshots of the messages.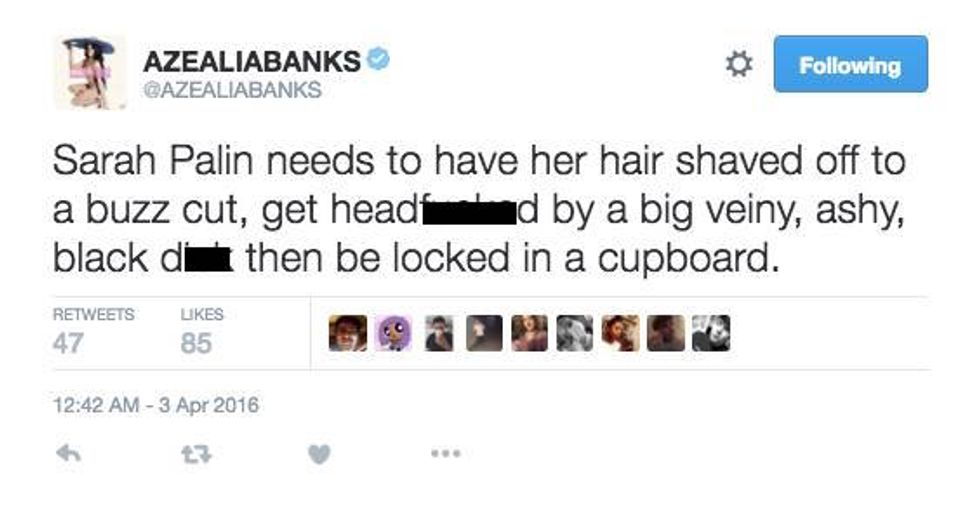 Image: Twitter @AZEALIABANKS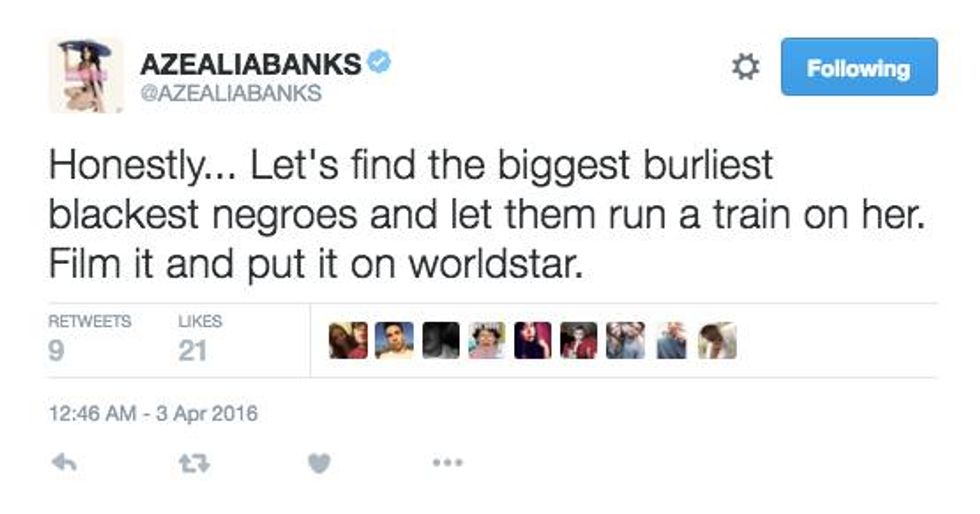 Image: Twitter @AZEALIABANKS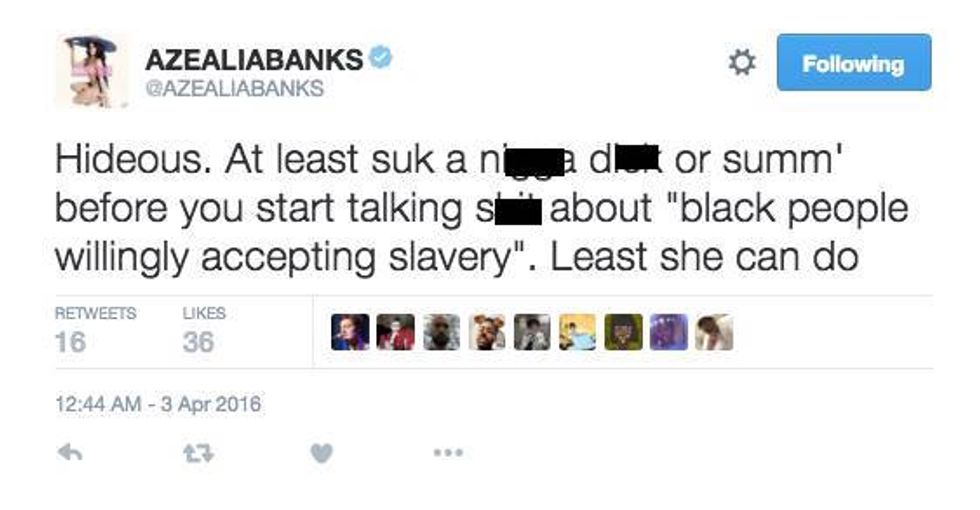 Image: Twitter @AZEALIABANKS
Banks also said the video of the obscene acts should be uploaded to WorldStarHipHop, a site known for publishing clips of graphic violence.
It seems the provocative performer believed a satirical article about Palin, a top supporter of 2016 candidate Donald Trump, was true. In the article, published last month by satire site Newslo, it says that Palin said "slavery wasn't forced onto African-Americans" and "negroes liked it."
Apparently, when Banks realized the story was fabricated, she deleted her tweets and followed them with a simple two-word message: "I can't."
At the time of publication, the rapper has not issued an apology for suggesting Palin "needs" to be raped.
This comes days after Banks, who also supports Trump, reiterated why she is voting for the billionaire candidate: "Minorities have been voting democrat for the last 60 years and have nothing to show for it. let's try something new."

Image: Twitter @AZEALIABANKS
UPDATE 7:25 p.m.:
Following the publication of this story, Banks, who began tweeting TheBlaze, suggested that reporters Kaitlyn Schallhorn and Oliver Darcy both "need some black d***."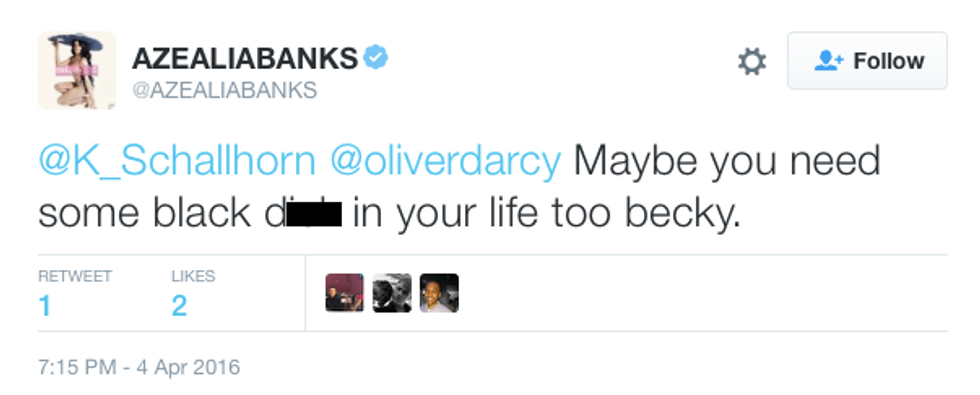 Image: Twitter @AZEALIABANKS
She also suggested Darcy "could benefit from some soul cleansing, life changing, Mandingo," seemingly referencing a pornographic film actor by the same name.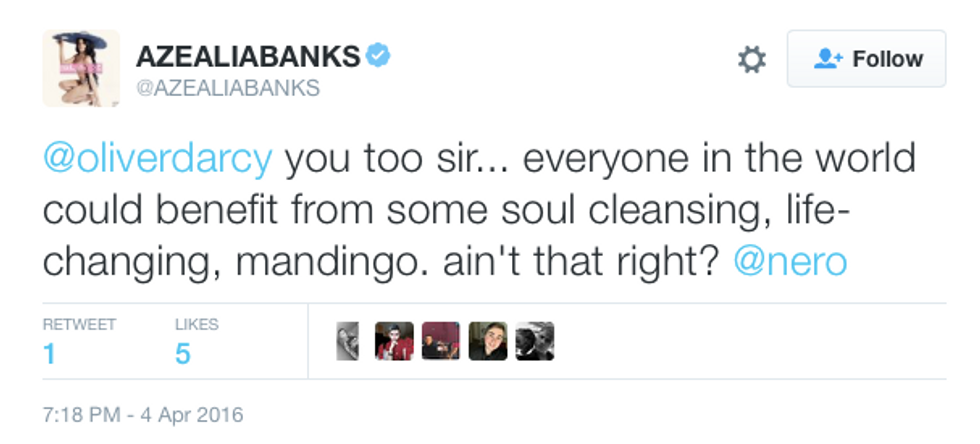 Image: Twitter @AZEALIABANKS
In addition, Banks stood by her original comments about Palin, saying the former Alaskan governor should perform oral sex on a black man "since she's obsessed w/ what we black folk think."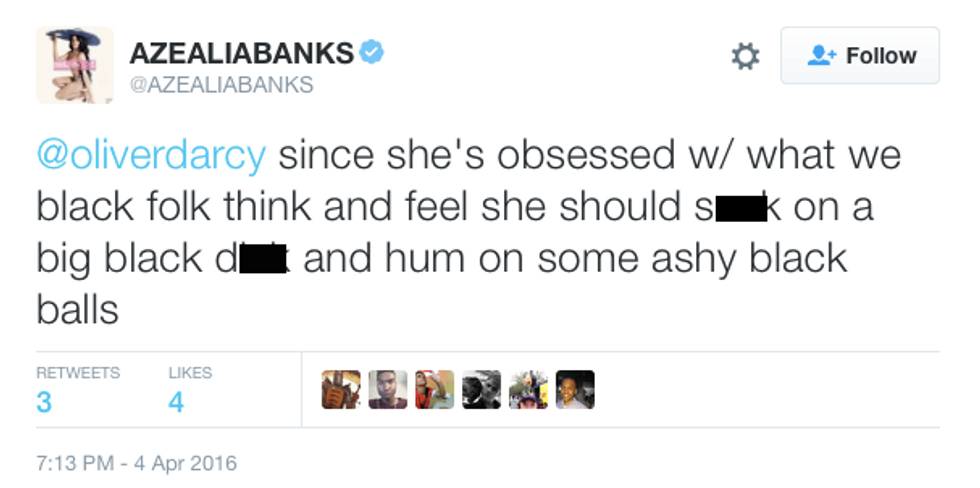 Image: Twitter @AZEALIABANKS
—
Follow the author of this story on Twitter: