Icelandic Prime Minister Sigmundur Davíð Gunnlaugsson walked out of an interview with Swedish TV after he was asked about a company called Wintris. The company, based in the tax haven of the British Virgin Islands, has become a subject of scrutiny in the wake of Sunday's Panama Papers revelations.
The Panama Papers, the nickname given to the millions of documents leaked from a Panamanian law firm called Mossack Fonseca, show how political leaders and other people of influence have illegally taken advantage of foreign tax havens.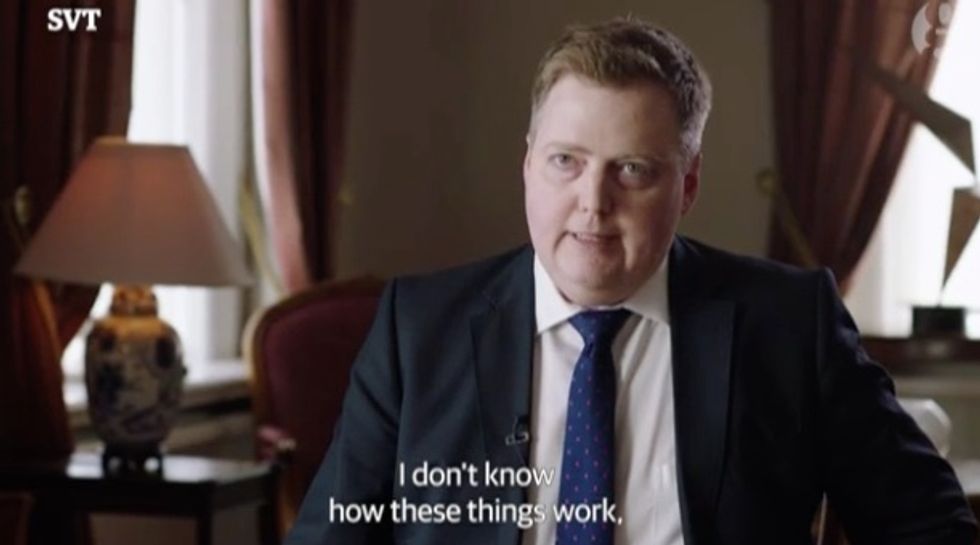 Image source: SVT / Guardian
"What are you trying to make up here?" Gunnlaugsson asked after interviewers mentioned Wintris. "This is totally inappropriate."
Gunnlaugsson has claimed that Wintris, which his wife Anna Sigurlaug Pálsdóttir now owns, has been fully declared to the Icelandic tax authority.
The prime minister is now being accused of a conflict of interest after the company recently claimed millions in bonds from the bankrupt estates of the country's devastated banks. It is believed that Gunnlaugsson was closely involved in striking the deal between the the banks' claimants while being closely related to one (i.e., Pálsdóttir).
A special episode of Iceland's Kastljós current affairs discussion program revealed Sunday evening that, from the time the Wintris was founded, Gunnlaugsson owned half of Wintris Inc., while Pálsdóttir owned the other half.
The Iceland Monitor reported Sunday that on Dec. 31, 2009, the day before Gunnlaugsson was required to disclose information on Wintris' operations and revenue to Icelandic tax authorities, the prime minister sold his half to his wife for one dollar.
The exact moment Iceland's PM realizes journalists found his secret: https://t.co/XUaUMVmIm9 #Cashljós #PanamaPapers https://t.co/rp29gGGTp1

— Edward Snowden (@Edward Snowden) 1459721767.0
When pressed on his wife's claims in the interview, Gunnlaugsson fumed, "I don't know how these things work. I have never hidden assets."
Shortly after the potentially incriminating topic surfaced, Gunnlaugsson decided it was time to end the interview.
Gunnlaugsson is among 12 world leaders believed to be linked to the 11-million-document Panama Papers scandal. Others include Vladimir Putin, Egypt's former president Hosni Mubarak and former Libyan leader Muammar Gaddafi.
Watch: