Climate change poses food safety risks, will increase heat-related deaths and will make Americans less happy, Obama administration officials said Monday.
A multi-agency Obama administration report, "The Impacts of Climate Change on Human Health in the United States," has made dire warnings about what would be next if the United States government did not take action to curb carbon emissions.
"The report projects that under the middle-of-the-road scenarios, we can see from thousands to tens of thousands additional heat-related deaths in the United States each summer," White House Office of Science and Technology Policy Director John Holdren said during a White House forum Monday. "The numbers are really striking."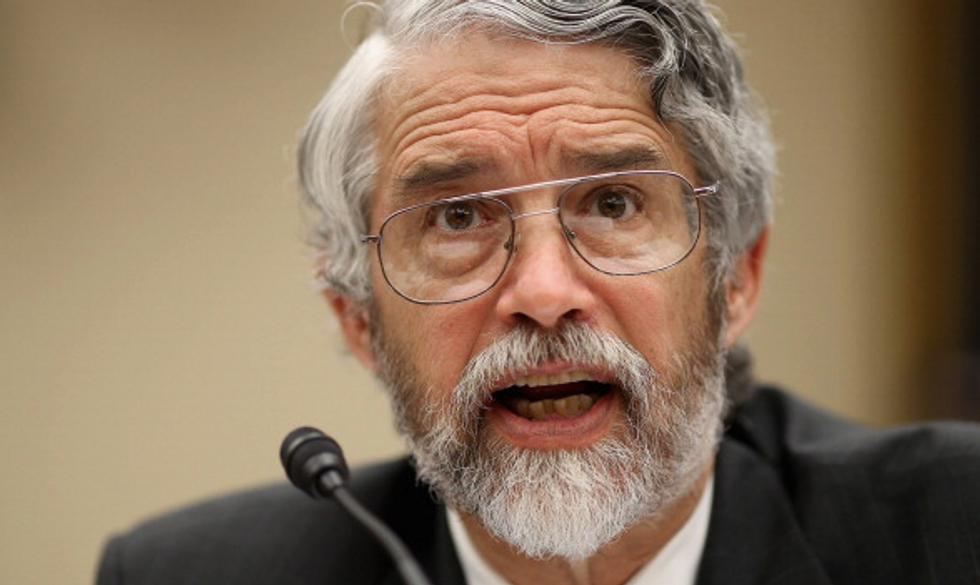 White House Office of Science and Technology Policy Director John Holdren. (Chip Somodevilla/Getty Images)
Holdren added that eventually, without sweeping change, "People who try to work outside will basically be unable to control their body temperature and die. This is a really, really big deal."
Holdren didn't specify a timeline, but the report itself references that the tens of thousands of deaths would come by the end of the century.
EPA administrator Gina McCarthy said the report proves: "This is not just about polar bears and melting ice caps. This is about our kids, about our future, about what our core values are."
McCarthy contends that without action, climate change will affect both the physical and mental health of Americans.
"Every human being in every part of the United States is now being impacted by climate and will be increasingly impacted if we do not take action now," McCarthy continued. "We are talking about everything from our food, our water, our air, our weather. If that's not enough, it's probably impacting how happy you are every day and what your mental health is."
The report was done with collaboration of the EPA, the White House Office of Science and Technology Policy, the U.S. Surgeon General's office, and the National Oceans and Atmospheric Administration.
Anthony Sadar, a certified consulting meteorologist and author of "In Global Warming We Trust: Too Big to Fail," is skeptical about the report.
"We don't know very well what the climate will be decades from now," Sadar told TheBlaze. "Climate models are not very good at making those predictions. The global temperature for the last 10 years has not gone up significantly, but models predicted would go up substantially."
Both Holdren and McCarthy spoke about pending death, disease and mental health problems. In the midst of this, McCarthy said of the report, "There is always something new to learn and that is kind of fun."