A road rage incident in Florida was captured on helmet cam video Monday morning, and it shows one driver apparently trying to run a motorcyclist off the road several times.
Rone Gonzalez, a 23-year-old mechanic, was riding his motorcycle to work in Homestead, Florida, south of Miami, when a man driving a red Ford Fusion cut him off multiple times, prompting Gonzalez to try to get even.
The two zoomed down the highway at more than 90 mph, speeding past oncoming traffic when their feud finally came to a head, WSVN-TV reported.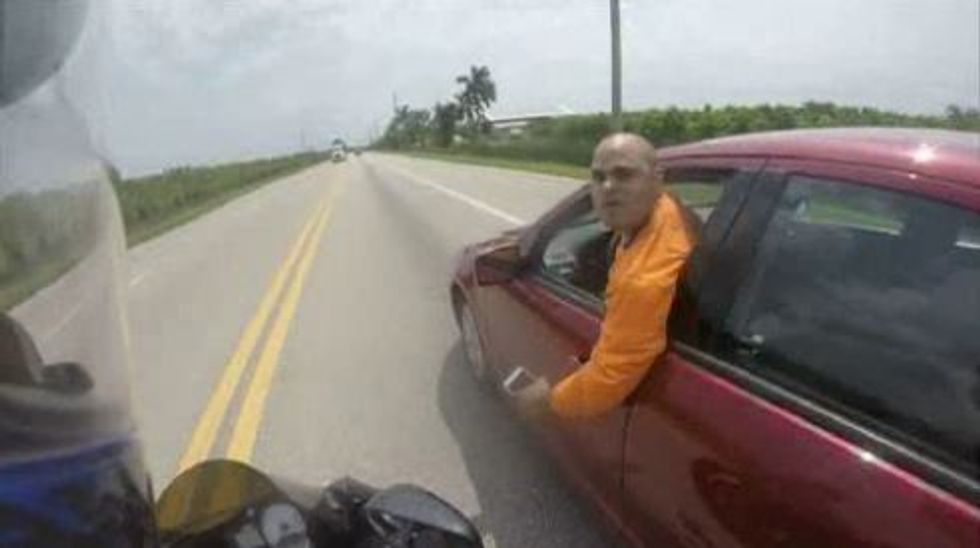 Image source: WSVN-TV
The driver, who was not identified, appeared to spit on Gonzalez through his car window as the two exchanged words and hand gestures. That's when Gonzalez realized it had gotten out of hand.
"At that point, I just wanted to get out of the situation," he told WSVN-TV. "You know what, forget about this."
Gonzalez said he tried to get away from the other driver, and even drove in the opposite lane for a while, against oncoming traffic, as he tried to lose him.
"I'm just like, 'Man, I'm on a motorcycle. My life is literally on your hands,'" Gonzalez recalled.
Gonzalez said that at one point, he hit the driver's mirror, although it was not clear from the video exactly when he did it. Asked by WSVN-TV why he took that action, Gonzalez admitted that was a "stupid move."
The 23-year-old claims he tried to file a police report, but was told by Homestead Police that road rage is a common problem and that he shouldn't bother.
The Homestead Police Department did not immediately respond to a request for comment from TheBlaze.
(H/T: Daily Mail)
–
Follow the author of this story on Twitter and Facebook: