The Communication Workers of America, which serves as the umbrella group for the journalist guilds at the New York Times, Wall Street Journal, Washington Post and other major newspapers has donated millions to Democratic politicians.
The CWA endorsed Vermont Sen. Bernie Sanders for president and spent $13,500 towards his election, and has donated $43.8 million to Democratic politicians since 1990 – making it one of the largest political donors but rarely reported on, according to a story in Politico by Pulitzer Prize winning reporter James Varney of the American Media Institute.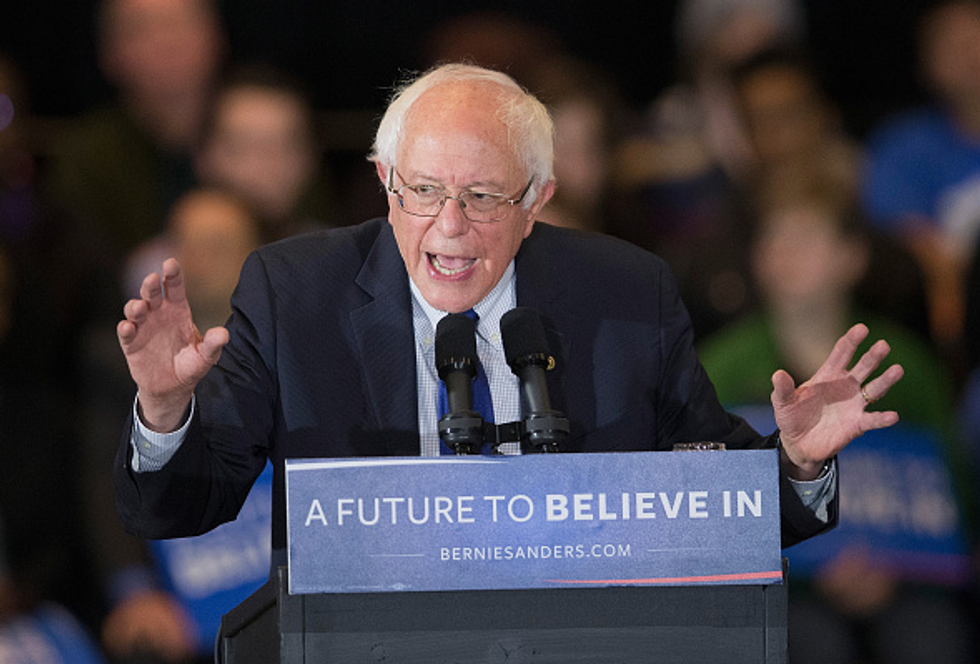 Democratic presidential candidate Senator Bernie Sanders (D-VT) speaks to guests at a campaign rally at the Wisconsin Convention Center on April 4, 2016 in Milwaukee, Wisconsin. Voters in Wisconsin go to the polls tomorrow for the state's primary. (Scott Olson/Getty Images)
The organization overall has donated $44.2 million since 1990, surpassing the $43.3 million donated by the Teamsters Union, the $43 million contributed by the Sheldon Adelson super PAC and the $29.5 million donated by the Koch Brothers over that time span.
Nevertheless, the story noted, these donors get far more media attention than the 700,000-member CWA, which represents journalist among others in communications fields.
Politico noted that "Democrats seeking the White House can usually count on cash donations from some of the same journalists who cover them—though the journalists themselves are not necessarily aware of this conflict of interest and their participation in it is rarely disclosed by their news organizations."
Journalist make up a minority of members for the union, which describes itself as covering employees in "telecommunications and information technology, the airline industry, education, health care and public service, law enforcement, manufacturing," as well as "news media, broadcast and cable television."
Beyond endorsements and contributions, the CWA lobbies on issues that many journalists cover such as trade policy and health care reform, thus, "it's a real problem for those who cover politics," Fred Brown, a co-chair of the Society of Professional Journalists' ethics committee, said in the article.
Politico noted that in reporting the CWA's endorsement of Sanders in December, the New York Times, Washington Post and Wall Street Journal did not note their newspapers' affiliation with the group. However, NBC News did note the network's affiliation with the CWA.
The union dues that the journalist helps to fund political contributions, 97 percent of which have gone to Democrats, according to the Politico piece that cites information from OpenSecrets.org, the website of the Center for Responsive Politics, which monitors political donations.
Since 2008, the organization has contributed more than $8.7 million to federal candidates. These have included some of the most liberal members of Congress, such as House Minority Leader Nancy Pelosi (D-Calif.), Sen. Elizabeth Warren (D-Mass.), Rep. James Clyburn (D-S.C.), Rep. Steny Hoyer (D-Md.) and Rep. Keith Ellison (D-Minn.).
Despite endorsing Sanders for president, the group actually spent more on former Secretary of State Hillary Clinton, $15,000, Politico reported.
Larry Cohen stepped down as CWA president last July to work as an adviser for the Sanders campaign last July.
The union said its endorsement of Sanders "included hundreds of worksite meetings." However, Bernie Lunzer, president of the Newspaper Guild of America and a CWA board member, said none of those meetings where votes were taken were in newsrooms. Lunzer told Politico that he "publicly abstained on behalf of our members who would feel there was a conflict of interest."
Various newspaper guilds represent about 34,000 employees, while the NBET represents 10,000 broadcast industry employees, not all newsroom employees.