Fox News anchor Megyn Kelly told Variety magazine that she hasn't decided whether she will stay with the network after her contract expires. In the interview, published Tuesday, "The Kelly File" host spoke openly about her struggles with Republican presidential front-runner Donald Trump.
"I don't know what's going to happen," Kelly, who has been with Fox for 12 years, told Variety.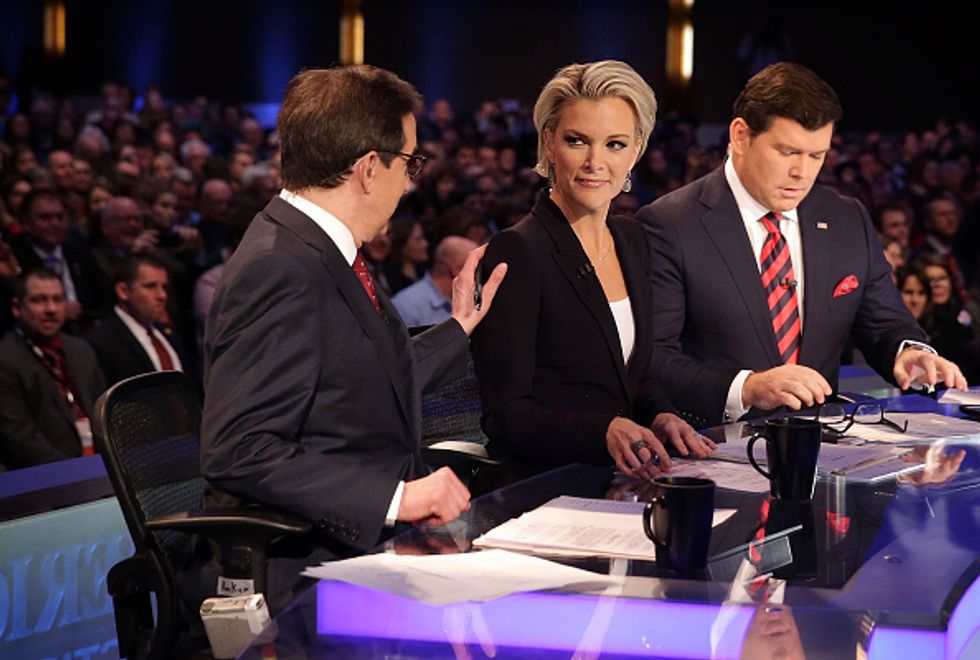 Moderators Chris Wallace (L) pats on the shoulder of Megyn Kelly as they wait with Bret Baier (R) for the beginning of the Fox News - Google GOP Debate January 28, 2016 at the Iowa Events Center in Des Moines, Iowa. (Photo by Alex Wong/Getty Images)
"I really like my show, and I love my team," she continued. "But you know, there's a lot of brain damage that comes from the job. There was probably less brain damage when I worked in the afternoon. I was less well known. I had far less conflict in my life."
A prominent conflict that has plagued the journalism world throughout the 2016 presidential campaign season is the ongoing personal attacks Trump has waged on Kelly, something Kelly asserts is one-sided.
The 45-year-old anchor told Variety editor Ramin Setoodeh that ever since Trump launched his vendetta against her back in August during the first presidential debate, she no longer Googles herself and rarely checks Twitter.
During that first debate, Kelly pressed Trump on his history of misogyny. The Republican candidate has continued to criticize Kelly even after she made deliberate attempts to step back from the argument.
Kelly said she's had "many conversations" with her boss, Fox CEO Roger Ailes, regarding the Trump situation.
"I don't think he's enjoyed one piece of this," she said of Ailes. "He can see what happens in my life when Trump starts off. He really wants him to stop, but on the other hand, he's not going to run a news channel that doesn't provide access to the Republican frontrunner for president.
Kelly, 45, said she's had a "great 12 years" at Fox and really enjoys working with Ailes, but is also reflecting on the difficulties she's faced recently and considering potential alternatives.
Kelly's contract expires in 2017, not long after the presidential election.
In her Variety interview, she mentioned that she is interested in long-form interviewing and has entertained the idea of a daytime talk show. Kelly will host a Barbara Walters-style prime time special in May on the Fox broadcast network.
"I do love covering the news," the 9 p.m. weeknight anchor said. "I just don't think that's the perfect thing for me."
Kelly noted that in the end, television broadcasting is a "fickle business," saying, "I have to keep my options open."