CNN host Carol Costello cut off one of her two guests when he brought up the fact that Hillary Clinton defended a "pedophile" back when she was a defense lawyer.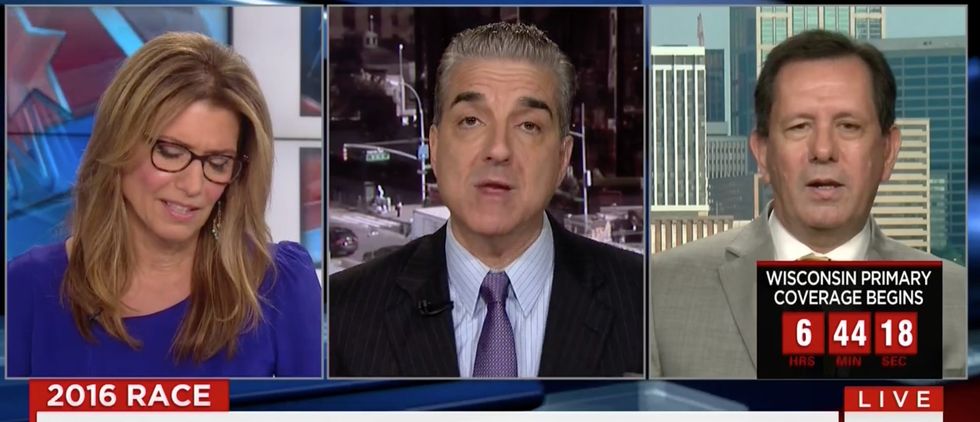 Image source: CNN
Newsmax host Steve Malzberg was discussing a potential Trump-Clinton general election match-up with Costello and Washington Times columnist Judson Phillips when he made the comment on Tuesday. Malzberg, a Trump supporter, touted his candidate's willingness to go after Clinton for her husband's infidelity as president, something he said other Republican candidates aren't willing to do.
"When you get one-on-one, — especially if it's Hillary — Donald Trump will go places nobody is willing to go, where the media, at this point, isn't willing to go. Bringing up Clinton's women who say they were intimidated by Hillary. Having them come forward and speak. A litany of issues that you can't even imagine," Malzberg said.
Later, Malzberg expounded upon his theory.
"Do you know how many young women in this country don't even know that Bill Clinton was impeached? No. Maybe they've heard of Monica Lewinsky. They don't know the women that have accused Bill Clinton of sexual improprieties and that say they have been threatened and intimidated by Hillary Clinton," he added.
Malzberg then went into highly controversial territory, bringing up Clinton's legal defense years ago of a man who was accused of a sex crime: "A girl who was raped by a pedophile that Hillary Clinton bragged about getting off."
That's when the CNN host interrupted.
"Oh, come on," Costello said.
"Wait, let me finish," Malzberg responded.
"No no no," Costello said.
"What do you mean? You don't want to hear it? That Hillary Clinton is on tape bragging about, as a lawyer getting off on a technicality. That woman now says, 'Hillary ruined my life.' That's not fair," Malzberg continued.
Costello was then quick to wrap up the segment.
"I'm going to leave it there, and goodbye. Thanks for joining me," Costello said.
(H/T: Daily Caller)
–
Follow the author of this story on Twitter and Facebook: