A Georgia police officer received some unexpected resistance when responding to a bizarre incident at a park over the weekend.
Officer Brady Pike was punched in the face by a man suspected of causing a disturbance at the park playground Saturday afternoon when he allegedly picked up a child who belonged to another set of parents.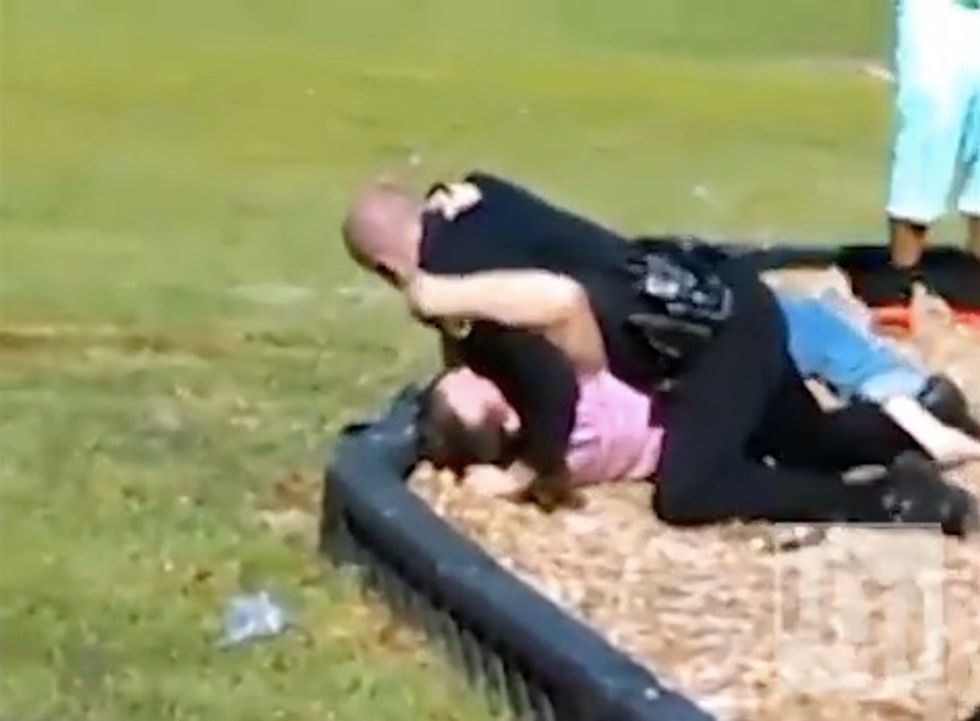 Image source: Youtube
LaGrange Public Safety Chief Lou Dekmar told LaGrange Daily News that when Pike first arrived to investigate the incident, he asked the suspect to put the child down.
But after the man cooperated, letting the child go, the situation took an abrupt turn.
According to Dekmar, the suspect immediately lunged at Pike and punched the officer in the face.
The brawl that ensued afterwards was caught on camera by witnesses at the park who recorded altercation with their cellphones.
In one video, the suspect can be seen furiously swinging at Pike, who takes the man to the ground in an effort to subdue him. But the man continued with the punches, hitting Pike in the face again.
Pike's body pack, which included him camera and radio, fell off during the fight, Dekmar said. The officer then asked witnesses to call 911, which they did.
A second video shows another LaGrange police officer and a witness assisting Pike in restraining and handcuffing the man.
The suspect, whom police identified as David Noles, is being held in the Troup County Jail on a $7,000 bond, WTVM-TV reported. Noles has been charged with obstruction of an officer and disorderly conduct, according to the Troup County sheriff's website.
Dekmar told the Daily News that Pike was taken to the hospital for examination after the scuffle. The officer was treated for a bloody nose and some cuts, but is expected to be fine, Dekmar said.
"You go to a relatively routine call of a disturbance and then before you know it, you're in the middle of fight," Dekmar told the Daily News Sunday. "I have had a preliminary discussion with the patrol supervisor. He feels the officer acted within the departmental standards and policies and within state law enforcement policies … The incident will be reviewed by the department commander, the office of professional standards and me. That is standard on all use-of-force cases."
Between 48,000 and 52,000 law enforcement officers nationwide are physically assaulted each year while responding to 911 calls, according to Dekmar. And 25 percent of those assaults end with a trip to the hospital.
Watch (WARNING: Strong language and violence):