There's been some "angst" within 2016 candidate Donald Trump's campaign about the billionaire businessman appearing on Fox News' "O'Reilly Factor" because of how frequently Charles Krauthammer, a critic of Trump, appears on the show, according to host Bill O'Reilly.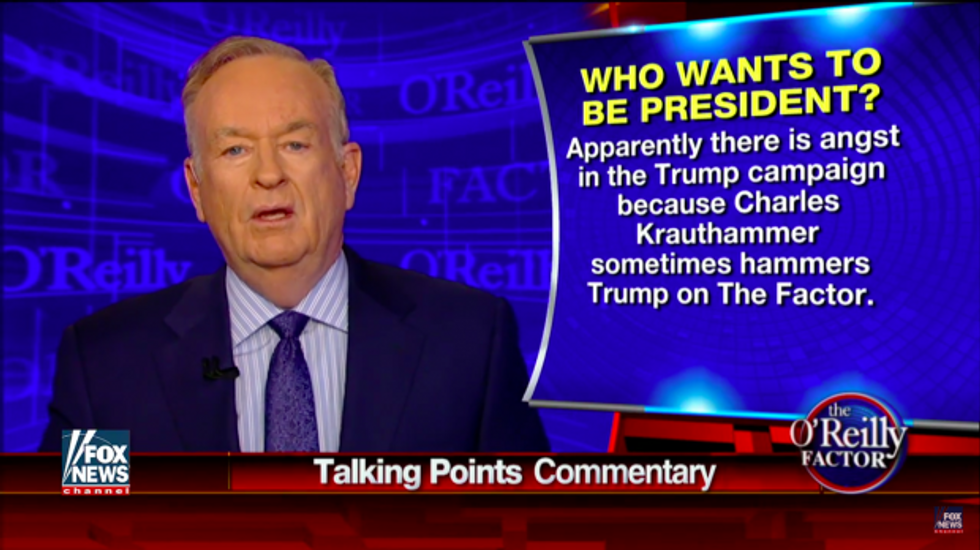 Image: screen grab
The Fox News anchor said his team has been in negotiations with Trump's operatives "for days," but the candidate ultimately declined to appear on the program, noting the fact that Krauthammer is often on his show and he "sometimes hammers" the GOP delegate leader.
O'Reilly went on to defend his record when it comes to Trump, saying that he's been "very fair" on his program, including when Krauthammer is on the "O'Reilly Factor."
"Each time Charles addresses Trump, I put on someone like Newt Gingrich, who has been kind to Donald Trump, to balance the presentation," he said.
"We have been very fair — very fair — to Donald Trump on this program," O'Reilly continued, "but that does not mean we will not critique him or cancel guests who have a dim view of him."
O'Reilly even noted the fact that he stood by Trump Tuesday night on the issue of race when radio host Tavis Smiley said the real estate mogul is a "racial arsonist."
Ultimately, the "O'Reilly Factor" host called on Trump to "stop the nonsense."
"I would hope the Trump campaign would notice how fair we have been, and stop the nonsense," O'Reilly said. "Perhaps they will after tonight. The more tough questions Mr. Trump faces directly, the more voters may be persuaded to back him."
Trump, who did not seem to know O'Reilly did say the candidate declined to appear on his show, tweeted Wednesday night, saying he "was not scheduled to be on the O'Reilly Factor."
I was not scheduled to be on the @oreillyfactor. Pure fiction!

— Donald J. Trump (@realDonaldTrump) April 7, 2016
O'Reilly later replied to Trump with a tweet, saying the billionaire is "correct" when he says he never committed to appear on his show. But the Fox host said he hopes Trump will join him soon.
Trump's correct, he never committed to do the show tonight. But we negotiated with his camp for days, as stated. Hope he'll be on soon -BO'R

— Bill O'Reilly (@oreillyfactor) April 7, 2016
Watch the video below (relevant portion begins around 1:15):
—
Follow the author of this story on Twitter: