California Gov. Jerry Brown and other advocates of hiking the minimum wage to $15 per hour have conceded that the pay increase might not be the best way to help workers, causing questions about the sincerity of the "Fight for 15" movement.
"Economically, minimum wages may not make sense," Brown told the Sacramento Bee before signing the wage increase for his state. The governor followed suit with New York Gov. Andrew Cuomo, who did the same last week.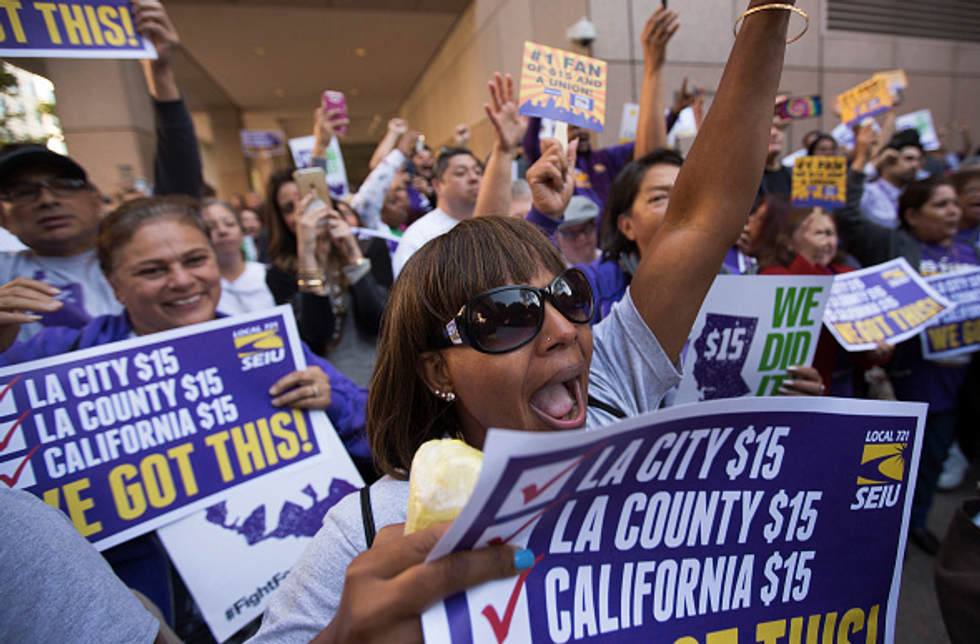 Service Employees International Union members celebrate after California Governor Jerry Brown signed landmark legislation SB 3 into law on April 4, 2016 in Los Angeles, California. The law makes California the first state in the nation to commit to raising the minimum wage to $15 per hour statewide. (David McNew/Getty Images)
But Brown added, it's "not just an economic equation."
"Morally and socially and politically, [minimum wages] make every sense because it binds the community together and makes sure that parents can take care of their kids in a much more satisfactory way," Brown said.
Representatives of the Service Employees International Union, or SEIU, also wavered over whether or not the wage hike would be helpful to workers. A recent study by the American Action Forum estimated that phasing in a $15 per hour increase by 2022 could cost California 700,000 jobs due to inflation and increased cost of doing business.
According to America Rising, a conservative advocacy group, conceding that a $15 per hour wage might not help economically demonstrates that the movement is only about politics.
"Big labor's big secret is now being exposed as politicians and labor activists admit that the 'Fight for $15' is more about advancing liberal political power than helping workers," America Rising spokesman Jeremy Adler said. "Despite all the evidence showing that a $15 minimum wage would hurt low-income workers, the left has doubled-down on this multi-million dollar union-funded effort as a political exercise, no matter the consequences for working Americans."
The White House also praised the increases in two of the largest states. President Barack Obama has asked Congress to raise the federal minimum wage and taken executive action to increase the pay for employees of federal contractors.
The New York Times reported that Dave Regan, president of SEIU-United Healthcare Workers West, "said that even if there were potential economic downsides, the effect of empowering workers to influence their own fates could be transformative politically." But, Regan is quoted saying, "To have the governor and legislature responding in a positive and constructive way to our members is really important. It shows, 'Wow, what we do really does matter.'"
Further, Politico quoted an unnamed SEIU leader explaining why the labor group would endorse Hillary Clinton for president, even though she has said $15 might be too high.
"How does SEIU, whose premiere campaign is the Fight for $15, endorse the one Democratic candidate who says fifteen is too much?" Politico quoted the SEIU official saying. But Politico reported the official believed "the Fight for $15 campaign is not about passing federal minimum wage legislation but about a grassroots movement to raise wages."
White House senior adviser Valerie Jarrett praised Cuomo and New York for the state's wage hike in an email Tuesday to White House staff:
We're thrilled that today, New York State answered the call and took an important step forward for working families when Governor Cuomo signed a budget that included paid family leave and an increase in the minimum wage.

With these measures, New York became the first state to create a paid family leave program since President Obama urged states to take action in 2014, as well as the 18th state to raise its minimum wage since he urged Congress to act in 2013.

The President knows working families cannot wait for Congress to move our country forward. That's why he's made progress on his own by raising the minimum wage for employees of federal contractors, strengthening overtime protections, and protecting employees of federal contractors from being retaliated against by their bosses if they discuss their wages.
However, even progressive voices are warning that such a steep increase would have economic consequences. The Washington Post editorialized on Tuesday:
Moderate minimum wage increases in the past have not produced disastrous short-term employment consequences, at least not sharp enough to outweigh the perceived benefits of protecting workers from a race to the bottom of the labor market. Yet $15 per hour would represent a quantum leap in the U.S. minimum wage, from its present level of about 35 percent of the median full-time hourly wage to nearly 75 percent of it, based on our reading of figures from the Organization for Economic Cooperation and Development and the Bureau of Labor Statistics. No other industrialized country's statutory minimum wage even comes close.