Dr. Ben Carson literally turned heads during a CNN interview on Thursday in which he attempted to downplay a misdemeanor assault charge against Donald Trump campaign manager Corey Lewandowski.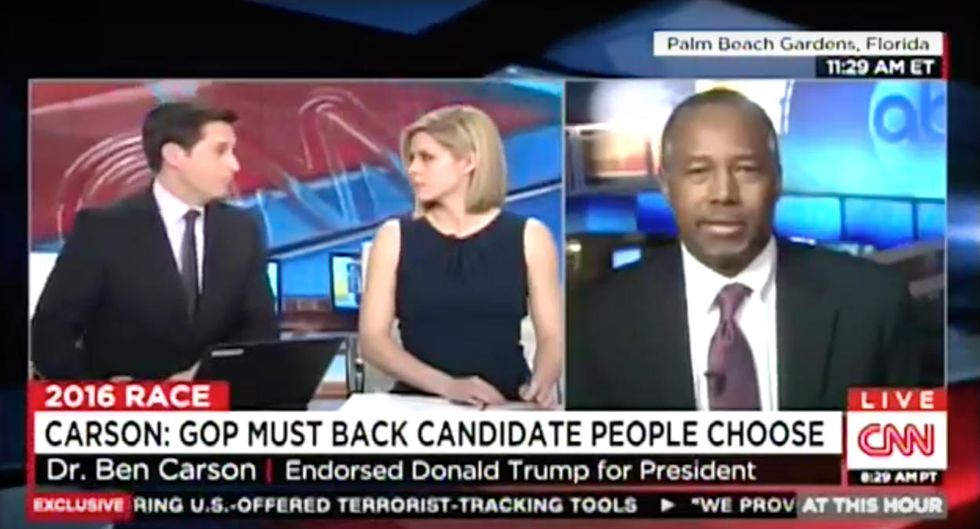 Image source: YouTube
Carson, who has endorsed Trump, was responding to a question from anchors John Berman and Kate Bolduan on whether Lewandowski should keep his job given the misdemeanor charge pending against him in Florida, the result of simple assault allegations made by former Breitbart News reporter Michelle Fields.
"I think there are a number of people who are involved," Carson said. "From my context with Corey, he's a very intelligent and efficient individual and I don't see any reason, quite frankly, that we should demonize him. If you can come up with a good reason I'll listen to it."
"He's been charged with misdemeanor assault in Florida. A lot of people think that is a reason," Berman said.
Carson then made a statement that was eyebrow-raising.
"A lot of people have been charged with various things. That doesn't necessarily mean that we need to demonize them," Carson said.
But it was the former presidential candidate's next statement that literally turned heads.
"You've probably been charged with something too. Maybe with a misdemeanor. [That] doesn't mean that you're an evil, horrible person," Carson continued.
Berman interjected that, for the record, he actually hasn't ever been charged with a misdemeanor.
Watch the interview:
–
Follow the author of this story on Twitter and Facebook: