Evangelical faith leader Michael Cromartie has a message for well-known Christian preachers and pundits who are speaking out in favor of Republican presidential candidate Donald Trump: their support for — and endorsements of — the businessman are absolutely "inexcusable."
Cromartie, who is vice-president of the conservative Ethics and Public Policy Center, said at an Institute on Religion & Democracy event held at the University Club in Washington, D.C., on Tuesday that he believes that leaders' support for Trump erodes the progress that has been made to change the personalities and general tone of the religious right, the Christian Post reported.
"In the last six or seven or eight years, we now have new leaders to replace those leaders [like James Dobson and Jerry Falwell Sr.] so that it's a new branding of evangelicals in our society," Cromartie said, going on to name specific evangelical leaders with whom he is taking issue. "Now, that is all out the window, ladies and gentleman. When Jerry Falwell Jr. has the audacity to come out and endorse Donald Trump, when Robert Jeffress goes on and sells his soul every week on Fox News, encouraging the candidacy of Donald Trump."
He continued, "If this is not a crack up, I don't know what it is."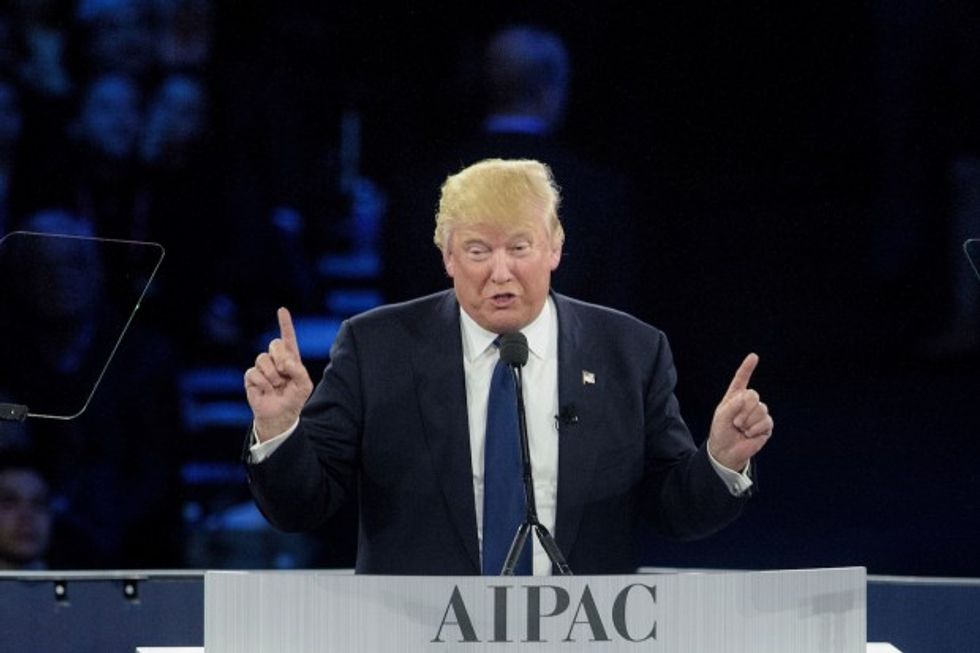 Republican presidential candidate Donald Trump (BRENDAN SMIALOWSKI/AFP/Getty Images)
But it wasn't only Falwell and Jeffress who caught the ire of Cromartie over their favorable comments about Trump.
Mike Huckabee, too, also came under fire, with Cromartie proclaiming that, when someone like Huckabee — who has a seminary degree and "has been a politician all his life — speaks so favorably of Trump, "we are moving around in an insane world."
Other conservative politicians and pundits were also called out by name, as the Christian Post reported.
"We are going to remember you Laura Ingraham. We are going to remember you Ann Coulter. We are going to remember you Sean Hannity," Cromartie continued. "All of you people that elevated this man — shame on you. Shame on you Chris Christie. Shame on you Newt Gingrich and shame on you Mike Huckabee."
As TheBlaze previously reported, there's been a notable split among evangelicals when it comes to support for Trump. Last month, Kentucky pastor Robert Cunningham said that evangelicals' embrace of Republican presidential candidate Donald Trump appears to show that the faithful "have repudiated everything they believe," calling the dynamic "utterly mystifying."
Others, like famed pastor and author Max Lucado — who typically avoids weighing in on political candidates — have also spoken out against Trump's support among Christians.
"He ridiculed a war hero. He made mockery of a reporter's menstrual cycle. He made fun of a disabled reporter. He referred to the former first lady, Barbara Bush as 'mommy,' and belittled Jeb Bush for bringing her on the campaign trail," Lucado said of Trump. "He routinely calls people 'stupid,' 'loser,' and 'dummy.'"
And megachurch pastor Perry Noble of NewSpring Church in South Carolina also made it more than clear in a series of tweets that he has no intention of supporting Trump's presidential campaign.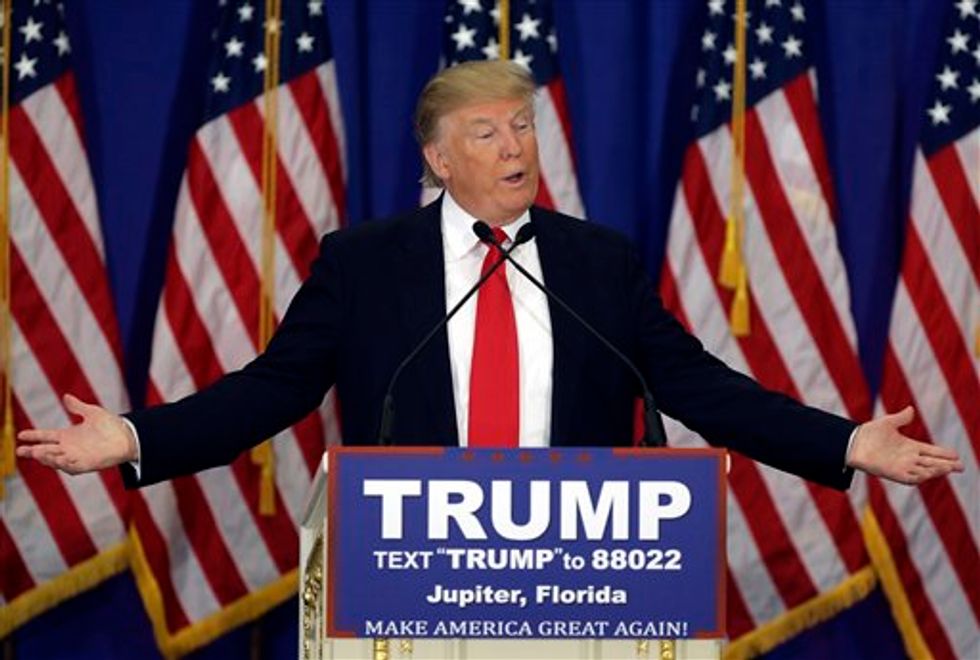 Republican presidential candidate Donald Trump speaks during a news conference at the Trump National Golf Club, Tuesday, March 8, 2016, in Jupiter, Fla. (AP Photo/Lynne Sladky)
The electoral situation is quite complicated, as a recent LifeWay Research poll found that, if the election were back in January, only five percent of Republican-affiliated pastors would have voted for Trump.
Others like Jeffress of First Baptist Church in Dallas, Texas — who isn't endorsing a candidate in the 2016 election cycle, but who has said that he doesn't believe that a Christian "has to sell his soul to the devil to vote for Donald Trump" — is far less critical of Trump.
In a recent interview with TheBlaze, Jeffress spoke about the current political climate, explaining his contention that evangelical support for Trump shows that many Christians "are willing to think outside of the box for the kind of candidate they want."
"People are looking for leadership," he said, offering those surprised by evangelical support for Trump a stark reminder of Ronald Reagan's 1980 presidential victory.
Listen to his comments below:
It should be noted that some outlets have explained that evangelical support for Trump might not be as strong as many assume.
(H/T: Christian Post)
--
Follow the author of this story on Twitter and Facebook: