According to a poll of electronic cigarette users released Thursday, Republican presidential candidate Donald Trump is the most pro-vape candidate.
V2, which makes electronic cigarette and vaporizer products, announced the results of a study they commissioned examining political affiliations among electronic cigarette users on Thursday. They surveyed more than 600 adult "vapers" in the United States.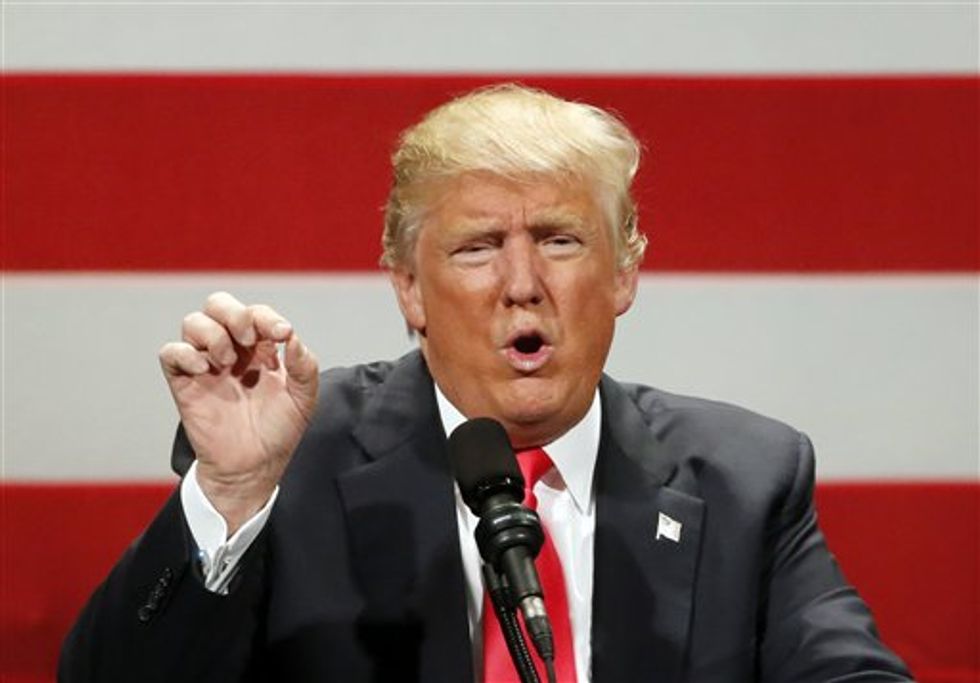 Republican presidential candidate Donald Trump speaks at a rally at the Milwaukee Theatre Monday, April 4, 2016, in Milwaukee. (AP Photo/Charles Rex Arbogast)
According to the study, the majority of vapers are Democrats and a majority said that Trump is most pro-vape candidate.
"Similar to our data, previous research has found that most smokers are Democrats," Adam Kustin, Vice President of Marketing for V2, said in a statement. "Since vapers are former smokers, it only makes sense that the political group most likely to smoke is also the most likely to vape."
Thirty-eight percent of respondents said that they are Democrat, followed by Independents at 27 percent, Republicans at 24 percent, Libertarian at 6 percent and Green at 5 percent.
Asked which presidential candidate would be most "supportive" of vaping, 36 percent chose Trump, followed by Hillary Clinton at 28 percent, Sen. Bernie Sanders at 18 percent, Sen. Ted Cruz at 12 percent and Gov. John Kasich at 6 percent.
"Trump is in favor of fewer government regulations in most areas and vapers are worried about e-cigarette regulations," Kustin said. "This might explain his support. Trump is also backed by California's Duncan Hunter, known as the 'vaping congressman,' which is a key endorsement in the e-cig community."
One of Trump's endorsers, Rep. Duncan Hunter (R-Calif.), once vaped during a House hearing.
When asked who they planned to vote for, however, 31 percent said they planned to choose Clinton. Trump came in second at 23 percent, and Sanders came in a close third at 22 percent. Cruz and Kasich earned 6 and 5 percent, respectively. An additional 14 percent said they planned to support a third party candidate.
"Eight percentage points separate Clinton and Trump," Kustin said. "The former Secretary of State has a commanding lead. But the fight for second-place is close, with Trump and Sanders virtually tied."