Democratic presidential candidate Hillary Clinton had some troubles swiping her metro card on the subway this week, but it appears she might have a few more problems.
Subway rules prohibit a variety of activities from its passengers, including eating, swinging from poles, carrying hoverboards — and campaigning.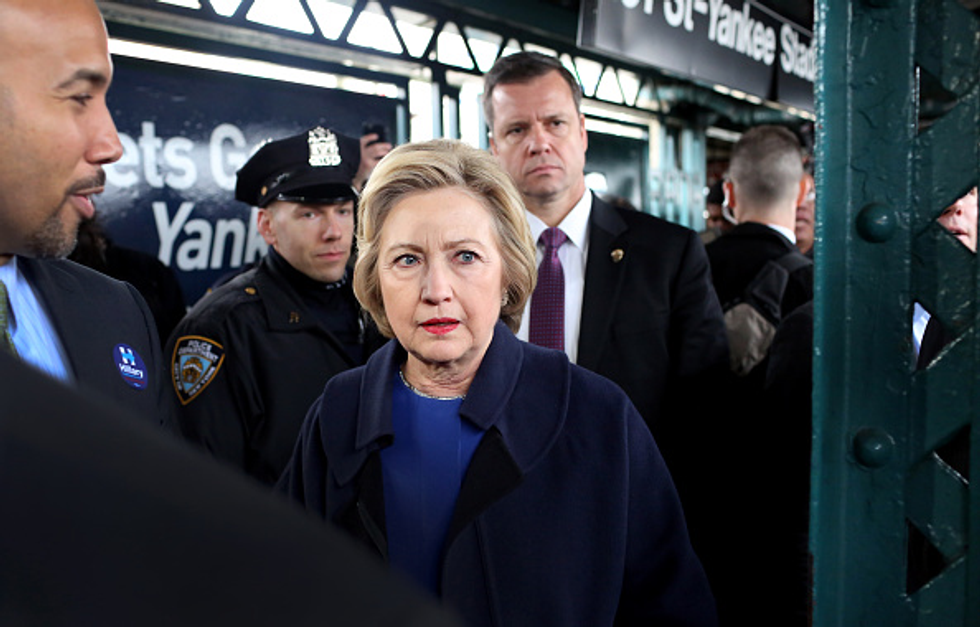 U.S. Presidential candidate Hillary Clinton (D-NY) and Bronx borough President Ruben Diaz Jr. wait for the train at the 161st Street subway station in the Bronx, NY, on April 07, 2016. (Photo by Yana Paskova/For The Washington Post via Getty Images)
In fact, the rules state that while activities like campaigning aren't necessarily prohibited in the station, they're forbidden in actual subway cars.
The Guardian pointed out that Clinton was accompanied by Bronx President Rubén Díaz Jr., who introduced her as the "next president of the United States," and reporters, who asked questions as the group crammed inside a subway car along with New York City's normal passengers.
"When performers are playing music they are thought to be committing a crime and arrested," Matthew Christian, who advocates for subway musicians, told the Guardian. "And apparently when Hillary Clinton does public speaking on a train car, that is not considered a violation of the statute."
While it's highly unlikely that Clinton will face any charges for campaigning on a subway car, the Metropolitan Transportation Authority states  a "court may impose a fine not to exceed $25 or a term of imprisonment for not longer than ten days."
(H/T: The Guardian)
—
Follow Kaitlyn Schallhorn (@K_Schallhorn) on Twitter