It only took a week before the warnings from free speech advocates to come to fruition about the 17 state attorneys general launching investigations into climate change skeptics, as the probe has expanded beyond an energy company to a think tank.
The Competitive Enterprise Institute, a free market think tank in Washington, moved to quash a subpoena from the U.S. Virgin Islands Attorney General Claude Walker
The Virgin Islands subpoenaed 10 years worth of communications, emails, statements, drafts, and other documents regarding CEI's research on climate change and energy policy. This included private donor information. The demand is for information from 1997 to 2007.
"CEI will vigorously fight to quash this subpoena," CEI General Counsel Sam Kazman said in a statement. "It is an affront to our First Amendment rights of free speech and association for Attorney General Walker to bring such intimidating demands against a nonprofit group."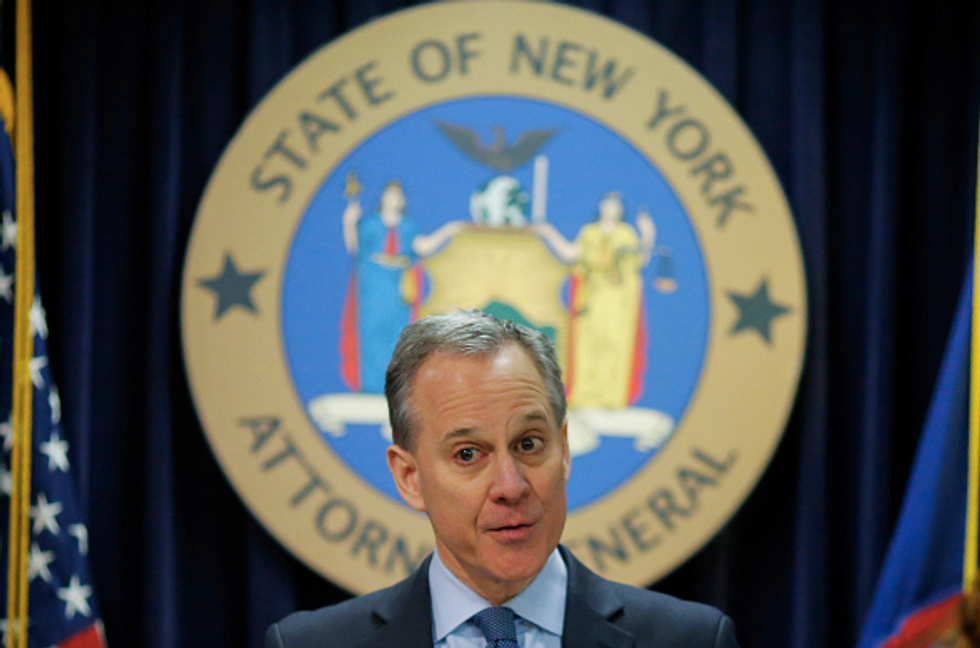 New York Attorney General Eric Schneiderman speaks at a news conference. (Eduardo Munoz Alvarez/Getty Images)
The subpoena itself is part of several states' investigations into whether Exxon-Mobil violated any laws in showing skepticism about climate change. Several other states, led by New York state Attorney General Erich Schneiderman, are using the racketeering statutes – commonly used to go after organized crime – to investigate companies government officials say might have misled the public about global warming.
"This is unbelievable abuse on the part of the Virgin Islands attorney general and its an outrageous violation of the First Amendment," Heritage Foundation senior legal fellow Has von Spakovsky told TheBlaze. "Now after they've gone after a company it's easier to go after groups, and showing this shameless abuse of government authority, there is no reason to believe they wouldn't go after an individual whose research they don't like."
The U.S. Virgin Islands attorney general's office did not immediately respond to phone and email inquiries from TheBlaze on Friday. However, last week during the announcement, Walker said: "We are committed to ensuring a fair and transparent market where consumers can make informed choices about what they buy and from whom.  If ExxonMobil has tried to cloud their judgment, we are determined to hold the company accountable."
Schneiderman was joined by former Vice President Al Gore and other state attorney generals in New York last week to announce the coalition of 17 state attorneys general to collaborate, "AGs for Clean Power," to bring investigation into whether fossil fuel companies misled investors.
The officials on hand during the announcement talked only about targeting large companies. But Anthony Sadar, a certified consulting meteorologist and author of "In Global Warming We Trust: Too Big to Fail," fears it could expand to individuals.
"RICO, to my knowledge, is meant to target organized crime, drug traffickers and illegal gambling, not energy companies," Sadar told TheBlaze. "If it can be used to make big industries cave, then they could go after others that view long-range global climate projections with some skepticism."
Attorney and author Chris Horner, a senior fellow at CEI, agrees.
"It is clear that, with most opposition already chilled and most support for opponents already scared off, the itch this effort is trying to scratch is the desire to coerce a massive fund to underwrite the global warming industry," Horner told TheBlaze.
"That explains the call for civil RICO. Still, if they manage to get an investigation rolling into political speech as racketeering, nothing inherently limits it from turning into a criminal pursuit; any state or federal department of justice official who joined in in such a scheme would have already abandoned any normal restraining impulses," Horner said. "Similarly, there is nothing inherently limiting these investigations to corporations or groups."
TheBlaze contacted several state attorneys general offices, but only the office of Connecticut Attorney General George Jepsen responded, asserting that he does not intend to target anyone other than companies.
"We are actively evaluating the ways that Connecticut law can be enforced as an effective tool to address the issue of climate change; we have not and do not anticipate announcing any particular investigation, inquiry or action while this evaluation is underway," Jepsen spokeswoman Jaclyn Falkowski told TheBlaze. "In particular, we are evaluating whether knowingly false commercial speech – not academic or other non-commercial speech – occurred in this area and, if so, whether it is subject to our consumer protection statutes. We would decline to comment further at this time."