More than two months after Republican presidential candidate Donald Trump held a fundraiser for veterans, the beneficiaries of the funds have only been given "a fraction of the promised money," according to an investigation by The Wall Street Journal.
Trump skipped a Republican debate on Fox News prior to the Iowa caucus after claiming moderator Megyn Kelly was "biased" against him. Trump opted to hold the fundraiser instead, and claimed to have raised $6 million for veterans' charities.
The Wall Street Journal surveyed the 22 veterans' groups originally listed by the Trump campaign as beneficiaries. According to the publication's calculations, 19 of the groups have received only $2.4 million of the reported $6 million raised – less than half of the funds from what the campaign called a "special event."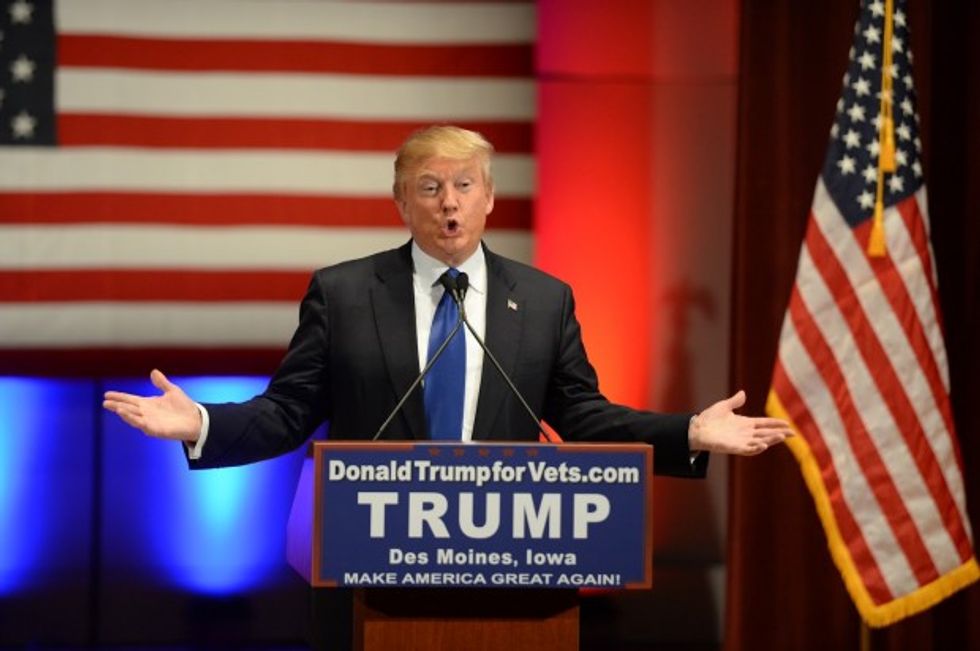 Donald Trump speaks during a campaign rally raising funds for US military veterans at Drake University in Des Moines, Iowa on January 28, 2016. (WILLIAM EDWARDS/AFP/Getty Images)
The Wall Street Journal noted that, "One organization refused to disclose how much it received, another said it needed to submit more paperwork before a check would be forthcoming, and one didn't respond to multiple inquiries."
"Mr. Trump has distributed many of the contributions to a number of worthy organizations, and will continue to do so," Hope Hicks, a spokeswoman for Trump, told The Wall Street Journal.
Hicks "declined to break down" the funds distributed since the event and raised at the event.
TheBlaze previously reported that the funds raised at the January event were collected by the Donald J. Trump Foundation.