After claiming he would be treated unfairly by Fox News, Republican presidential candidate Donald Trump opted to skip the network's debate Thursday evening in order to hold a "special event" for veterans.
Two of Trump's rivals, former Arkansas Gov. Mike Huckabee and former Pennsylvania Sen. Rick Santorum, will also attend the event.
Trump spokeswoman Katrina Pierson praised Trump's choice as "a business decision."
And the billionaire candidate promoted a website associated with the event, donaldtrumpforvets.com, on Twitter:
It is my great honor to support our Veterans with you! You can join me now. Thank you! #Trump4Vets https://t.co/UVn3kUd2DV

— Donald J. Trump (@Donald J. Trump) 1454002326.0
"100% of your donations will go directly to Veterans needs," the website proclaims.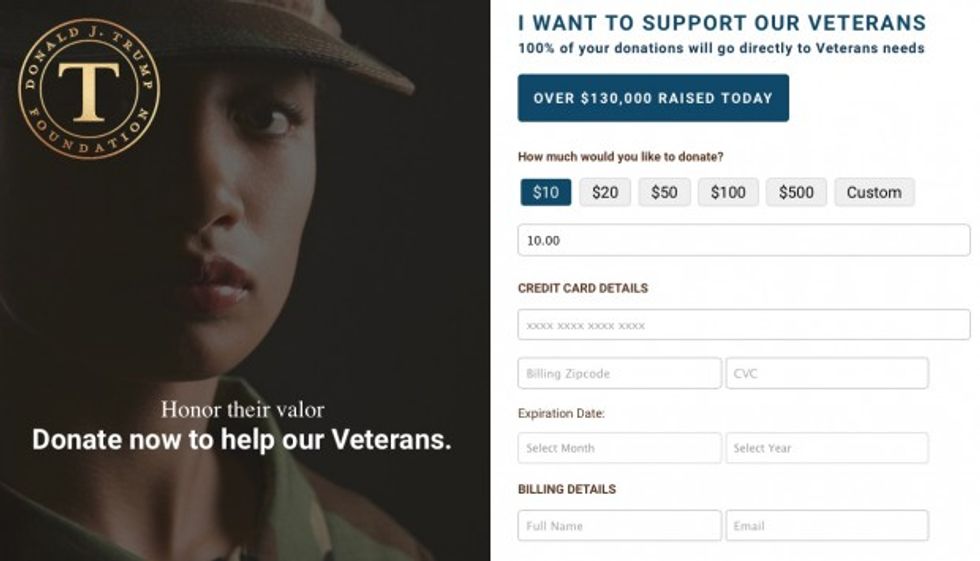 Image source: donaldtrumpforvets.com.
The funds raised on the website will go to Trump's own Donald J Trump Foundation.

Image source: donaldtrumpforvets.com.
According to The Weekly Standard, Trump's personal foundation does not have a noteworthy history of giving to veterans' organizations and has donated more to the Clinton Foundation than veterans' groups.
According to The Federalist, donaldtrumpforvets.com's domain "was not registered until Thursday morning."
TheBlaze previously reported that some veterans groups have accused Trump of using vets as pawns in his current disagreement with Fox News.
(H/T: The Federalist)