CNN political commentator Ben Ferguson and Donald Trump spokeswoman Katrina Pierson had a fiery exchange Thursday morning during an interview on CNN's "New Day" while discussing Trump's decision to boycott Thursday's Republican debate.
The duo sparred over Trump's intention to hold an event Thursday night at the same time as the debate, which Trump says will raise money for wounded warriors.
Ferguson lamented that it's the height of hypocrisy for Trump to do an event "benefitting" veterans only when it became politically advantageous for him to do so. Pierson, however, said that Trump has been wanting to raise money for veterans for a "very long time."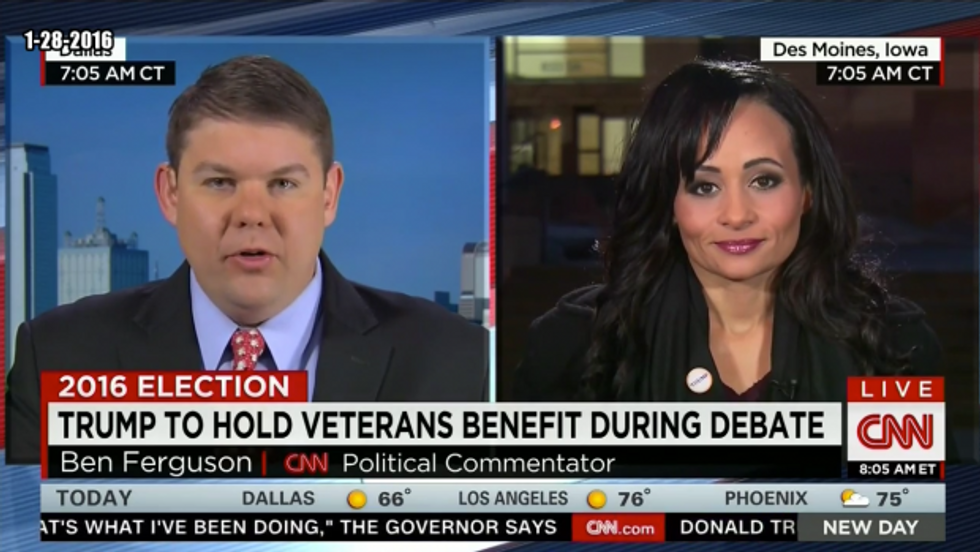 Image source: Youtube
"This is a sick and vile move by a guy who likes to throw those words around: Donald Trump," Ferguson said. "To use wounded warriors and their true battle scars to his political advantage, I would say this to Katrina: I'm not dumb enough to buy that this is about the veterans, because Donald Trump has never held an event for the veterans on his campaign. He uses them for cover now."
He added that Trump is "using" wounded veterans as pawns, because the billionaire businessman simply doesn't like Fox News host Megyn Kelly, noting that Trump has previously mocked Sen. John McCain for being a prisoner-of-war. Ferguson also reminded Pierson and "New Day" host Chris Cuomo that Trump has attempted to stop veterans with special permits, who operate as vendors in New York City, from selling items around his real estate properties.
"So for [Trump] to come out now in a self-righteous way and say 'I'm going to stand up for veterans, and I'm going to do an event that I haven't had time to do until it was convenient for me.' Many veterans are going to be turned off by this and many have said that they think this is disgusting," Ferguson went on to say. "They went out and fought for their country, and now Donald Trump uses them as political pawns. I can't support it, and it's sick."
Pierson, who mostly ignored Ferguson's comments, said in reply that, because of the things Ferguson was saying, then he probably "hasn't been paying attention to the Trump campaign." She also told both Ferguson and Cuomo that Trump's decision to boycott the debate was a "business" decision, because Fox will make millions of dollars from Trump's presence if he participates in the debate.
Ferguson was quick to fire back, asking Pierson if Trump is "running a business or running for president."
"Don't act like you're holier than thou and doing this for the greater good," Ferguson said, "when all you're talking about is how much money people are going to make tonight."
Pierson went on to confirm that Trump still planned on attending future debates, but likened Trump's boycott to being the same as the RNC severing a debate partnership with NBC News, after the heavily criticized CNBC debate.
Watch the fiery exchange below:
—
Follow the author of this story on Twitter and Facebook:
[facebook //www.facebook.com/plugins/like.php?href=