This week on "Fox News Sunday," President Barack Obama shared his views on the country's polarized politics, the presidential race and the challenges facing Democratic front-runner Hillary Clinton amid the FBI investigation into her private email server.
Host Chris Wallace asked the president about his previous assertion that Secretary Clinton's private email server did not endanger national security secrets. This time, the president tempered his response, saying he doesn't want to comment amid the ongoing investigations.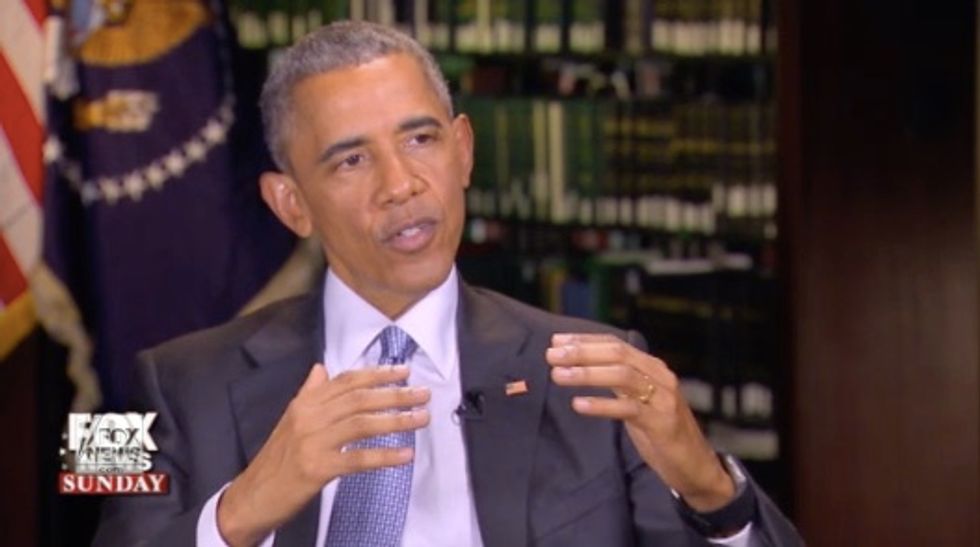 Image source: "Fox News Sunday"
"Last October, you said that Hillary Clinton's private email server did not jeopardize national secrets," Wallace said Sunday.
Wallace then played the clip from the October interview in which the president said, "I can tell that this is not a situation in which America's national security was endangered."
Wallace continued: "Since then, we've learned than over 2,000 of her emails contained classified material, 22 of the emails had top secret information – can you still say flatly that she did not jeopardize America's secrets?"
"I've got to be careful, because as you know, there've been investigations, there are hearings, Congress is looking at this and I haven't been sorting through each and every aspect of this," Obama said Sunday. "Here's what I know: Hillary Clinton was an outstanding secretary of state. She would never intentionally put America in any kind of jeopardy."
Watch: