The precious moment when a baby boy with severely impaired vision saw his mother for the first time with the aid of special glasses has gone viral since it was posted to Facebook Friday.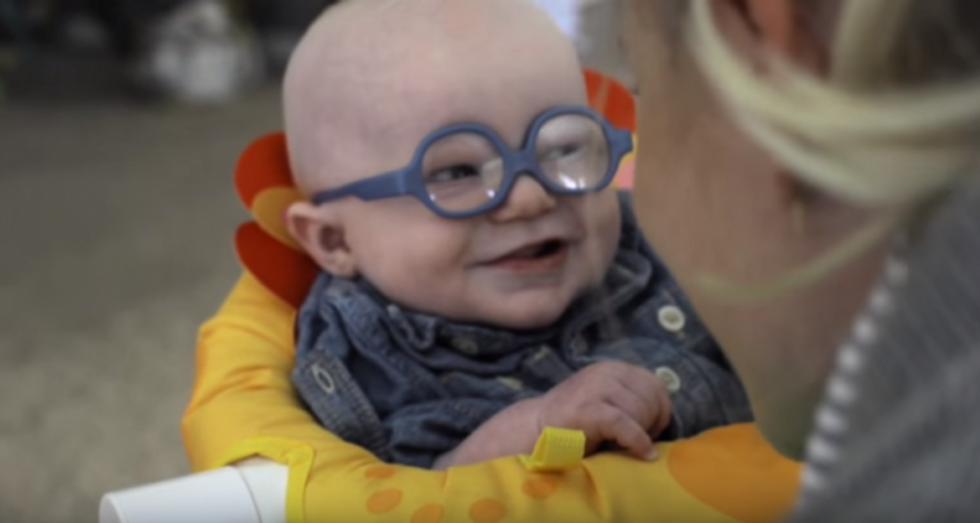 Image source: YouTube
The video, which originally appeared on YouTube on April 2, is titled, "Baby Leo sees Mommy for the first time!" and was posted by David Reppond with the description, "Our son Leopold was recently diagnosed with a rare disorder called Oculocutaneous Albinism (OCA). This affects the coloring of his skin, hair, and eyes and leaves him with extremely impaired vision. But today he received his glasses....and can now see the world clearly for the very first time."
Little Leo can be seen in the video as his mother places the wee pair of wrap-around blue glasses over his eyes. When his mother cheerfully says, "Hi, honey!" Leo immediately focuses on the face in front of him and offers her a small smile. After his mom adjusts his glasses some more and continues to speak to him, Leo slowly looks upward once again as his eyes focus on her face. Then his face breaks out into a huge grin for several more seconds.
"I had some issues holding the camera because I was crying so much," Leo's father told the Daily Mail. "I was overwhelmed with emotion. It's just very touching. You cannot anticipate how you're going to feel when something like that happens. It was very heartwarming."
The video was posted to Newsflare's Facebook page Friday with the caption, "For anyone that needs to put a smile on their face today...." Since it was posted there, the video has garnered over 1,200 likes and been shared over 2,800 times.
"This made my heart skip a beat and the smile alone made my day," wrote one Facebook commenter.
"Watched this three times. Smiled every time. Good luck little one," wrote another.
And little Leo's family members can hardly contain their delight at his newly found gift of sight.
"He's smiling a lot more and he can see everybody in the room, he's interacting more," Leo's father told the Daily Mail. "He loves the light and he loves being outdoors where he can see the grass and the blue sky. He loves toys and he's starting to reach for things. He's seeing the world differently."
—
Follow Kathryn Blackhurst (@kablackhurst) on Twitter