BROOKLYN, N.Y. — Income inequality can be addressed by raising the minimum wage, former President Bill Clinton said Monday, while stumping for his wife at St. Gabriel's Episcopal Church.
Clinton praised small businesses for creating two-thirds of new jobs before he praised Hillary Clinton as "she talks more about this than any other candidate in either party because she has real experience — both as a senator trying to help small businesses and seeing what we did in the White House."
"This New York state minimum wage law will help address income inequality, and it's a good law," Bill Clinton said, adding that it's like California's recent law in that it raises the minimum wage to $15 per hour in "areas that can afford it."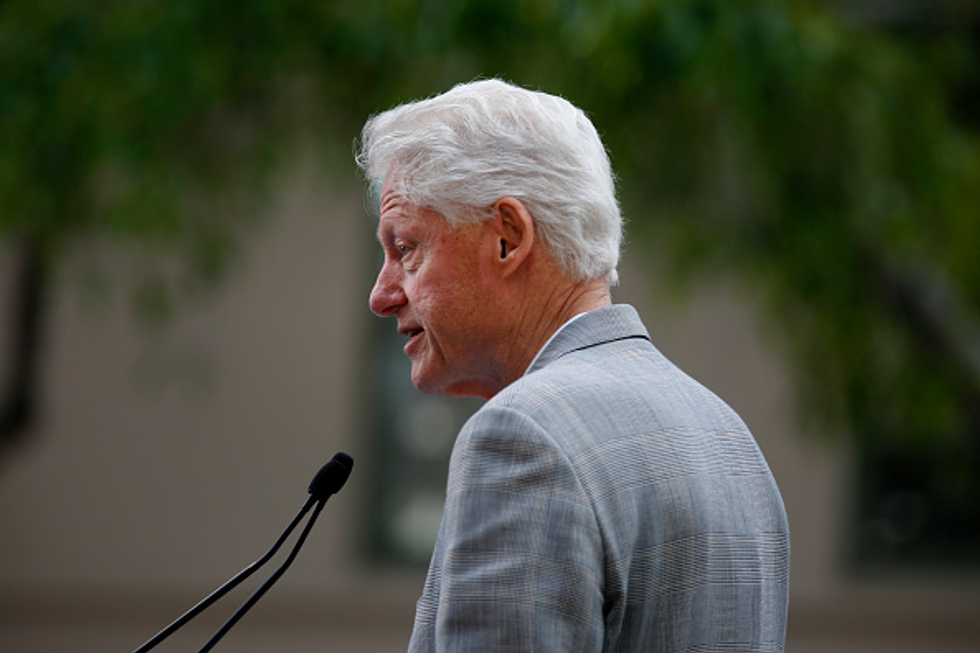 Former President Bill Clinton stumps for Democratic presidential candidate Hillary Clinton. (Getty Images/Francine Orr)
"That will help up to 40 percent of women in the workforce," he said to a predominantly black audience.
Earlier this month, New York Gov. Andrew Cuomo (D) and state lawmakers agreed to raise the state's minimum wage to $15 an hour over several years — though some parts of the state will see the hike more slowly than other parts.
New York City will see its minimum wage increase to $11 by the end of 2016, and then see a $2 increase each year until it reaches $15 by the end of 2018. However, businesses with 10 or fewer employees will have their minimum wage increase to $10.50 at the end of 2016 and will increase by increments of $1.50 per year until it reaches the $15 mark at the end of 2019.
However, in other areas, the wage increase will take longer to go into effect. In areas surrounding Manhattan, such as Long Island communities, the minimum wage will hit $15 at the conclusion of 2021. For businesses in upstate New York, the minimum wage will increase to $12.50 by the end of 2020; then, it will continue to climb to $15, but at intervals set by the state's budget director and Labor Department.
Several small-business owners are worried about how the increase will affect their livelihood.
"I speak to a lot of people in my industry, and we're all very, very nervous about it," Howard Nielsen, owner of Sticky Lips BBQ in Rochester told CNN.
In contrast, a study by Republican pollster Frank Luntz of 1,000 business executives nationwide showed an overwhelming support for raising the minimum wage. In fact, 80 percent of respondents were in support of raising the minimum wage compared to only eight percent who were against it.
The former president also touted his controversial Community Reinvestments Act, the law that encouraged savings associations and commercial banks to meet all borrowers' needs, and said it created an "explosions of small businesses" and doubled the amount of loans given to women and minorities.
"For a long time, Republicans tried to blame me for [the financial crash] because I enforced the Community Reinvestment Act," Bill Clinton said. "They said, 'Oh well if he hadn't have made all those questionable loans, with the banks, to people of color, then we'd be in great shape.' Well, the problem was, the facts always get you in trouble if you're on the wrong side of them."
"The government now has the responsibility and the opportunity to take the lead in creating a lot of new jobs," Bill Clinton said.
Bill Clinton also didn't miss opportunities to jab his wife's Democratic presidential opponent, Vermont Sen. Bernie Sanders.
"Sometimes in this primary I get the feeling that the gentleman running against Hillary is running harder against President Obama and me than he is against the legacy of the Bush administration," the former president said to laughter and applause. "After he's been a Democrat a little while longer, he'll get used to it. He'll realize, you know, our party is the best hope we got."
Bill Clinton is spending Monday and Tuesday stumping for his wife in and around New York City ahead of the state's April 19 primary.
—
Follow Kaitlyn Schallhorn (@K_Schallhorn) on Twitter.