Even if the next president can't immediately build a wall along the southern border, more immediate actions could include stricter workplace enforcement, tightening up asylum rules and reversing the executive actions by the Obama administration, according to a study by the Center for Immigration Studies.
Executive actions on immigration can work both ways, according to the study by CIS, a pro-border enforcement think tank, of what legal options are available to the next president. The study is titled, "A Pen and a Phone: 79 Immigration Actions the Next President can take."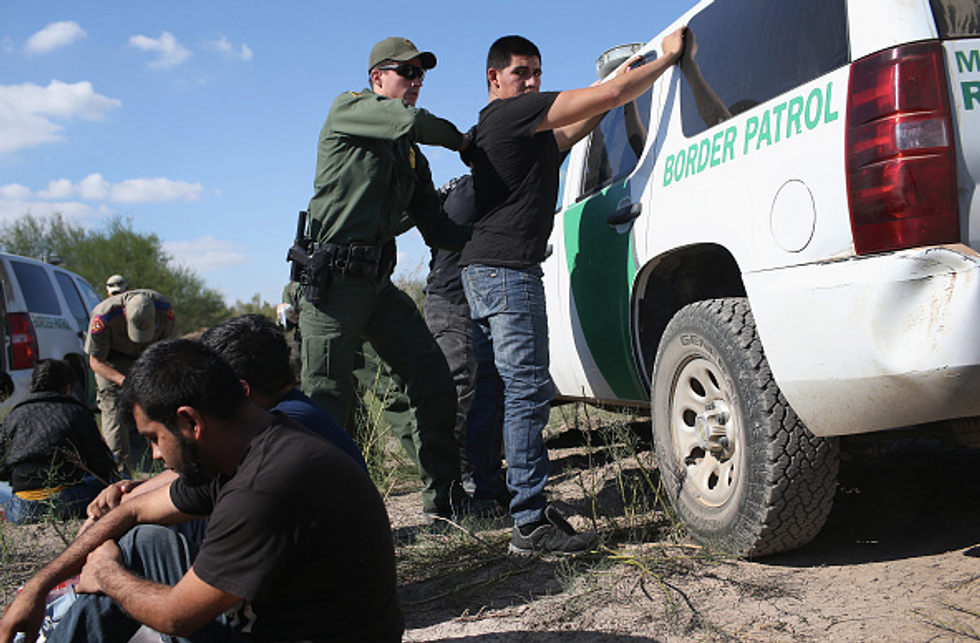 A U.S. Border Patrol officer body searches an illegal immigrant who crossed the U.S.-Mexico border and was caught near Rio Grande City, Texas. Border Patrol agents continue to detain hundreds of thousands of undocumented immigrants trying to avoid capture after crossing into the United States, even as migrant families and unaccompanied minors from Central America cross and turn themselves in to seek asylum. (John Moore/Getty Images)
The "pen and a phone" is a reference to what President Barack Obama has frequently used when talking about using his executive powers. In November 2014, shortly after Republicans won a majority in the Senate, Obama announced executive actions to shield some 5 million illegal immigrants from deportation, using "prosecutorial discretion" as the grounds.
The CIS study first calls for reversing those actions, but then goes further, calling for the United States to "deny asylum to any alien who could have sought asylum in countries through which he has traveled en route to the United States."
With jobs and benefits being the biggest magnet for illegal immigrants, the report says the next president should "direct executive branch agencies to deny allocation of H (work) visas to employers that lay off citizens or resident aliens in order to replace them with foreign workers."
Further, the CIS says that the next president could make federal grant money to state and local governments conditional on implementing E-verify to check the legal status of hires.
Also, the next president can "eliminate the current provision that disregards the wages of illegal aliens in the household in order to determine eligibility for food stamps, leading to families that include illegal aliens often getting more in food stamps than comparable citizen or legal-resident families," the study says.
Immigration has been a central issue in the 2016 presidential campaign. Republican presidential candidates Donald Trump and Texas Sen. Ted Cruz favor strict border enforcement and deportation of illegal immigrants. Democratic candidates Hillary Clinton and Vermont Sen. Bernie Sanders back granting some legal status to illegal immigrants.
"Civil rights pioneer Barbara Jordan noted that credibility in immigration policy is simple: 'Those who should get in, get in; those who should be kept out, are kept out; and those who should not be here will be required to leave,'" Mark Krikorian, executive director for the CIS, said. "These 79 recommendations would be a huge step toward that goal."
The study also addresses the issue of unaccompanied minors that arose in 2014, saying the next president should "direct that no unaccompanied minors be turned over to relatives who are illegally in the United States unless the relatives surrender themselves for processing and initiation of immigration court proceedings." The study further said the government should "selectively prosecute relatives who pay to smuggle unaccompanied minors into the United States."
Turning to the refugee crisis that resulted from the Syrian civil war, the study says that the next president should "cease issuing 'exemptions' (waivers) to known terrorists and supporters of terrorism, individually or by group, that permit them to enter the United States as immigrants, asylees, or refugees."
Read the full study and all 79 recommendations here.