Fionnuala McArdle gave birth to her daughter last October in Northern Ireland. At the time, the young mother was only 23 weeks pregnant, and doctors informed her that her daughter had only about a 1 percent chance of survival, Life News reported.
But survive she did. Last month, McArdle's daughter, Meabh, an Irish name that means "the cause of great joy," went home to her family for the first time.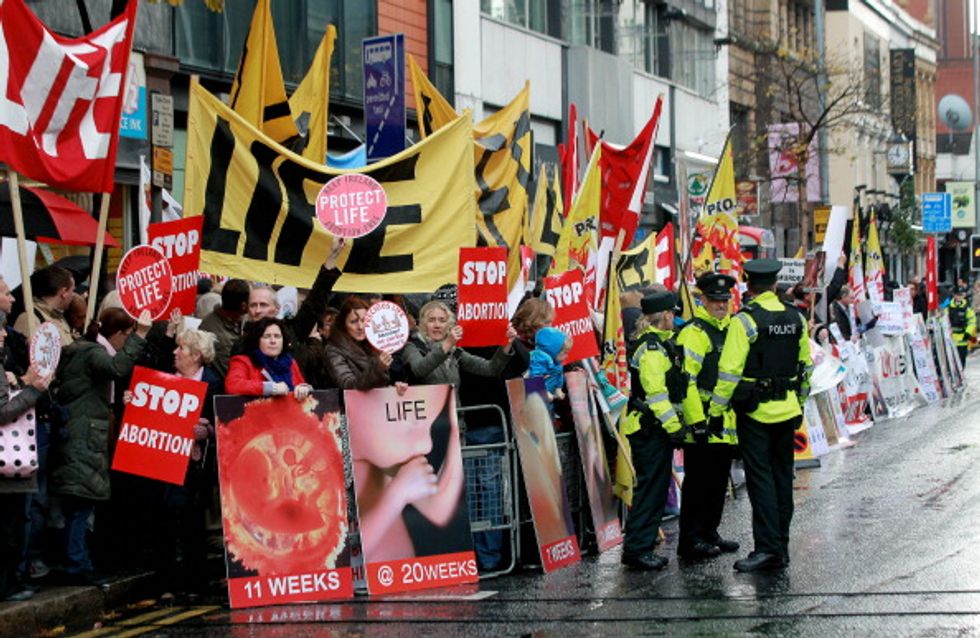 Police walk around abortion protestors holding up placards outside the Marie Stopes clinic, the first private clinic to offer abortions to women in Belfast, Northern Ireland. (Peter Muhly/AFP/Getty Images)
Now, the proud mother-of-one is speaking out against the the U.K.'s "disgraceful" abortion policies and told Life News that "every baby deserves a fighting chance."
Meabh is a fighter. At birth, the baby girl weighed just over a pound. She was also born with pneumonia and surrounded by toxic fluids.
"I want people to see how beautiful she is and how every baby deserves a fighting chance," McArdle told the Daily Mail. "When I gave birth to her, she had hands and feet and a gorgeous little face — I think some people don't realise how developed they are at that age."
The liberal 1967 Abortion Act operating in England, Scotland and Wales allows abortions up to 24 weeks into a pregnancy — one week after Meabh's miraculous birth.
And if doctors believe a baby will be born with a disability, the procedure can be legal all the way up to birth.
"It makes me sick to my stomach," McArdle said. "The fact I could've had an abortion after she was born is an absolute disgrace — it makes me sick to my stomach."
Abortion legislation is stricter in Northern Ireland, though large lobby groups like Amnesty International and U.N. subcommittees are pushing to weaken it.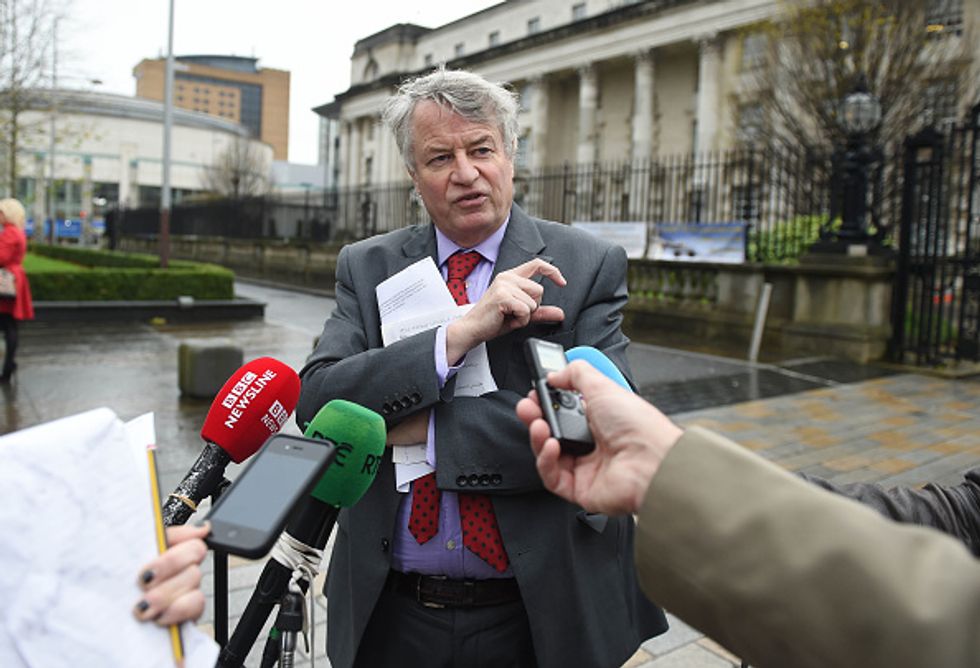 Les Allamby, Northern Ireland Human Rights Commissioner, gives his reaction to reporters outside Belfast Magistrates' Court following a landmark ruling on the issue of abortion in Belfast, Northern Ireland. A judge ruled that the current law in Northern Ireland was "incompatible" with human rights law. Unlike the rest of the U.K., abortion is only permitted in Northern Ireland if a woman's life is at risk or there is a permanent risk to her mental health. (Charles McQuillan/Getty Images)
"It breaks my heart that people can abort a baby when I see what she looked like at 23 weeks," McArdle lamented, adding, "It took Meabh five and a half months to be well enough to come home, but it's all been so worth it. It's still hard now, but she's brilliant and such a happy little baby."
Meabh has a long road ahead. The six-month-old suffers from Patent Ductus Arteriosus, a congenital heart defect that results from an abnormal source of blood flow to the lungs. She was also born with retinopathy of prematurity, which meant that her eyes were not developed properly because her retina did not receive enough oxygen.
She was given a 50 percent chance of being blind and underwent two operations to preserve her sight. She is still being tube-fed and is also on oxygen.
Meabh is still only the size of a newborn. She now weighs eight pounds and 15 ounces, which McArdle said is "definitely an improvement."
McArdle hopes others will be inspired by the great joy her daughter has given her and think of this in light of current legislation on abortion.
"Now, I'm just so happy to have her home," the mother said. "Meabh is such a bubbly, beautiful and amazing little girl who defied all of the odds that were stacked against her."