Vice President Joe Biden — seemingly to the chagrin of his own staffers — delved into the question of electing a woman to the presidency.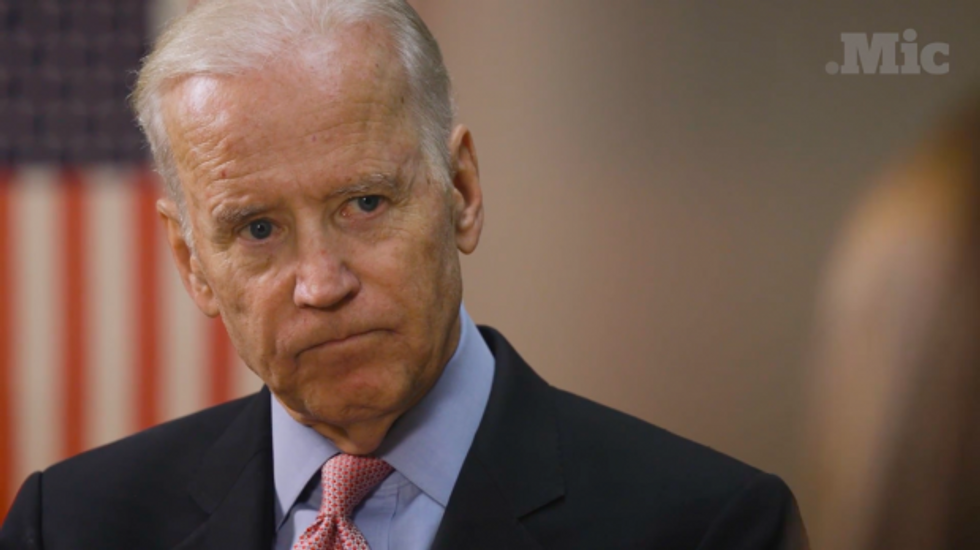 Vice President Joe Biden discusses the 2016 presidential election with Mic News reporter Antonia Hylton. (Image: Mic News/YouTube)
When pressed in an interview Monday by Mic News reporter Antonia Hylton if he thinks women are held to a different standard than men and if he'd like to see a woman occupy the White House, Biden answered swiftly.
"No, I don't think [Hillary Clinton's] held to a higher standard," Biden said. "And this country is ready for a woman. There's no problem, we're gonna be able to elect a woman in this country."
And Biden was quick to tell Hylton that he wants to see a female president, too. "I would like to see a woman elected," the vice president said as two of his staffers can be heard in the background attempting to cut the interview short.
"That's it," they told the Mic News interviewer.
"No, no, no — that's all right," Biden replied as he waved down his handlers and continued answering Hylton's questions.
"The president and I are not going to endorse, because we both, when we ran, said, 'Let the party decide,'" he said. "But gosh almighty, they're both qualified. Hillary's overwhelmingly qualified to be president."
Biden, who flirted with a potential 2016 presidential bid, has been pressed — along with President Barack Obama — to make an endorsement, but both men have abstained from directly pledging support to either Democratic presidential front-runner Hillary Clinton or Vermont Sen. Bernie Sanders.
—
Follow the author of this story on Twitter: