Comedian Ricky Gervais offered some harsh words for those who are offended by certain facets of comedy, declaring that giving and receiving offense is a necessary condition for a free society.
During an interview in Paris this week to promote his new Netflix show "Special Correspondents," Gervais, 54, lambasted society for its increasing sensitivity to politically incorrect humor and calls to fire or otherwise punish those who express potentially "offensive" opinions.
"You've got to be allowed to say things that [potentially] everyone might find offensive," Gervais declared during his appearance, according to the U.K.'s Independent. "I think offense is the collateral damage of freedom of speech. But just because you are offended doesn't mean you're right."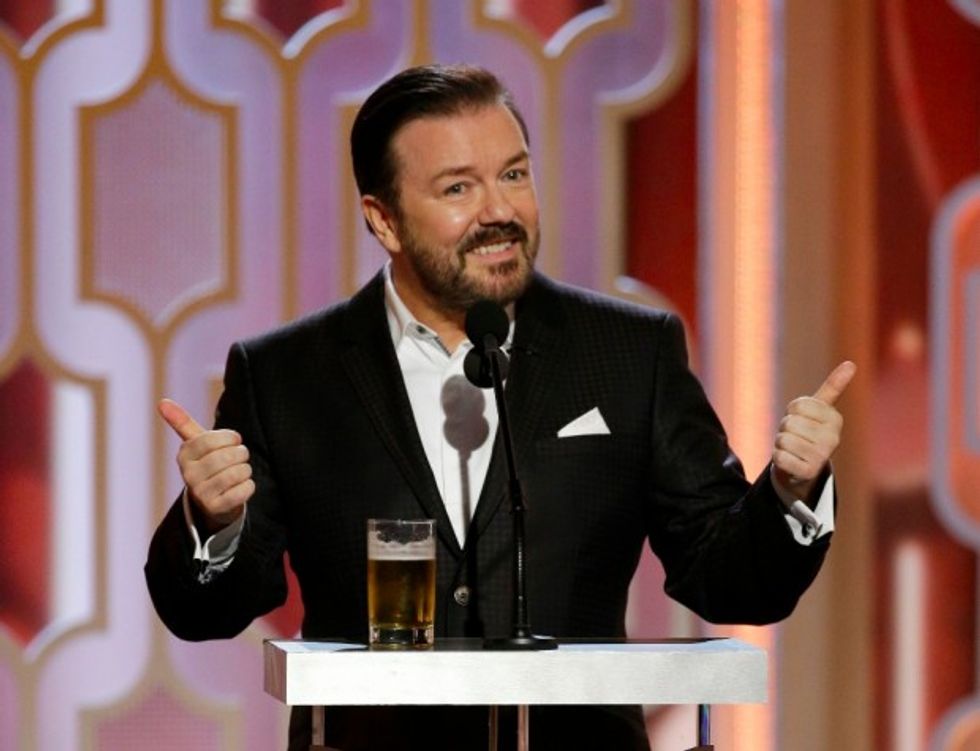 Ricky Gervais appears at the 73rd Annual Golden Globe Awards at the Beverly Hilton Hotel in Beverly Hills. (Paul Drinkwater/NBC via AP)
Gervais then went on to express how he handles criticism and backlash against his style of humor.
"The more famous you get, the more people love you and hate you," Gervais said. "If you are doing anything that isn't anodyne and watered down, you are going to polarize — but it's good to polarize, because some people are smart and some people are f***ing stupid."
Although Gervais himself has come under fire for politically incorrect jokes he told during his stint as host for the Golden Globes in 2016 — including a swipe at Caitlyn Jenner — he believes that developing a thick skin is essential for anyone who makes any attempt at humor.
"Do what you want and do it as well as you can and it will all be OK," Gervais said, according to Digital Spy. "Character is what is important. Reputation is just what strangers think of you."
"Unless people are coming to my house, I don't care [what they think]," Gervais added, according to the Independent. "Twitter? It's like reading every toilet wall in the world. You mustn't worry about it. It will send you mad. Who gives a f**k?"
—
Follow Kathryn Blackhurst (@kablackhurst) on Twitter