Glenn Beck boldly predicted Wednesday morning that current Republican presidential front-runner Donald Trump will join forces with Democratic candidate Hillary Clinton if he fails to secure the GOP nomination in July.
"You will see Donald Trump, if he loses the primary, if he loses the nomination — and he doesn't start a third party, which I don't think he will — you will see Donald Trump run or campaign with Hillary Clinton," Beck opined on The Glenn Beck Radio Program.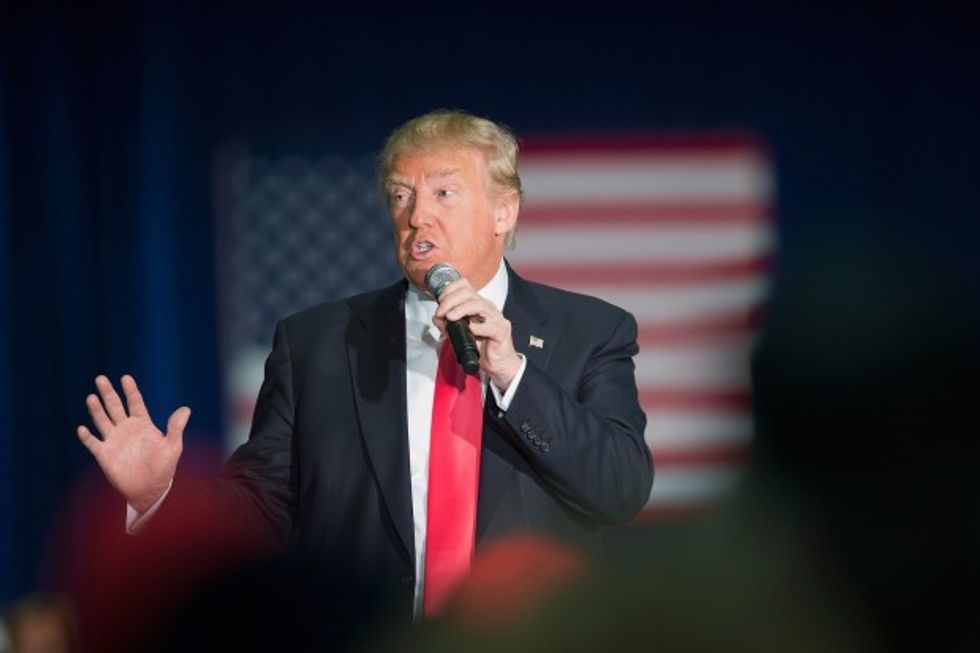 Scott Olson/Getty Images
The conservative talker said Trump would be inclined to team up with the former secretary of state because, should he lose the Republican nomination at the party's convention this summer, he will feel it was stolen from him.
"You will see him, because he'll say, 'They stole it from me, and Lyin' Ted, you can't have Lyin' Ted.'  And he will campaign with Hillary," Beck said.
Beck's radio show co-hosts Stu Burguiere and Pat Gray both chimed in, seeming to agree with Beck's assertion.
"It wouldn't surprise me," Burguiere said. "They're [Trump and Clinton] much more aligned policy-wise."
Trump's conservative credentials have been challenged frequently during this presidential campaign cycle over concerns regarding more liberal positions he has held in the past on issues like taxation, single-payer health care, abortion and more.
Beck's prediction comes on the heels of Trump telling supporters at a New York rally Tuesday that the Republican political system is "rigged" against him, adding that it is both "dirty" and "disgusting."
Republican National Committee Chairman Reince Priebus responded quickly on Twitter, telling the billionaire candidate there is "nothing mysterious, nothing new" about the way candidates battle for the GOP presidential nomination.
The rules were set last year. Nothing mysterious --nothing new. The rules have not changed. The rules are the same. Nothing different.

— Reince Priebus (@Reince) April 12, 2016
Complimentary Clip from TheBlaze TV
The full episode of The Glenn Beck Program, along with many other live-streaming shows and thousands of hours of on-demand content, is available on just about any digital device. Click here to watch every Glenn Beck episode from the past 30 days for just $1!
—
Follow the author of this story on Twitter: