The bar might not be set so high when it comes to the number of delegates needed for Republican presidential front-runner Donald Trump to clinch the party's nomination after all.
Randy Evans, a member of the RNC Rules Committee, told MSNBC Wednesday that as long as the businessman secured 1,100 delegates, he would be able to become the nominee.
"What I do expect to happen is this: If Donald Trump exceeds 1,100 votes, he will become the nominee even though he may not have 1,237," Evans said. "If he gets less than 1,000 delegates, then I think we're looking at a contested convention that could go on for many, many days."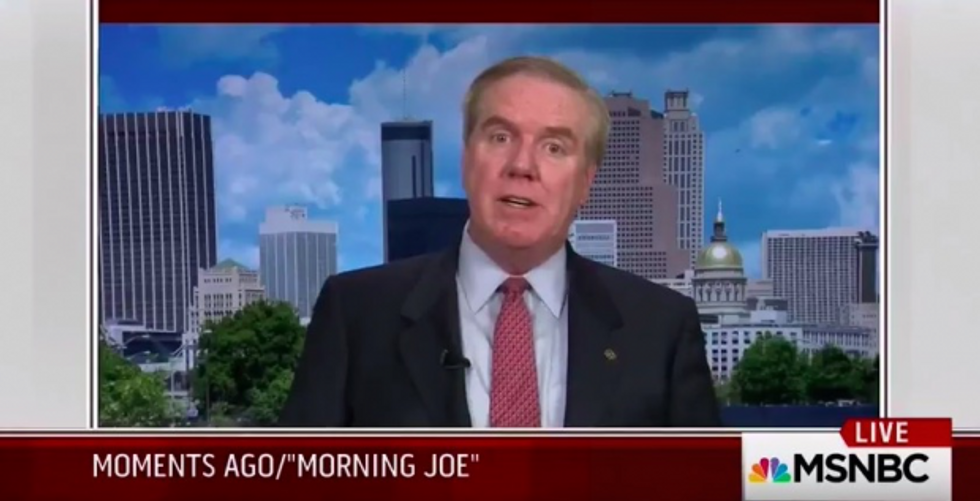 Image source: YouTube
"And then in the middle, there is that gray area between 1,000 and 1,100, and that's where the unbound delegates or the delegates that have been released by other candidates come into play, to see if there are enough of those to get either Trump or Cruz over the finish line," the RNC member continued.
This wasn't the first time Evans predicted that Trump could secure the GOP nomination without reaching that 1,237 delegate threshold. He made similar claims last month, according to the Washington Times.
Trump leads in the delegate count thus far with 743. Trailing behind are Texas Sen. Ted Cruz with 545 delegates and Ohio Gov. John Kasich with 143 delegates.
Watch Evans' comments below.
—
Follow Kaitlyn Schallhorn (@K_Schallhorn) on Twitter