NEW YORK — Communications Workers of America members went on strike Wednesday, and their efforts did not go unnoticed by Vampire Weekend, the rock band that opened for a Sen. Bernie Sanders rally later that night.
"This is what it's really about — supporting people like the CWA," Ezra Keonig said as the band played a short set of its popular songs for those gathered to see the Democratic presidential candidate in Manhattan's Washington Square Park.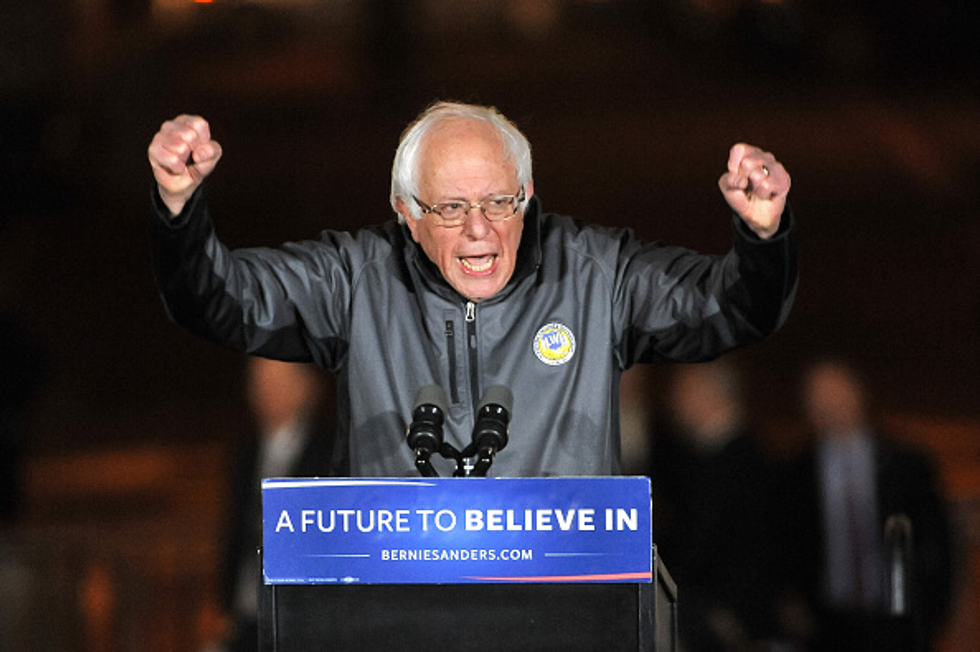 Democratic presidential candidate U.S. Senator Bernie Sanders speaks onstage at a campaign event at Washington Square Park on April 13, 2016 in New York City. (Getty Images/D Dipasupil)
The band praised the workers congregated in the front row of the mini-concert and added that it hoped Verizon Wireless would hear the picketers' message.
Almost 40,000 Verizon employees, many a part of CWA, went on strike Wednesday as negotiations with their contract expired eight months ago. Those involved in the indefinite strike are advocating for decent jobs and an acceptable standard of living. 
Sanders joined the employees on their picket line earlier Wednesday in Brooklyn as he addressed those on strike as his "brothers and sisters" before he praised their efforts at his evening rally.
"Tonight I want to take my hat off to the CWA," he said. "They are standing up to a greedy corporation that wants to cut their health care benefits, send decent paying jobs abroad and provide $20 million a year to their CEO."
Prior to Sanders' speech, a Transit Workers Union official praised the work the self-proclaimed socialist did with his own organization before he said, "f**k Verizon" — a phrase which many supporters and union workers repeatedly chanted.
According to Sanders' campaign, 27,000 people gathered in the Manhattan park on a chilly spring evening in support of the candidate.
The CWA endorsed Sanders' Democratic presidential candidacy in December.
Sanders is campaigning in New York for the week ahead of the Empire State's April 19 primary. The Vermont senator trails his opponent, former Secretary of State Hillary Clinton, in the state by a little more than 13 points.
—
Follow Kaitlyn Schallhorn (@K_Schallhorn) on Twitter