BROOKLYN, N.Y. — Former Secretary of State Hillary Clinton says she's been called many things before but "unqualified" is not one of them.
Clinton and Sen. Bernie Sanders came out swinging at one another almost immediately during Thursday night's CNN Democratic presidential debate, especially as one of the first questions to the Vermont senator was whether or not he thought Clinton had the judgement to become the next president.
"I do question her judgement," Sanders admitted during the debate to a boisterous audience as he referenced Clinton's vote in support of the war in Iraq, voting record on trade agreements and her use of super PACs.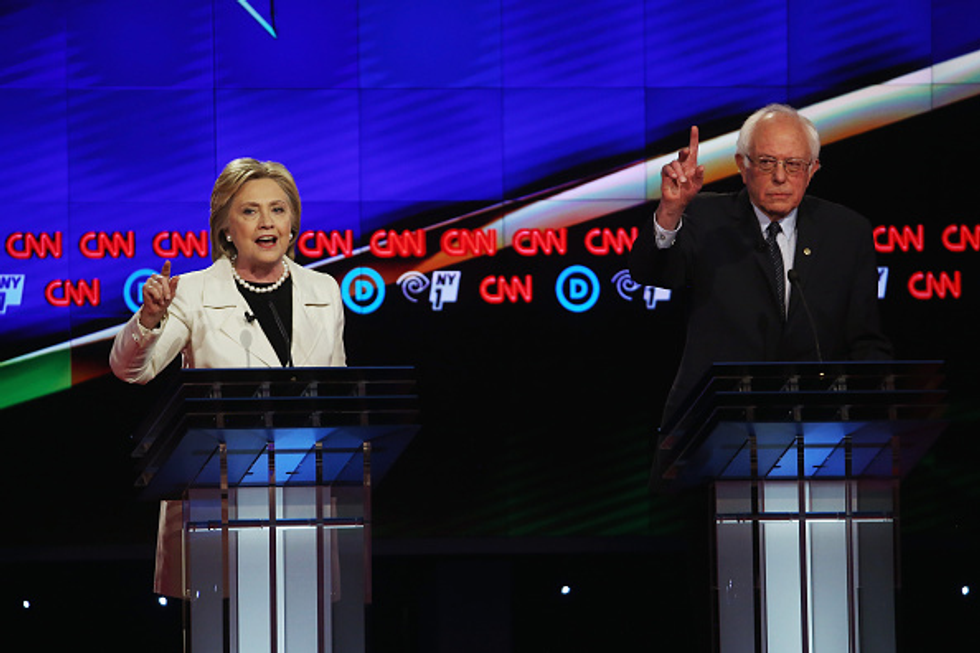 Democratic Presidential candidates Hillary Clinton and Sen. Bernie Sanders (D-VT) debate during the CNN Democratic Presidential Primary Debate at the Duggal Greenhouse in the Brooklyn Navy Yard on April 14, 2016 in New York City. (Photo by Justin Sullivan/Getty Images)
"Now that the spotlight is pretty bright here in New York, some things have been said," Clinton countered.
Referencing Sanders' comment that she is "unqualified" to be president, Clinton said, "I've been called a lot of things in my life. That was a first."
"This is not just an attack on me; it's an attack on President Obama," Clinton continued to boos. "President Obama had a super PAC when he ran."
Clinton's quip during Thursday night's debate nearly echoed a statement she made during her first official campaign launch speech in New York City last January. 
"I think you know by now that I've been called many things by many people. 'Quitter' is not one of them," she said then.
Clinton and Sanders faced off Thursday night in Brooklyn Navy Yard ahead of the April 19 primary. Clinton currently leads Sanders by nearly 14 points.
—
Follow Kaitlyn Schallhorn (@K_Schallhorn) on Twitter