A video posted to Facebook showing a 5-year-old boy about to be paddled by a school principal has gone viral and ignited a debate over corporal punishment in schools.
Complicating the issue is the fact the boy's mother gave the school permission to spank her son.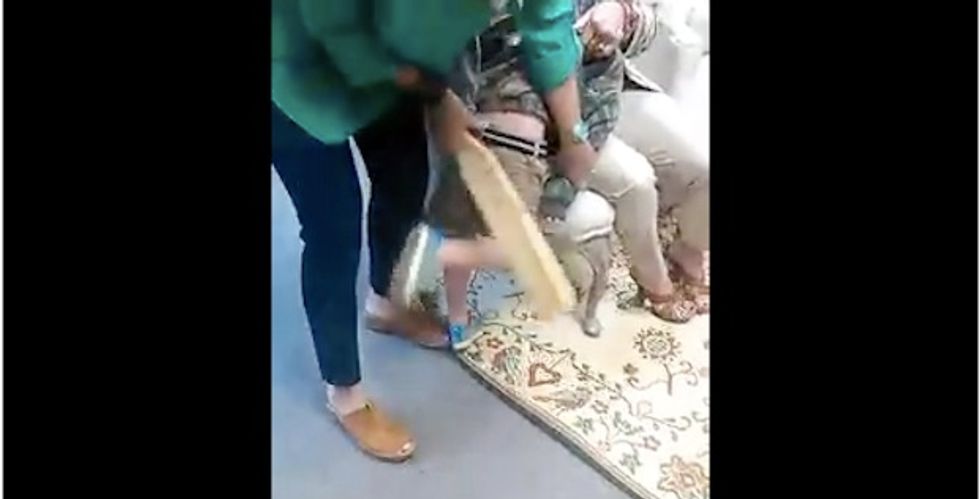 Image via Facebook/Shana Marie Perez
Shana Marie Perez of Covington, Georgia, has told several media outlets that her son was in trouble for spitting on a fellow student and trying to hit another.
Perez was called to the school and informed her son would be suspended if she did not permit the paddling. The mother said that because her 5-year-old had a previous string of unexcused absences, causing Perez to be jailed on a truancy charge, she agreed to the punishment.
Standing a few feet away as her crying son begged and pleaded not to be spanked, Perez pretended to be texting as she recorded the incident.
Once she returned home, Perez posted the video on her Facebook page with the statement below.
Chloee Faith McCallie they told me if he could not get a paddling he would have to be suspended and if he got suspended for even one day I WILL go to jail for truancy... Jasper county made me do this... I could not go to jail or my kids would have nothing ... I can't take care of my kids in jail... And I was not texting I was recording this... I couldn't do anything to stop them.
The video was soon shared more than 36,000 times and viewed almost 2 million times in less than two days.
The school district claims nothing illegal was done and released the following statement.
The Jasper County School District is aware of the video released by Ms. Perez. Unfortunately, the District is barred by State and Federal law from commenting about the specifics of this incident. The District respects every student's right to privacy. However, we can speak generally about the District's code of conduct which allows corporal punishment as one of the consequences for behavior. That code of conduct is provided to all parents. When corporal punishment is used, it is with parental consent. The District is investigating the incident and looking into its discipline policies at this time.
Perez and her son are reportedly meeting with school officials today.
The topic was discussed on TheBlaze Radio on Saturday morning.
Watch the video Perez posted on Facebook.
Do you support corporal punishment by schools to discipline students?
Take our Blaze Poll and share your thoughts in the comments section.
—
Follow the author of this story on Twitter and Facebook: