ST. PETERSBURG, Fla. (AP) — A small gap in the protective netting at Tropicana Field led to a fan getting hurt when she was hit by a foul ball on Friday night.
The woman was struck in the seventh inning of Chicago's 1-0 victory. After the inning was over, the game was delayed for about 10 minutes so she could receive medical treatment. She was wheeled away on a stretcher and taken to the hospital.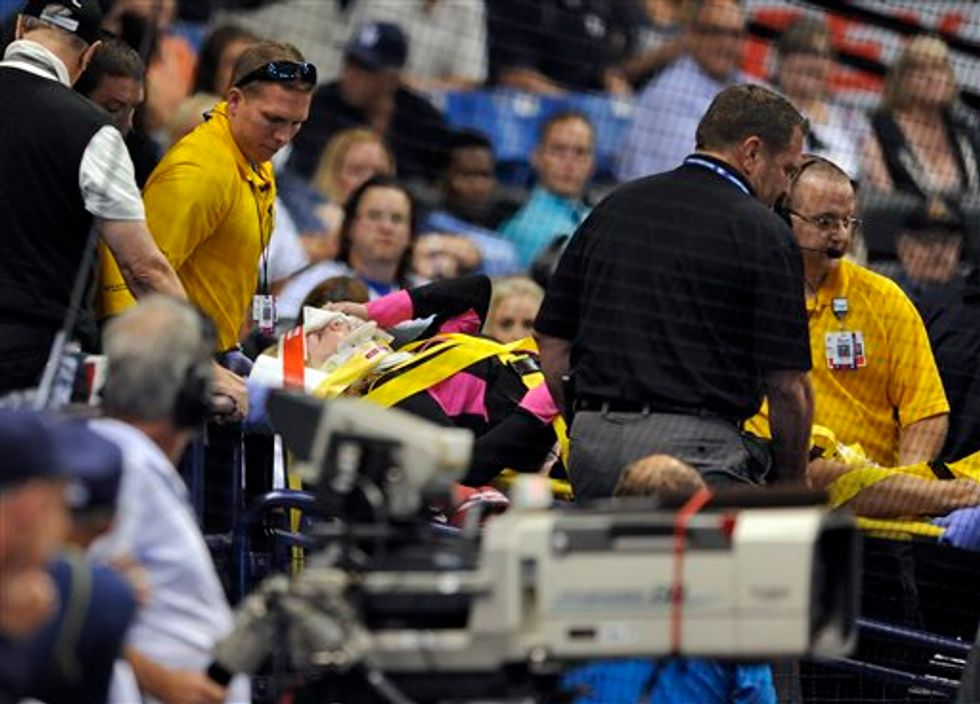 Medical personnel carry a fan from the stands by stretcher after she was hit a foul ball from Tampa Bay Rays designated hitter Steven Souza Jr. during the seventh inning of a baseball game against the Chicago White Sox, Friday, April 15, 2016, in St. Petersburg, Fla. (AP Photo/Steve Nesius)
The fan was sitting in box seats next to the Tampa Bay dugout on the first-base side. The ball came off the bat of Rays designated hitter Steven Souza Jr.
"It looked like it caught her right in the eye, which wasn't a good sight," Souza said. "I'll be praying for her, hoping that she's OK. She was able to talk to me, say a few things. Never a good sight to see."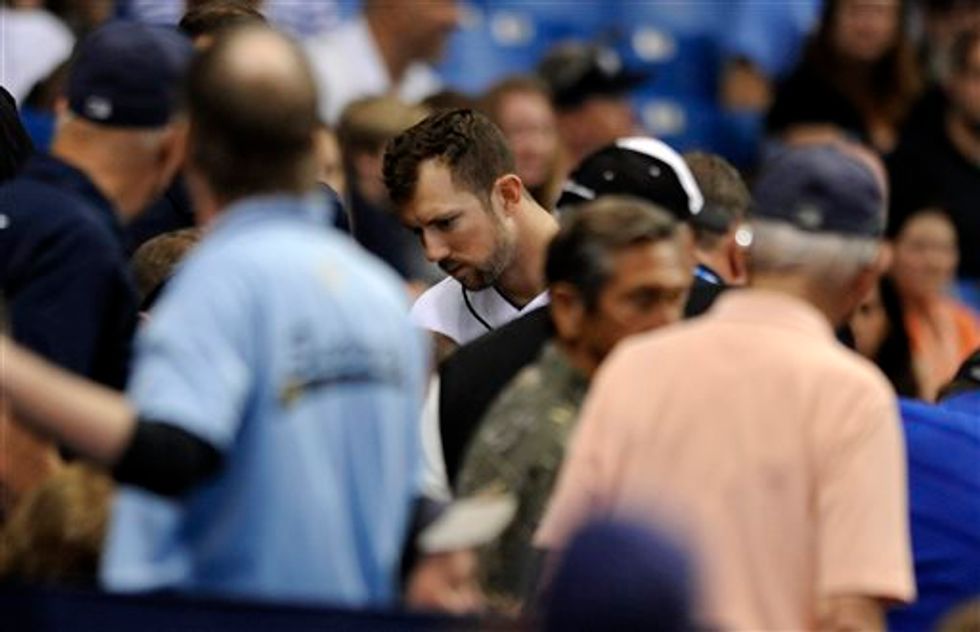 Tampa Bay Rays designated hitter Steve Souza Jr., center, looks on as medical personnel help a fan in the stands who was hit by his foul ball. (AP Photo/Steve Nesius)
After an in-depth study last year, when several fans were hurt by broken bats and foul balls, Major League Baseball recommended the extension of safety netting at its ballparks to the ends of both dugouts and anywhere within 70 feet of home plate.
The ball went through a gap in the netting about the size of 1 1/2 baseballs behind an area designated for photographers.
"I know it didn't sound good at all," White Sox manager Robin Ventura said. "I hope she's all right."
The primary home plate-area screen at Tropicana Field ends at the start of the photo area. A second screen was installed this season behind the photo area. The ball got through a narrow opening.
"Totally unfortunate," Souza said. "People are more important than that game right there. That woman's health is way more important."
Souza was hoping to visit the woman in the hospital. No other news about her injuries was expected Friday night.
"That's tough," said ace left-hander Chris Sale, who threw a two-hitter for Chicago. "Major League Baseball is trying to do what they can to protect fans, but that's just a tough situation. I almost felt that when it happened. You feel so bad for the individual and her family, and just hope for the best."