Red Sox third baseman Pablo Sandoval was reportedly banned from ordering room service when he was still playing for the San Fransisco Giants.
Sandoval is in the second year of a $95 million, five-year deal with the Red Sox signed after the 2014 season. Now it appears as though the team might be regretting that deal. The Sox made the decision to bench Sandoval before the season opener.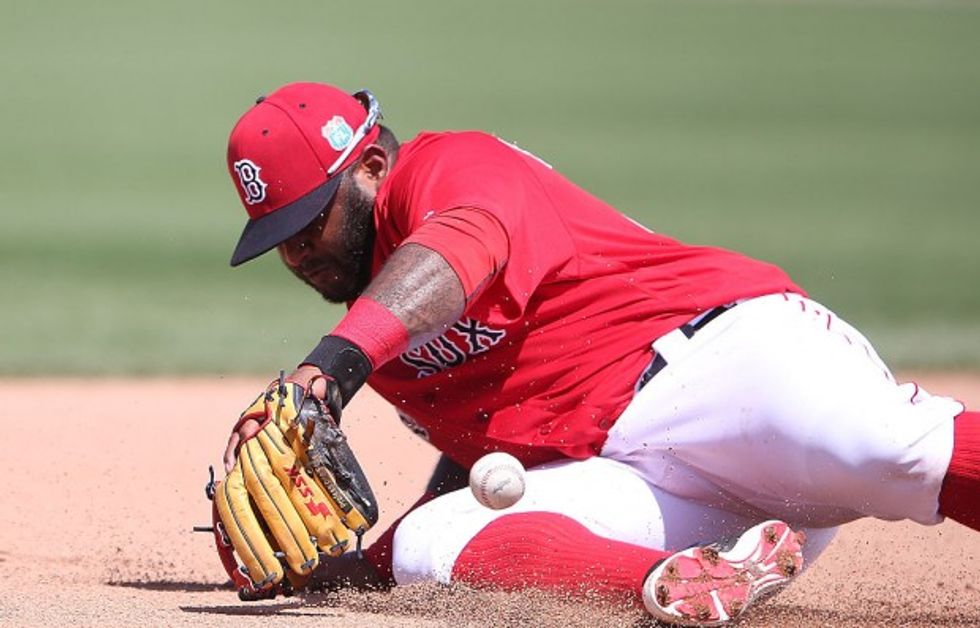 Pablo Sandoval #48 of the Boston Red Sox knocks the ball down at third base on the ground ball from Jason Rogers (not in photo) of the Pittsburgh Pirates an makes the play to first base for the out during the fourth inning of the Spring Training Game on March 14, 2016 at Jet Blue Park at Fenway South, Florida. The Pirates defeated the Red Sox 3-1. ( Leon Halip/Getty Images)
Sandoval's struggle with overeating has been an ongoing issue that has threatened to jeopardize his professional baseball career, but the detail about room service came just this past week.
"They would make special arrangements at the hotel the Giants were staying in to not allow him to order room service. They would tell the front desk management, 'If he calls down for room service at night after games, do not send anything to this room,'" Sean McAdam of Comcast SportsNet told WBZ Radio in Boston Friday.
McAdam explained that the San Francisco team's attempt at tough love had its limits.
"They went to great measures to try to cut down on those eating binges, and it would only work for a time because he would find someplace to get food," he said.
Others who have worked with the slugger over the years shared similar accounts of Sandoval's harmful habits.
A former trainer said Sandoval gained 21 pounds in 21 days after the 2011 season. He recalled implementing a ramped-up training regimen to help the player keep his weight gain from the Giants.
"I would go pick him up at a random location, drive him to the facility so that his car wouldn't be there, so if they dropped in they wouldn't know he was there," Ethan Banning of Triple Threat Performance told the Boston Herald Friday. "So for about a three-week period, he had the flu — we had every excuse in the world. We were just trying to rip weight off him again. And it ballooned way out of control."
Sandoval ended up successfully losing the weight and signed a $17 million deal with the Giants in early 2012.
But in Banning's words, the player would require something like a full-time "babysitter" if he was interested in permanently controlling his weight.
Yahoo Sports columnist Jeff Passan told WBZ Radio Wednesday that the Sox were exploring ways to either trade Sandoval to another team or release him.
Sandoval was placed on the 15-day disabled list Wednesday, ESPN reported. Red Sox president of baseball operations Dave Dombrowski said an MRI exam given to Sandoval the next day revealed "a great deal going on in his left shoulder."
Citing medical privacy laws, Dombrowski would not discuss details of the MRI results but said they were sent to renown orthopedist Dr. James Andrews for further review. Sandoval is scheduled to meet with Andrews Monday.
Passan said Wednesday that the likelihood of Sandoval playing another game for the Sox extremely low given his weight problem and recent medical issues.
"Next week, John Henry may say, 'I'm done with this, get rid of him.' Or Dave Dombrowski may say, 'let's give him a chance, his trade market is dry.' But gun to my head, I don't think he takes another at-bat with [the Red Sox]," Passan said.