Things started out quietly enough for Jimmy Rotan on Saturday morning — and at about 10 a.m. he had just taken a seat for some breakfast in his Houston home.
But that all ended when the 75-year-old noticed his trailer — occupied by his John Deere Gator and parked behind a motorized chain-link fence — was headed off his property.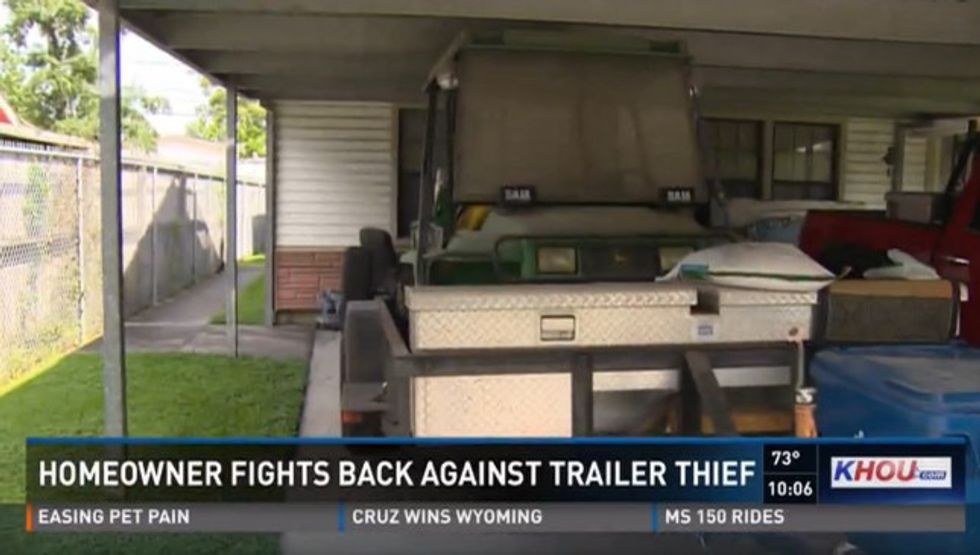 Image source: KHOU-TV
"I grabbed my protection and my phone and I come out," Rotan, shirtless save for denim overalls, told KHOU-TV.
By "protection," Rotan meant his gun — and he wasn't shy about using it.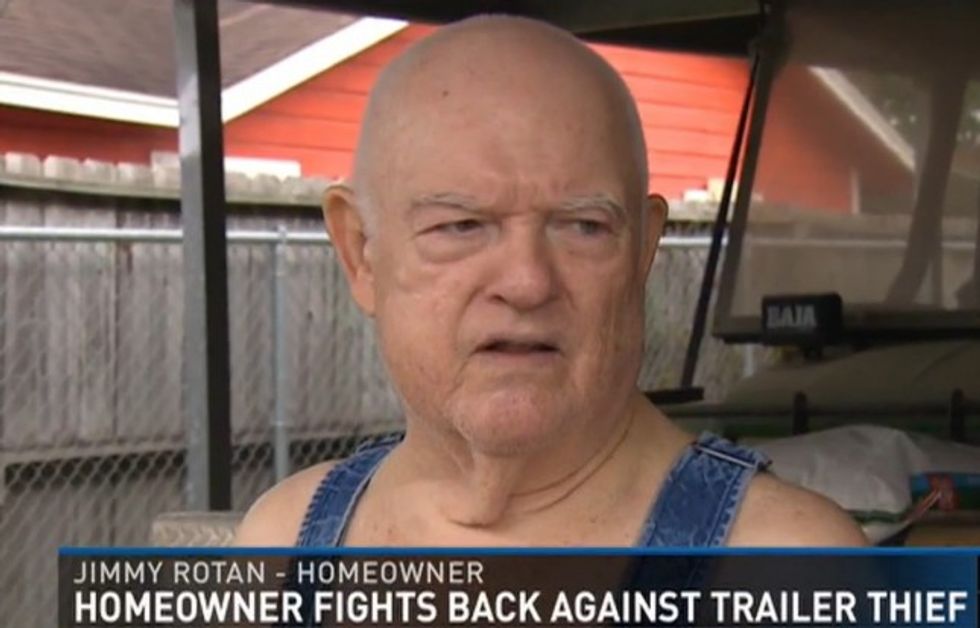 Image source: KHOU-TV
"The man was trying to steal my property, and I stopped him," he told KHOU.
Officials told the station that the suspect was shot while trying to get away with the trailer, which he'd hooked to back of his own vehicle. The suspect's truck ended up in a ditch off the side of the road.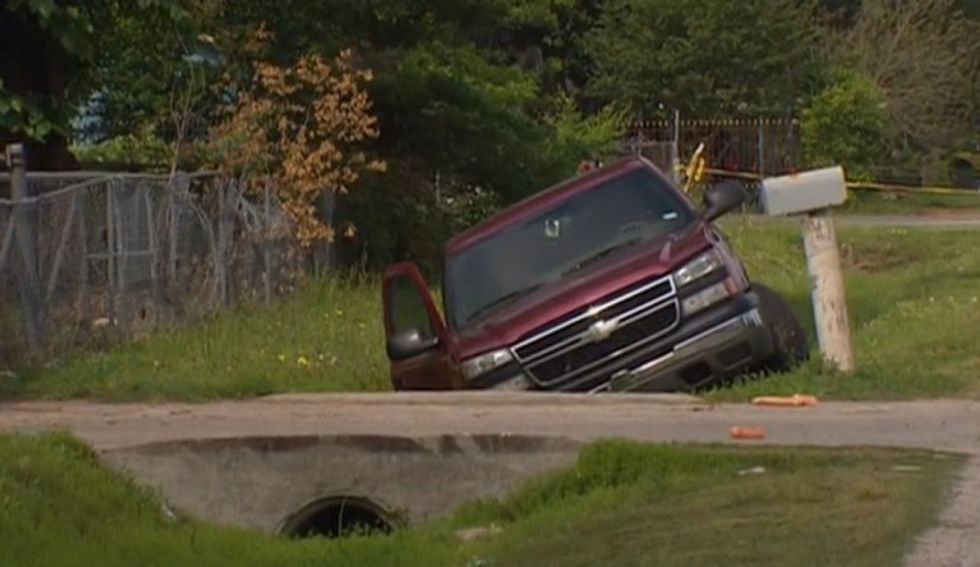 Image source: KHOU-TV
When asked if the suspect said anything to him, Rotan told KPRC-TV: "Don't shoot no more."
"I'm just happy I stopped him before he got away," he added to KHOU.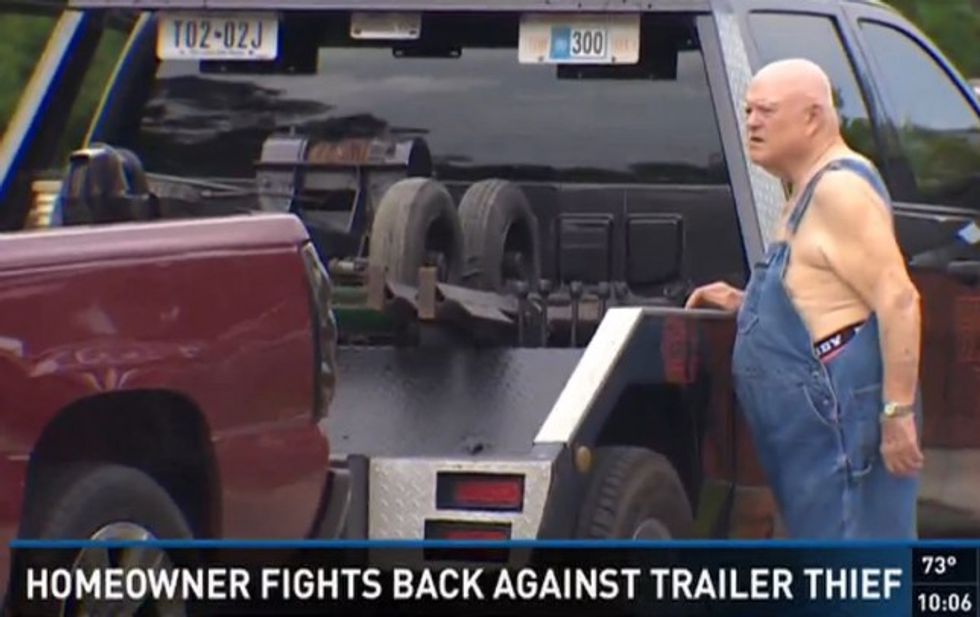 Image source: KHOU-TV
The suspect was taken to a hospital after a gunshot to his arm and is expected to be OK. KHOU reported that the 35-year-old had a felony warrant for auto theft.
One neighbor told KHOU that he had no problem with Rotan's response: "If they're coming in to take what I worked hard for, then why not defend myself?"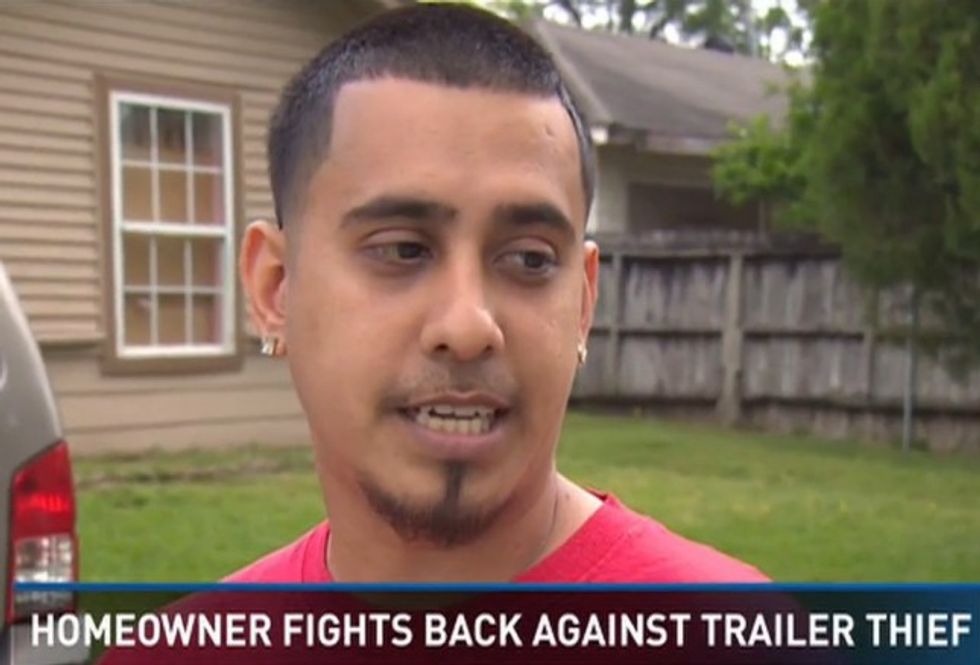 Image source: KHOU-TV
Rotan was of a similar opinion: "I worked all these years. I bought and paid for it. It belongs to me," he told KTRK-TV. "And I don't think I agree for somebody to steal it."
Following the incident, Rotan had only one thing on his mind.
"I'm fixin' to go in the house and eat breakfast," he told KHOU. "He interrupted my breakfast."