Armed with mounds of spaghetti, pasta strainers and a litany of other non-traditional elements, a couple in New Zealand held what is being dubbed the world's first-ever "Pastafarian" wedding on Saturday, an affair that was conducted by the Church of the Flying Spaghetti Monster.
The satirical "church" was birthed in 2005 when a many named Bobby Henderson pushed back against the idea of teaching intelligent design in Kansas public schools. In a letter to the Kansas State Board of Education, he quipped that he believed that a Flying Spaghetti Monster created the world and universe and that his ideas should be taught in schools, NPR reported.
Atheists, among others, have frequently turned to this mocking Spaghetti Monster in recent years to help booster their views in the public square, with couple Toby Ricketts, 35, and Marianna Fenn, 33, deciding to take the theme to the next level.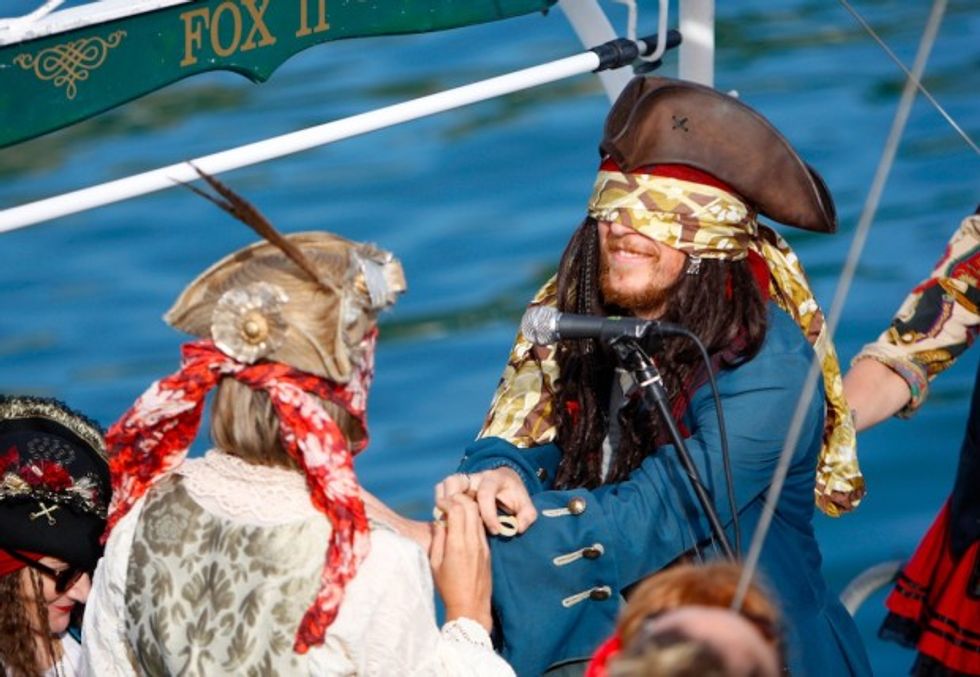 Bride Marianna Fenn, left, and bridegroom Toby Ricketts hold rings made of pasta during their marriage ceremony on a boat in Akaroa harbor, New Zealand, Saturday April 16, 2016. (AP Photo/Nick Perry)
The wedding — which was held on a private boat — included rings made of pasta, guests dressed as pirates, Fenn donning a spaghetti strainer on her head and an officiant known as a "ministeroni."
The guests consumed pasta, of course, with the wedding cake featuring an image of the Flying Spaghetti Monster, according to the Associated Press.
Karen Martyn, the woman who married Ricketts and Fenn, told the AP that she has no doubt that "the Flying Spaghetti Monster created the world," quipping that the idea is just as plausible as what other religions propose about creation.
"We weren't around then and we didn't see it, but no other religion was around to see it either, and our deity is as plausible as any other," she said.
The wedding came after the Church of the Flying Spaghetti Monster secured legal status as a recognized religious group in New Zealand last month, with Martyn telling the BBC that more so-called Pastafarian weddings are on the horizon.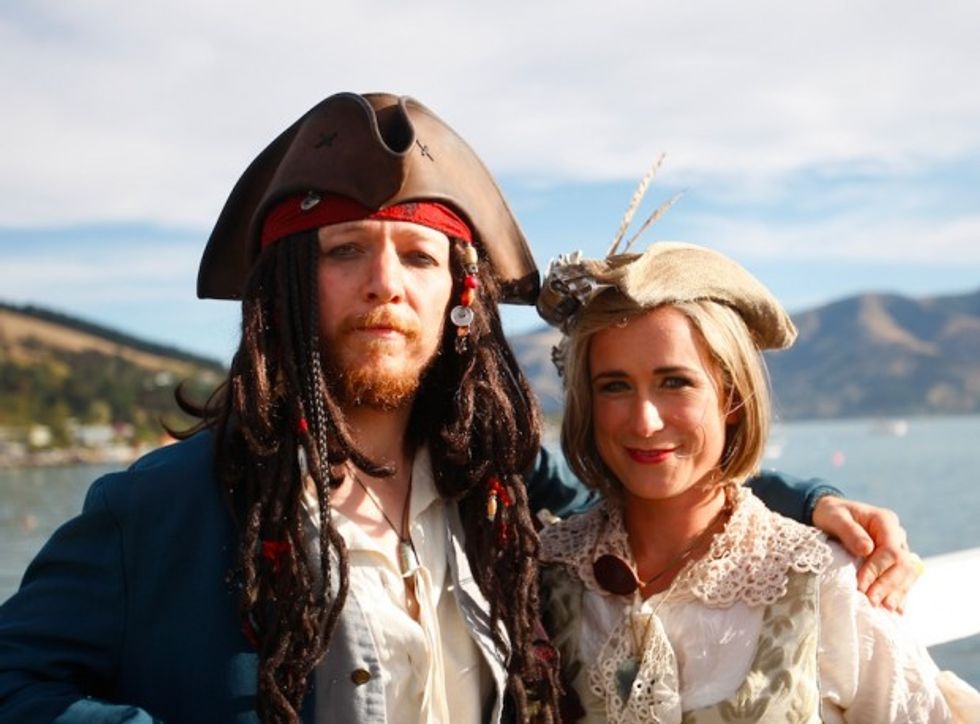 Bridegroom Toby Ricketts and bride Marianna Fenn stand on a jetty in Akaroa harbor, New Zealand, on April 16, 2016. (AP Photo/Nick Perry)
"I've had people from Russia, from Germany, from Denmark, from all over contacting me and wanting me to marry them in the church because of our non-discriminatory philosophy," she told the outlet. "We will marry any consenting legal adults who meet the legal requirement."
As for Fenn, the new-found bride said that she didn't want a traditional wedding, but that the theme was perfect of the couple.
"I would never have agreed to a conventional marriage, but the idea of this was too good to pass up," Fenn she told the AP. "And it's a wonderful opportunity to celebrate my relationship with Toby, but in a way that I felt comfortable with."
--
Follow the author of this story on Twitter and Facebook: