During an interview on WWPR-FM's "The Breakfast Club" Monday in New York City, Democratic presidential front-runner Hillary Clinton revealed that the one item she always carries with her is hot sauce, which drew accusations of pandering from one of the radio show's hosts.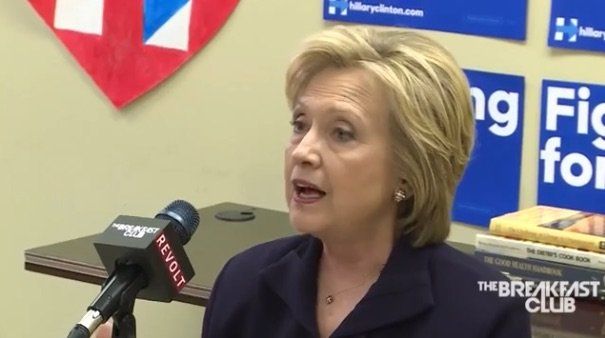 Image source: YouTube
"What is something that you always carry with you?" show co-host Angela Yee asked the former secretary of state.
"Hot sauce," Clinton quickly shot back.
One of the show's other two hosts, Charlamagne Tha God, countered Clinton's comment by informing her that many black people might think she's merely pandering to them with her answer.
"Now listen, I want you to know that people are going to see this and say, 'She's pandering to black people,'" he said.
"OK," Clinton responded. "Is it working?"
Clinton went on to explain that she keeps the condiment with her because she believes spicy foods are good for the human immune system.
"No, but seriously. I've been eating a lot of hot sauce," Clinton said. "Raw peppers and hot sauce. I think it keeps my immune system strong. Hot sauce is good for you."
It didn't take long for social media to catch wind of the 45-second exchange. Many skeptical black people took to Twitter accusing Clinton of pandering to them with her comment.
However, Monday wasn't the first time that Clinton has admitted to being a fan of hot sauce and almost always keeping it with her.
During an interview with Condé Nast in 2012, Clinton, who at the time was the United State's top diplomat and traveled frequently, revealed that among the items she always keeps with her is a small bottle of Tabasco sauce and red pepper flakes.
Listen to "The Breakfast Club" interview below via TMZ:
—
Follow the author of this story on Twitter and Facebook:
[facebook //www.facebook.com/plugins/like.php?href=