The state of Utah officially became the first state in the country to formally declare pornography use a public health crisis, after Gov. Gary Herbert (R) signed a resolution Tuesday declaring porn to be an "epidemic that is harming the citizens of Utah and the nation."
"Pornography is a public health crisis," Herbert said, according to the Agence France-Presse. "The problem is rampant, yet it thrives in secrecy and silence."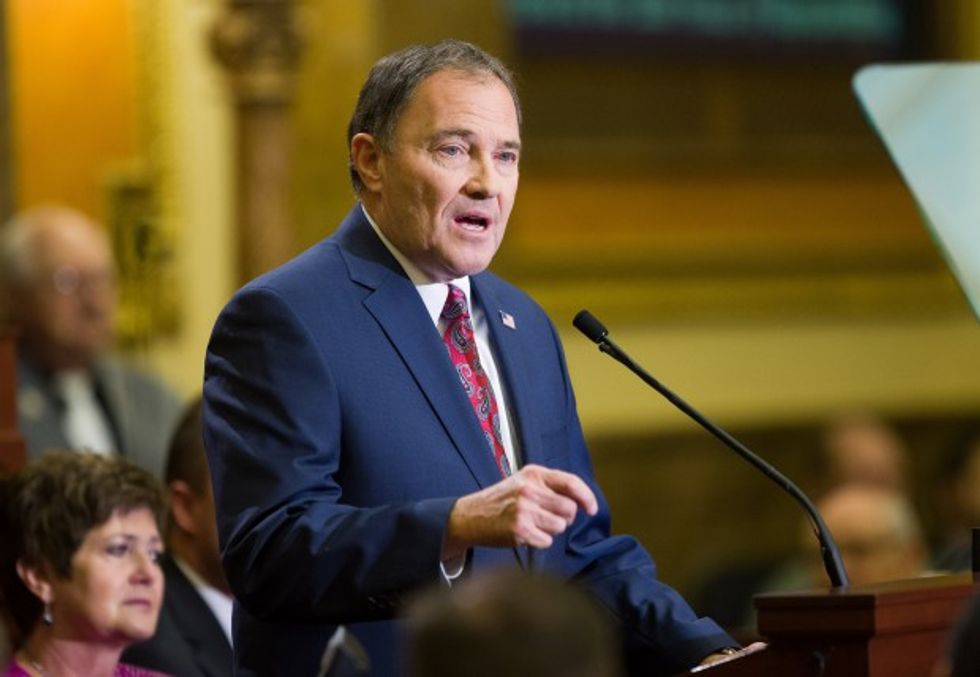 Utah Gov. Gary Herbert (Scott G Winterton/Deseret News via AP, Pool)
During the signing ceremony in Salt Lake City, the governor touted the boldness of the bill.
"We realize this is a bold assertion, and there are some out there who will disagree with us," he said, AFP reports. "We're here to say it is, in fact, the full-fledged truth."
The governor added, "We also want our young people to know that there's a particularly psychological and physiological detriment that comes from addiction to pornography."
Republican state Sen. Todd Weiler, the bill's main sponsor, reiterated during the ceremony that the bill will not cost the state any money and nothing is being "banned."
"This isn't just a religious moral issue," he added "Some people want to make this about sex education; no boy or girl needs to see those images to learn how families are created."
More from Law Newz:
Utah has been trying to squash pornography for a while. In 2013, the legislature passed a resolution sponsored by Weiler saying "soft-core porn" — described as sexualized imagery in the advertising and the media — hindered brain development in children. The state instituted an actual "porn czar" position back in 2001 — technically called the Obscenity and Pornography Complaints Ombudsman.
In 2009, a study from a Harvard Business School professor revealed that Utahans consumed more porn than the citizens of any other U.S. state.
—
Front page image via Shutterstock.com.
—
Follow the author of this story on Twitter and Facebook:
[facebook //www.facebook.com/plugins/like.php?href=