"I saw a man who needed help."
That's what one Cinco de Mayo restaurant server in Douglasville, Georgia, said when he helped feed a customer who has no hands.
"I did what I thought was right," 22-year-old Alex Ruiz told CNN.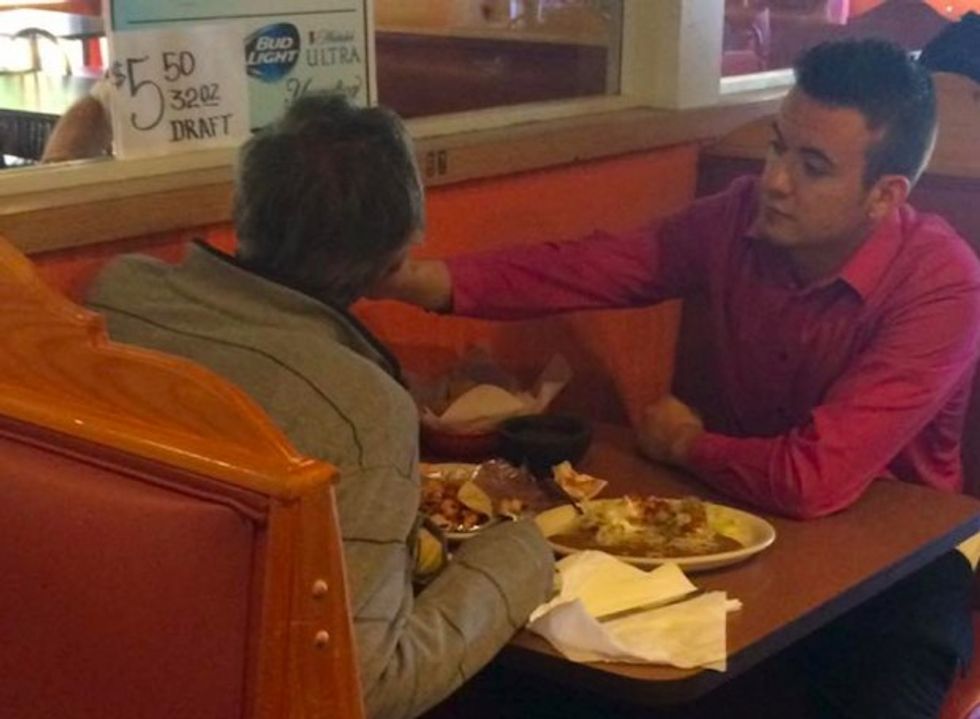 Image source: Facebook/Reginald Widener
Ruiz had never seen the customer before, but when he came into the restaurant over the weekend to order a meal, he asked someone to help him. The young server jumped at the chance to help the man, making small talk with him while he helped him eat.
He said he talked to the customer about his life, his family and he even offered him a ride home.
"It makes me very happy to help people," Ruiz said.
Douglasville local Reginald Widener, who eats at Cinco de Mayo almost every day, was struck by the display of kindness, took a photo and shared it on his Facebook profile.
"This seriously hit me right in the soul," Widener wrote. "Still good ppl in the world."
Though Widener was moved by Ruiz kindness, he said it is not out of the ordinary.
"I talk to him almost every day. He is always in a positive mood, always smiling," he said.
Ruiz is from Chicago and only recently moved to Georgia about six months ago. He has a young son, who he hopes to teach about being "loving."
See Widener's original Facebook post:
—
Follow the author of this story on Twitter: