Golden State Warriors power forward Draymond Green promptly shot down a reporter's question that he felt was out of line following his team's 27-point win Sunday against the Houston Rockets.
During the postgame conference in Houston, the reporter asked Green to comment on the flooding in Houston and if he thought there could be a connection between his team's Game 4 victory and the devastating floods that have ravaged the Houston area.
"So last year, you visited us — Game 3, there's no flood, you win. Game 4, there was flood, you lose. And this year, you visit us — Game 3, there's flood, you lose ... Game 4, there's no flood, you win," the reporter began, seeming to allege that there may be a superstitious explanation for the team's performance.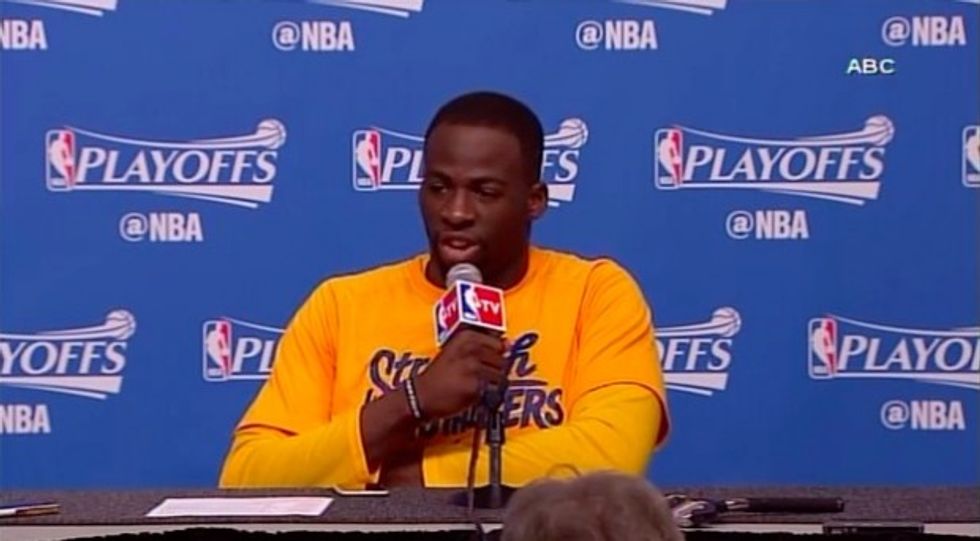 Image source: YouTube
The 2016 All-Star firmly refused to entertain the reporter's speculations that the Warriors' wins were attributable to the flooding in Houston or that the flooding was somehow caused by their success. Instead, he shot back with a passionate response:
I feel sorry for the people of Houston. People are losing their homes, losing their cars, losing their lives, losing loved ones, and you're trying to get a controversial statement out of me about the threes we're hitting. And I know what you're getting at, but you're not getting it out of me. It sucks. If I was from Houston, I'd do anything I can to help the city out. And I'm sure some of those guys are going to do what they can to help the city out.
Green indicated during Sunday's postgame interview that he had been asked similar questions regarding the flooding by the same reporter:
Stop trying to do that. That's not cool, man. You keep asking me the same question about this flood. These people are losing their lives, bro. Losing their homes. Don't ask me that no more, and you're not getting the statement out of me. That's not cool, man. Stop doing that.
Green recently addressed Houston's flooding situation on April 19 in a playoff diary collaboration with ESPN's Marc J. Spears:
"I have been following what has been going on in Houston, and it's very sad seeing that people have been losing their cars and their homes are damaged," Green said one day before the Warriors headed to Houston for a two-game road trip. "I heard a couple of lives have been lost. That is tough. I am not sure what the problem is. I am not sure if their [draining] system is not right. Hopefully, it's something they can get corrected pretty soon."
After making his views aggressively clear Sunday, it's likely that that power forward will not be asked to comment further on the flooding as it relates to his team's succss.
The Warriors will head into Game 5 on Wednesday night to compete for the series victory on their home turf in Oakland, California.
Watch: