Two Methodist preachers intentionally defied denominational rules on Saturday when they decided to openly marry a same-sex couple at First United Methodist Church in Charlotte, North Carolina — a move that could lead to church discipline for the clergy members.
The Rev. Val Rosenquist and Bishop Melvin Talbert presided over the wedding of John Romano and Jim Wilborne — the first gay couple to be publicly married inside of a United Methodist Church in North Carolina, the Charlotte Observer reported.
Watch the couple discuss their wedding below:
The United Methodist Church's Book of Discipline, which outlines church law, is explicit in noting that marriage is confined to one man and one woman. The official church rules on matrimony read, "We affirm the sanctity of the marriage covenant that is expressed in love, mutual support, personal commitment, and shared fidelity between a man and a woman."
Pastors, too, are under strict guidelines.
"While persons set apart by the Church for ordained ministry are subject to all the frailties of the human condition and the pressures of society, they are required to maintain the highest standards of holy living in the world," the rules read. "The practice of homosexuality is incompatible with Christian teaching. Therefore self-avowed practicing homosexuals are not to be certified as candidates, ordained as ministers, or appointed to serve in The United Methodist Church."
But Rosenquist, who is a senior pastor at First United Methodist Church, said that she believes that the rules governing the denomination have "institutionalized oppression and discrimination."
"These folks are our brothers and sisters. It's just a matter of obeying our covenant with one another throughout the church, that we are to minister to all and to treat all the same," she told the Charlotte Observer of gay church members. "I'm just following what I was ordained to do, what I was baptized to do."
And she's not alone, as Talbert — a retired bishop who once spent three days in jail with Martin Luther King Jr. — reportedly said that he believes his decision to defy church rules is an act of "biblical obedience," proclaiming that "discrimination is discrimination," according to the outlet.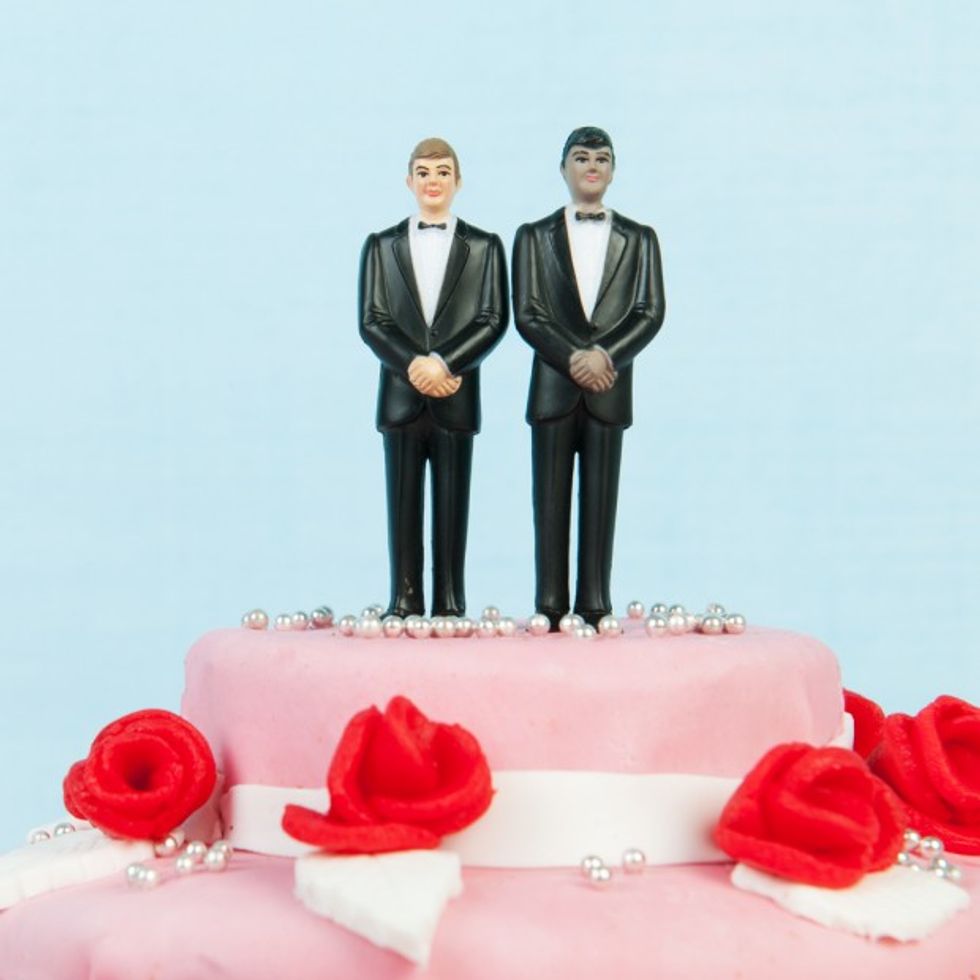 Photo credit: Shutterstock
During a sermon at the wedding on Saturday, Talbert said that gays and lesbians are being discriminated against because of the way "God created them," likening that treatment to the treatment of African Americans and women, among others.
A spokesman for the Western North Carolina Conference of the United Methodist Church released a statement saying that Bishop Larry Goodpaster is aware that the wedding unfolded.
"We are aware of the wedding at First United Methodist Church on Saturday," the statement read. "Bishop Goodpaster will follow the procedures in The Book of Discipline if a formal complaint is filed."
This comes amid ongoing debate within the United Methodist Church, with individuals on both sides of the same-sex debate doubling down. Consider that the Rev. Cynthia Meyer shocked parishioners when she came out as a lesbian during her first sermon of the new year on Jan. 3. Now, she's publicly advocating for the United Methodist Church to officially embrace gays and lesbians.
Meyer, pastor of Edgerton United Methodist Church in Edgerton, Kansas, told the congregation, "At last I am choosing to serve in that role with full authenticity and as my genuine self — as a woman who loves and shares my life with another woman."
And last year, the Rev. Michael Tupper of Parchment United Methodist Church in Parchment, Michigan, was reportedly involved in a wedding ceremony last year for the Rev. Benjamin Hutchinson, a gay pastor.
Tupper officiated the controversial event, signed the couple's marriage license along with another preacher named Ginny Mikita, and joined eight other pastors in publicly naming the couple "husband and husband," the Kalamazoo Gazette reported.
The United Methodist Church also decided back in 2014 to reinstate a pastor who was defrocked after presiding over his son's same-sex nuptials. The Rev. Frank Schaefer successfully appealed the denomination's decision to remove his pastoral rights after he conducted a 2007 ceremony for his son and his partner.
This uncertainty comes as the United Methodist Church prepares to hash out the issue of gay clergy at its May general conference in Portland, Oregon — a battle that threatens to divide the Christian denomination.
(H/T: Charlotte Observer)
--
Front page image via Shutterstock.com.
--
Follow the author of this story on Twitter and Facebook: