Vermont Sen. Bernie Sanders' presidential campaign has begun letting go of several hundred people, according to several sources involved in his campaign.
The layoffs began as Sanders lost four of the five primary states up for grabs Tuesday night to former Secretary of State Hillary Clinton, further deepening the divide in delegates between the two Democratic presidential candidates.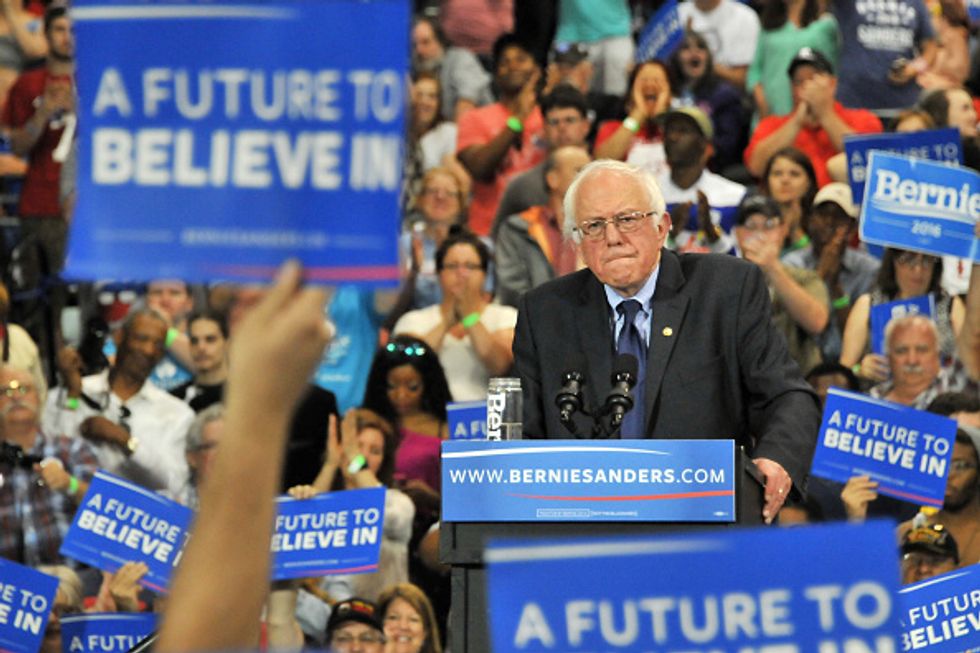 Democratic presidential candidate Bernie Sanders addresses to the crowd during a campaign rally at the Big Sandy Superstore Arena, April 26, 2016 in Huntington, West Virginia. Sanders is preparing for West Virginia's May 10th primary. (Getty Images/Asahi Shimbun)
One field staffer among those laid off told TheBlaze that she would continue to volunteer for Sanders as she believes "that he will bring about a much-needed revolution and while I'm devastated about my job, he is greater than us."
Sanders has promised to stay in the race until the summer convention, but the New York Times reported that he and his advisors will reassess where he stands in the race following his big losses to Clinton Tuesday.
In a statement Wednesday evening, Sanders' spokesman Michael Briggs reiterated the campaign's belief that it has a "path to victory" and credited the layoffs to the completion of a majority of primaries.
"Our campaign has now completed 80 percent of the primaries and caucuses," Briggs said. "We look forward to winning here in Indiana next Tuesday and in the few remaining states and territories holding primaries and caucuses in May and June."
"That means that we no longer require many of the loyal and dedicated state and national support staffers who helped us in places like New York, Connecticut, Rhode Island, Maryland, Delaware, Pennsylvania and other states where the nominating contests have been completed," he added.
The campaign will continue with a "strong and dedicated staff" of more than 300 workers who will help Sanders in California and other contests still to come, according to Briggs.
The layoffs aren't the first for the Sanders campaign, but it was the most monumental, Politico reported Wednesday.
—
Follow Kaitlyn Schallhorn (@K_Schallhorn) on Twitter