Vice President Joe Biden spoke in Iraq about his optimism for defeating the Islamic State, or Daesh, as it's called in the Middle East, after meeting with top government officials there.
"Had a meeting with the prime minster and now the speaker to talk about the progress we're making against Daesh," Biden said. "It's real, serious, and it's committed. And we've talked about — we will be talking about a number of things. But in my last meeting with the prime minster, we talked about the plans that are in store for Mosul and the coordination going on with all of our friends here. And so I'm very optimistic."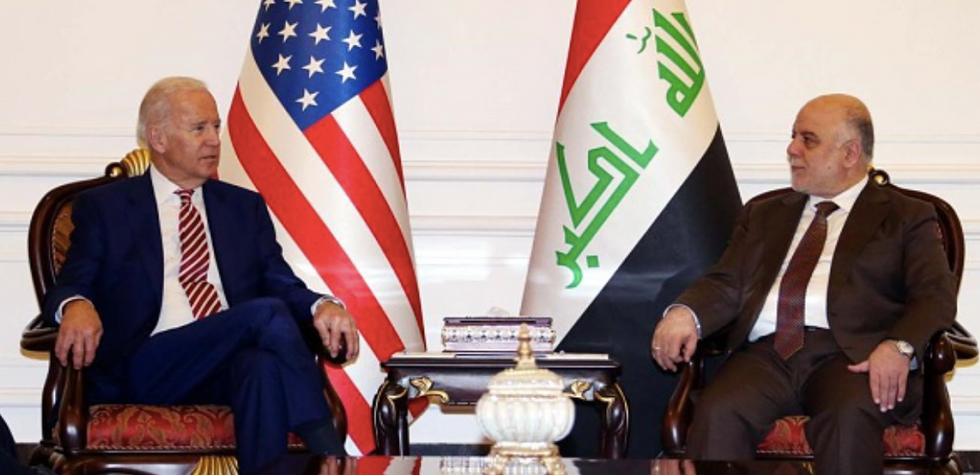 Vice President Joe Biden meets Iraqi Prime Minister Haider al-Abadi during his official visit in Baghdad Thursday (Iraq Prime Ministry Office/Anadolu Agency/Getty Images)
Biden made a surprise trip to Baghdad to meet with Iraqi Prime Minister Haider al-Abadi Thursday. After Biden sat down with Speaker of Parliament Saleem al-Jabouri, he gave his brief statement to reporters.
Biden's visit comes after President Barack Obama announced earlier this week that he would be dispatching another 250 troops into Syria to train and advise rebels on battling the Islamic State. Last week, Defense Secretary Ash Carter announced that 200 advisers were going to help the Iraq military's battle against the terror group.
"This is an attempt to project American support for Abadi and signal that he remains the man," Robin Wilcox, an expert on terrorism and the Islamic State at the Heritage Foundation, a conservative think tank, said of Biden's trip. "The challenges facing Iraq are huge. There are so many competing interests in Iraq, including influence from Iranians."
While the Islamic State has been halted from its strongest point in 2014, merely talking about beating back the Sunni militant group from previously occupied territory isn't enough, Wilcox said.
"The long-term viability and peace that must be kept there depends on who is doing the liberating," Wilcox told TheBlaze. "If it is Shia-backed death squads, the Sunni areas will not put up with it. The focus has to be ISIS, but if you don't solve the political problem, you're going to have the Sons of ISIS or the Brothers of ISIS or another group later."
Though the first priority of the vice president's visit was to show support for fighting the Islamic State, White House press secretary Josh Earnest said Biden's visit was in part to show support for Abadi's political reform agenda.
"The second priority is pursuing a set of political reforms to fight corruption and building confidence in Iraq's central government's ability to lead that country is critical," Earnest told reporters Thursday.
The visit was to show the United State's still stands with the Iraqi government, Earnest said.
"The vice presidential visit is our way to underscore the administration's commitment to those priorities," Earnest said.