The same man behind the three patriotically-dressed girls who took the Internet by storm for singing a theme song for Republican presidential front-runner Donald Trump is now asking for donations to help get celebrities who have threatened to leave the U.S. if the billionaire businessman becomes president out of the country.
Jeff Popnick, manager to the Freedom Kids and father to one of the singers, announced a "Send anti-Trump Celebs to Canada" GoFundMe page Wednesday where people can donate to his new initiative.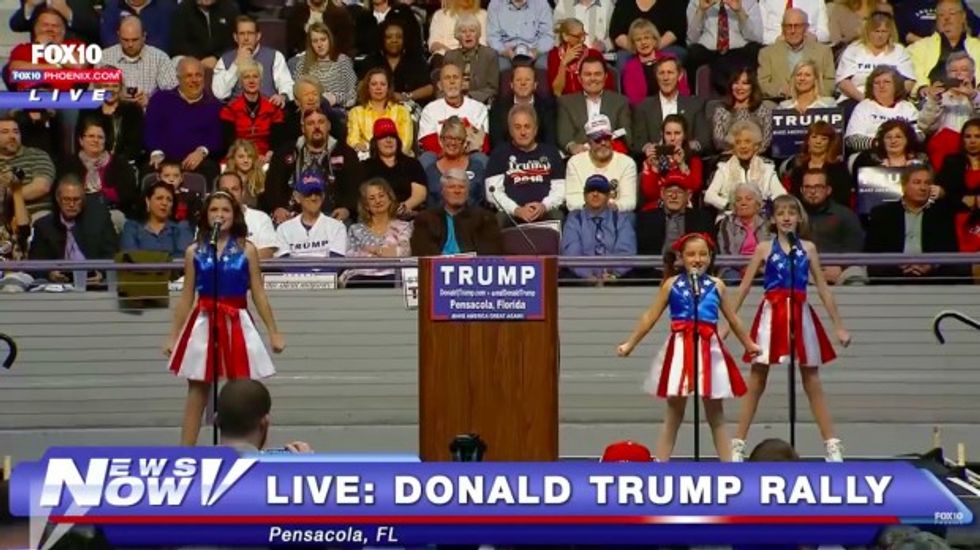 Image source: YouTube/Fox 10 Phoenix
"Whether they realize it or not, they've renounced America and put a price on our country, while the rest of us know that freedom is priceless," he said in a statement. "So, for America and for these celebrities, we'd like to help them live their dream with a GoFundMe page to raise money for their moving expenses. And, yes, we're very serious, this will remain a land of dreams and of freedom."
The campaign hopes to raise at least $1 million, according to Popnick, which equals about $25,000 for each celebrity who has said they would leave the country if Trump is elected in November.
So far, celebrities like Miley Cyrus, Whoopi Goldberg, Samuel L. Jackson, George Lopez, Al Sharpton, Jon Stewart and Cher, among others, have vowed to leave the U.S. if Trump wins in the fall.
The cash would be enough to pay for moving boxes, moving trucks, freight shipping and a one-way, first class airline ticket for up to 40 celebrities, should the GoFundMe page reach its fundraising goal. At the time of publication, the Freedom Kids had raised $65.
Popnick says he was motivated to set up the initiative because he feels celebrities who want to leave the U.S. "should exercise their freedom" and "pursue their dream," and he wants to help make that happen.
"Celebrities 'threatening' to leave America if Donald Trump is elected, should exercise their freedom, pursue their dream," he said, "and in the spirit of Ameritude, we want to help them do it."
But, the Freedom Kids leader says the campaign has nothing to do with the fact that these celebrities are "anti-Trump."
"I just want to stress," he told Fusion, "this is not about people, celebrities, who are anti-Donald Trump. This is about celebrities who are so radical ... that they are literally renouncing our country and turning their backs on the American people."
According to Popnick, to leave the country over who is elected president is equivalent to "betrayal."
"[All the candidates are] Americans who have by and large passed the litmus test. None of them could be running for president if they were criminals," he said.
In the end, though, he says the campaign is nothing more than a "fun project" that will assist anti-Trump celebrities "accomplish their goal" of leaving the country.
—
Follow the author of this story on Twitter: