A Florida officer has been charged with battery after video of him punching a handcuffed woman was released by the Jacksonville Sheriff's Office.
The footage shows 26-year-old Akinyemi Borisade hitting 31-year-old Mayra Martinez, who is handcuffed, while she was waiting to be booked into the Duval County Jail, WJXT-TV reported.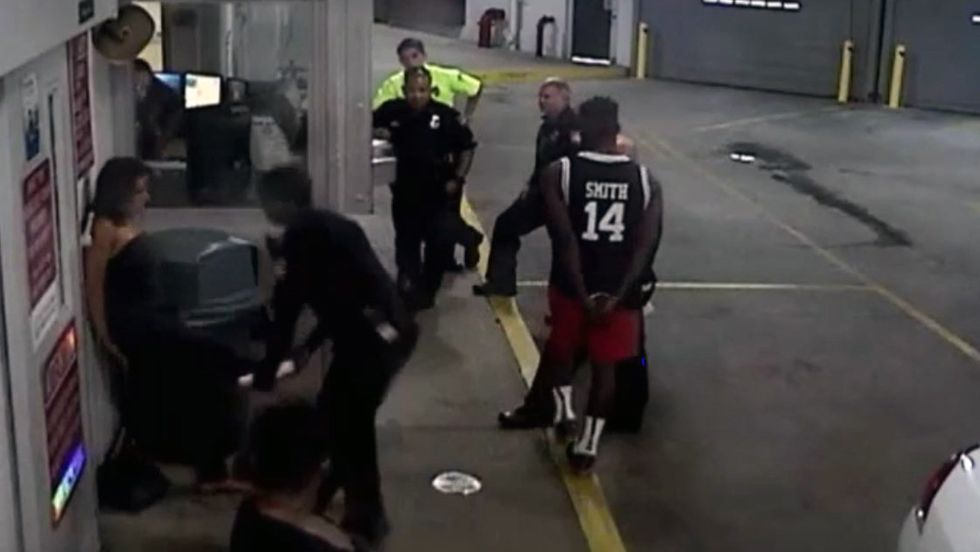 Image source: WJTX-TV
Martinez had been arrested at a bar on charges of alleged trespassing and resisting police.
According to the police report, Martinez was drunk when two officers, including Borisade, arrived and escorted her out of the establishment. It was Martinez's first day of work at the bar, according to WJTX.
Martinez reportedly fought officers as they tried to put her in the patrol car. When they finally got her to the jail, she began kicking Borisade, and that was when the officer allegedly started swinging, as other officers stood back.
"He could have stood there with her, but there was no need to strike her," Undersheriff Pat Ivey with the Jacksonville Sheriff's Office said.
As for the other officers, WJTX crime and safety analyst Gil Smith said they "could have moved in."
"One officer did at least walk over and put his hand on the officer to stop him from continuing to punch the suspect. So I'm glad one officer did take action," Smith said.
But, as Smith also pointed out, some officers did have another person who was handcuffed.
"If they engage with this officer [Borisade] no one is watching the prisoner," Smith said.
Borisade has been fired but is eligible to ask for his name to be cleared so he can serve as an officer with another agency. However, this isn't the first time the rookie officer has been charged with a crime.
When Borisade was 19-years-old, he pleaded no contest to taking items into a dressing room at a mall, walking out of the dressing room without said items in hand and later trying to leave the store without paying for the items.
It was not immediately clear whether any of the officers who witnessed the latest incident involving Borisade will face discipline.
A representative for the Jacksonville Sheriff's Office did not immediately respond to a request for comment from TheBlaze.
(H/T: Daily Mail)
Follow the author of this story on Twitter and Facebook: