Republican presidential candidate Ted Cruz now leads rival front-runner Donald Trump in a new poll out of Indiana, which holds its primary for the GOP nomination early next week.
The Texas senator, who announced his running mate Carly Fiorina this week, now leads Trump 45 percent to the billionaire businessman's 29 percent, according to polling data from the Mike Downs Center for Indiana Politics. Ohio Gov. John Kasich trails at a distant third place with 13 percent, and 13 percent are still undecided.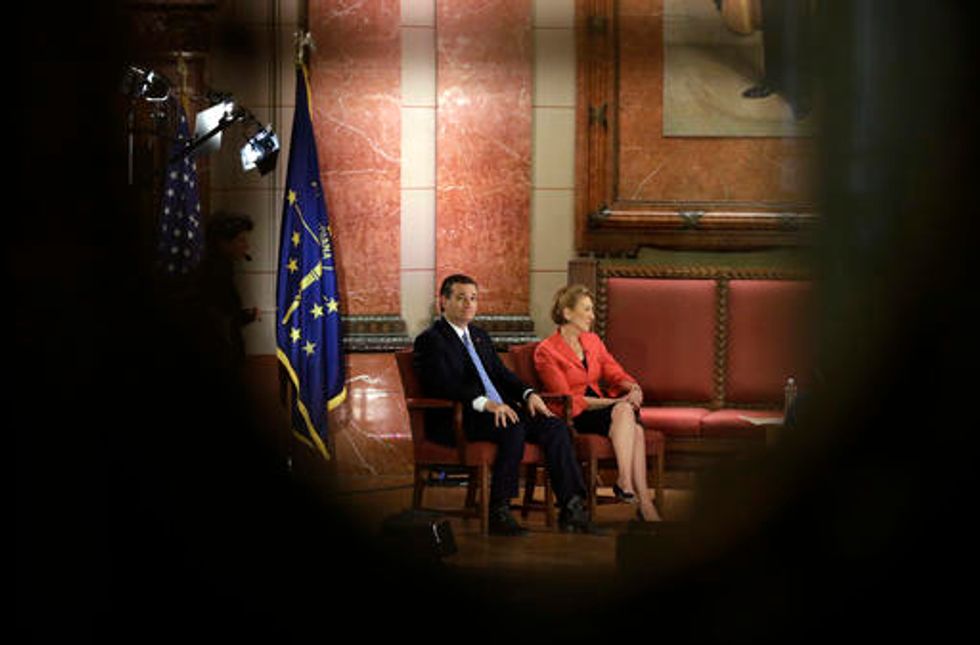 Republican presidential candidate, Sen. Ted Cruz, R-Texas, and vice-presidential candidate Carly Fiorina participate in a question and answer session with Fox News Channel's Sean Hannity at The Indiana War Memorial Friday, April 29, 2016, in Indianapolis. (AP Photo/Darron Cummings)
The new Hoosier State poll, which was conducted among 400 registered likely voters, may be an outlier, considering Trump has maintained a lead in the majority of polls out of the state. The current RealClearPolitics average shows Trump with a 6-point lead.
"This is good news for Cruz, but the volatility of the electorate means all campaigns should view these results cautiously," pollster Andrew Downs said of the development.
This comes not long after Kasich announced that he would not be campaigning in Indiana in an agreement with Cruz to help block Trump from winning the contest there, which would add to the seeming invincibility of a Trump nomination at the GOP convention in July.
In addition, Indiana Gov. Mike Pence (R) announced he would be voting for Cruz in the state primary, which takes place Tuesday, May 3.
"I'm not against anybody, but I will be voting for Ted Cruz in the upcoming Republican primary," the governor said, adding that Trump is giving a "voice to the frustration of millions of working Americans."
The poll was taken from April 13-27 and has a margin of error of 4.9 percentage points.
—
Follow the author of this story on Twitter: