Republican presidential candidate Sen. Ted Cruz (R-Texas) announced businesswoman Carly Fiorina as his pick for vice president during a special press conference on Wednesday.
"I have come to the conclusion that if I am elected to be the next president of the United States, I will run on a ticket with my vice presidential nominee, Carly Fiorina," Cruz announced in Indianapolis Wednesday afternoon to supporters already were waving Cruz/Fiornia signs.
Cruz teased a "big announcement" on Wednesday morning, which sent the political world into a whirlwind of speculation as multiple senior Cruz aides confirmed Fiorina's selection as his running mate to TheBlaze.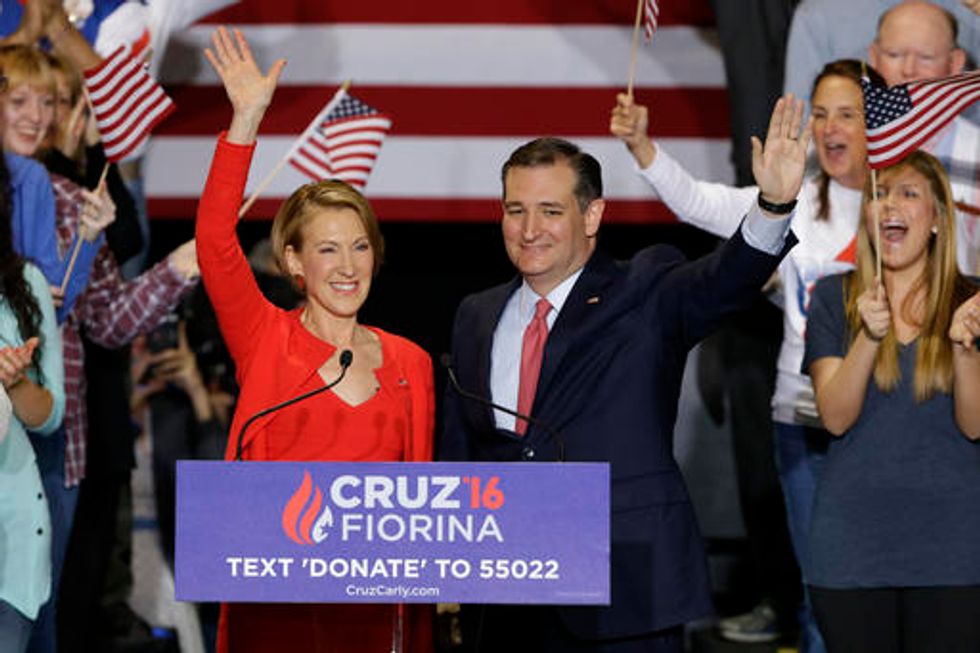 Republican presidential candidate Sen. Ted Cruz, R-Texas, joined by former Hewlett-Packard CEO Carly Fiorina waves during a rally in Indianapolis, Wednesday, April 27, 2016, when Cruz announced he has tapped Fiorina to serve as his running mate. (AP Photo/Michael Conroy)
"Elections are about choices," Cruz had said only moments ago, adding that "the American people deserve a real choice in November."
"Over and over again, Carly has shattered glass ceilings," Cruz said of his new running mate, as he praised her intelligence, principles and background — not forgetting to mention her Texas birth.
Cruz also made sure to take a dig at GOP presidential rival Donald Trump as his pitted Fiorina against the billionaire businessman.
"She knows firsthand that the key to economic growth is not government and more and more government; it's rather less and less government," Cruz said. "My opponent in this race, Donald Trump, like Hillary Clinton and Bernie Sanders, looks to government as the answer to every problem."
"Where we are right now, no one is getting to 1,237 delegates," Cruz said. "I'm not getting to 1,237 delegates, and Donald J. Trump sure isn't getting to 1,237 delegates."
Fiorina received a warm welcome in Indianapolis Wednesday afternoon as supporters chanted "Carly" throughout several points during her own address as she promised that a Cruz presidency would "restore" the country.
"This is a fight for all of us. For our party, for our future, for our children's future," Fiorina said when she finally took the stage in Indiana Wednesday.
"I am proud of some of the enemies that Ted Cruz has made. It means he's gonna fight," Fiorina said.
She, too, criticized Trump and contended that he and Democratic presidential front-runner Hillary Clinton will "not challenge the system" as "they are the system." She continued to say that Trump "doesn't represent" her or the GOP — a mantra she used when she ran for president as well.
"I can tell you that the character of Ted Cruz has been revealed over time and under pressure and in the pattern of his life," she said. "He is a principled fighter; he is a man of character and conviction."
While announcing her acceptance as Cruz's running mate, Fiorina also sang a brief song for Cruz's two children.
"I know two girls that I just adore," she sang. "I'm so happy that I can see them more."

GOP presidential hopeful Ted Cruz's campaign unveiled its new logo as the Texas senator official tapped businesswoman Carly Fiorina as his running mate. (Image via screen grab)
Fiorina endorsed Cruz in early March and relaunched her Carly for America PAC later that month in order to help "conservative outsiders win in November."
"Ted Cruz is a true constitutional conservative — a real reformer, and a strong leader," Fiorina said in an email following her endorsement. "And he can and will unite our party, and fix the festering problems in Washington — whether it's our broken immigration system or the IRS. Ted Cruz is that conservative."
Cruz told supporters Wednesday that Fiorina had a "condition" when the pair discussed her endorsement — she wanted to be "all in" when it came to campaigning for Cruz.
"That's the kind of condition you want to hear," Cruz said. "Carly looked at me and said our country is in crisis and we have to do this together."
Cruz tapping Fiorina as his running mate isn't particularly surprising as it was widely reported that she was on his short list just earlier this week.
Such an early announcement before a candidate is officially the party's nominee is unusual, but isn't unprecedented. However, such a move hasn't happened since former President Ronald Reagan's unsuccessful presidential bid in 1976.
Cruz's big announcement comes on the heels of massive wins for front-runner Trump in all five primary states up for grabs Tuesday night. Cruz took second place in only one state — Pennsylvania — and finished in a dismal third in the rest of the states.
Cruz announed his selection as he campaigns in Indiana ahead of the state's May 3 primary where 57 delegates are up for grabs in a winner-take-all system. Trump is polling ahead in the Hoosier state by an average of 6.3 points.
This story has been updated. 
—
Follow Kaitlyn Schallhorn (@K_Schallhorn) on Twitter