As Republican presidential front-runner Donald Trump held one of his typically raucous rallies inside the Pacific Amphitheater in Costa Mesa, Calif., Thursday night, a wild scene was unfolding outside.
A large group of protesters flooded the streets as Trump kicked off his Golden State campaign. The crowd continued to increase as the billionaire businessman's speech drew to a close around 8:45 p.m. local time and he began signing autographs as his Secret Service detail stood close by.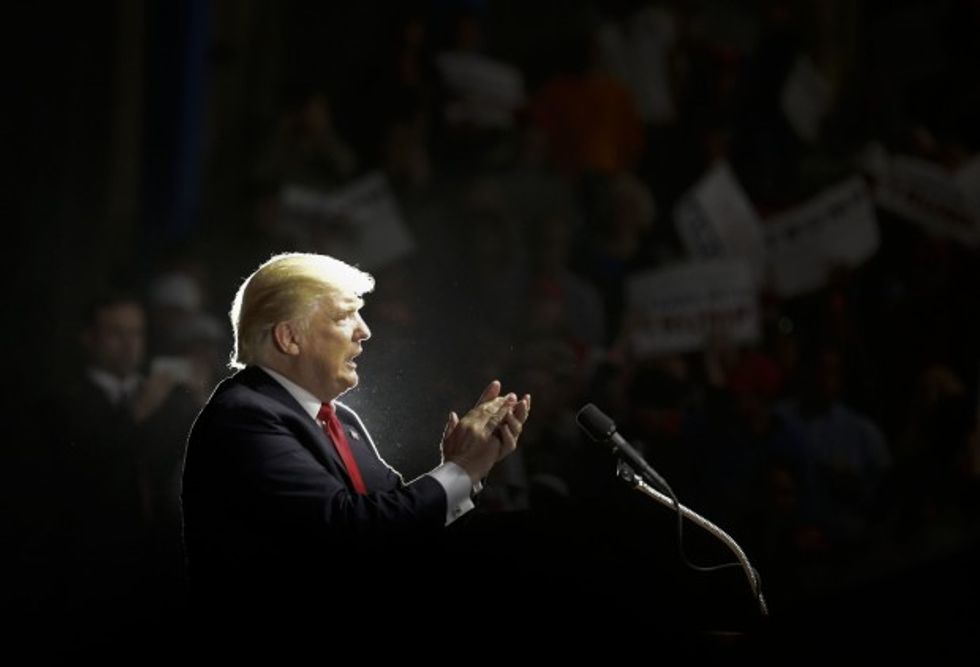 Republican presidential candidate Donald Trump speaks during a rally, Thursday, April 28, 2016 in Costa Mesa, Calif. (AP Photo/Chris Carlson)
The Orange County Sheriff's Department had deputies on horseback and on foot right outside the venue, seeking to control the large crowd. They were even assisted by officers from the Tustin and Costa Mesa police departments, according to KTLA-TV. Yet that was not enough to rein in the violent anti-Trump crowds.
At one point, several protesters rushed a Costa Mesa police cruiser and smashed out the rear window. Several others reportedly joined in, attempting to overturn the cop car before officers moved in.
The police car, from a few minutes ago pic.twitter.com/o2ChcXadT3

— Jim Dalrymple II (@JimDalrympleII) April 29, 2016
From earlier, when protesters were trying to flip the police car pic.twitter.com/6tY3dzMOgx

— Jim Dalrymple II (@JimDalrympleII) April 29, 2016
Even from the beginning of the rally, which was slated to start around 7 p.m., there seemed to be an equal measure of excitement and frustration from supporters and dissenters alike.
The venue holds 8,200 people and approximately 3,000 attendees were turned away, which resulted in repeated chants of, "Let us in!" In addition, as the crowds began to grow, antagonizers were seen hurling debris at cars driving nearby the amphitheater.
Here are Trump supporters chanting "let us in" after being turned away earlier. pic.twitter.com/JB9AhVrMOO

— Jim Dalrymple II (@JimDalrympleII) April 29, 2016
#Trump protesters getting violent. Throwing debris at cars driving by pic.twitter.com/sLqrI1n6Zp

— Gina Ferazzi (@GinaFerazzi) April 29, 2016
These protests come two days after an Anaheim City Council meeting resulted in the rejection of a controversial measure that would have denounced Trump's often-provocative rhetoric. Five people were pepper-sprayed at that event.
The Democratic Party of Orange County and the Orange County Young Democrats urged demonstrators to attend Thursday's Trump gathering, calling for a "peaceful protest," according to a Facebook event page.
"We do not believe that there is any room for racism, sexism, religious bigotry, disregard for international law, violence, or any other such phenomena in our political discourse," a statement on the event page read.
The California presidential primary will take place June 7 and has the highest number of delegates at stake with a total of 172 up for grabs.
After sweeping five primary states earlier this week, Trump edged even closer to securing the Republican nomination. The New York real estate mogul leads the pack with 994 delegates, followed by rival Ted Cruz with 566 delegates and Ohio Gov. John Kasich, who has 153 delegates.
—
Follow the author of this story on Twitter: