BAGHDAD (AP) — Hundreds of protesters climbed over the blast walls surrounding Baghdad's highly-fortified Green Zone for the first time on Saturday and stormed into parliament, carrying Iraqi flags and chanting against the government.
The breach marked a major escalation in the country's political crisis following months of anti-government protests, sit-ins and demonstrations by supporters of influential Shiite cleric Muqtada al-Sadr. The Green Zone is home to most ministries and foreign embassies and has long been the focus of al-Sadr's criticism of the government.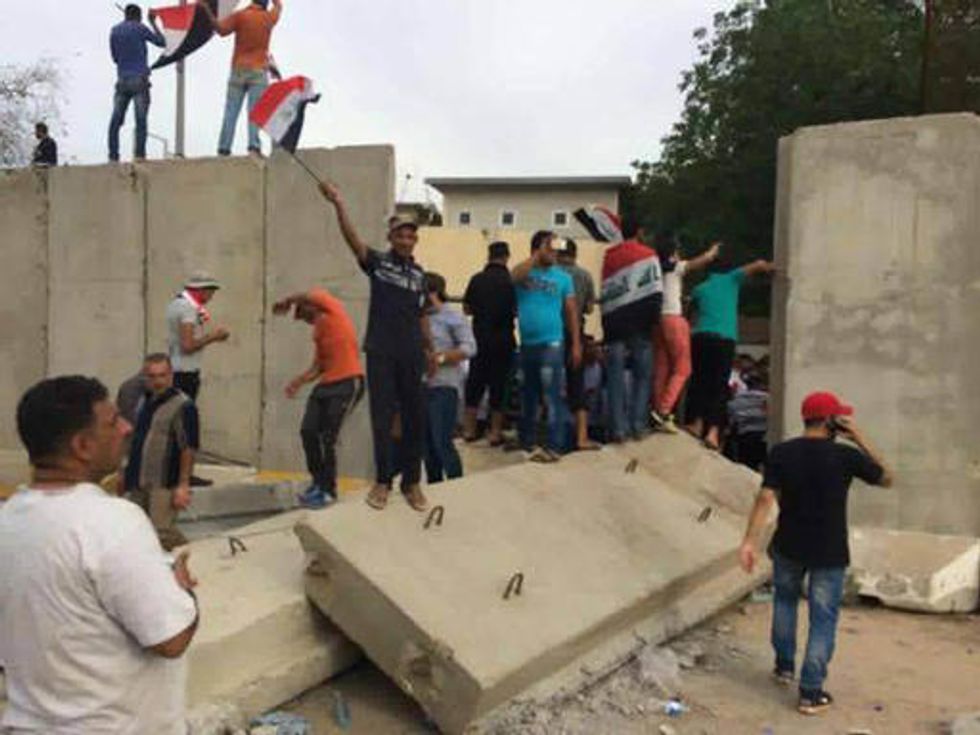 AP Photo/Khalid Mohammed
Earlier Saturday, al-Sadr accused Iraqi politicians of blocking political reforms aimed at combating corruption and waste. While al-Sadr didn't call for an escalation to the protests, shortly after his remarks, his supporters began scaling the compound's walls. A group of young men then pulled down a section of concrete blast walls to cheers from the crowd of thousands gathered in the streets outside.
Cellphone video uploaded to social media showed dozens of young men running through the halls of parliament, chanting slogans in support of al-Sadr and calling for the government to disband.
"We are all with you (al-Sadr)," one group of men yelled as the entered the building's main chamber.
Other videos showed a group of young men slapping an Iraqi lawmaker as he attempted to flee the crowd, and protesters mobbing another lawmaker's motorcade inside the Green Zone. The footage appeared authentic and corresponded with The Associated Press' reporting.
Iraqi forces tightened security across the capital, sealing off checkpoints leading to the Green Zone and halting traffic on main roads heading into the city, according to the Baghdad Operations Command.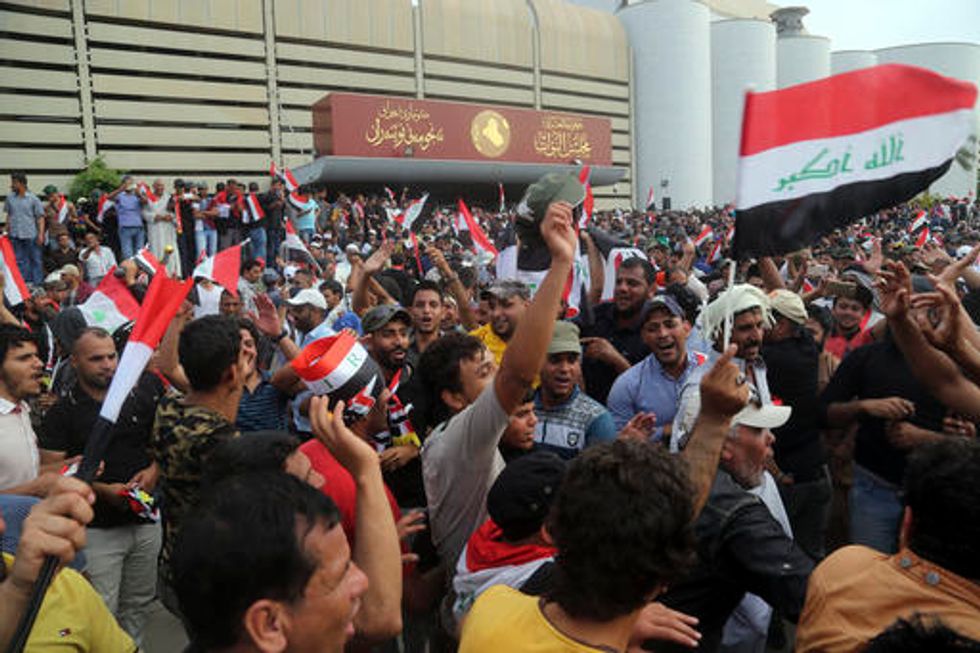 AP Photo/Khalid Mohammed
But Iraq's elite counterterrorism forces, who have in the past been called on to reinforce security in the capital, say they are standing down for now. Police and troops appeared to be taking no action against the protesters.
"We still view this as a demonstration," said Sabah al-Numan, spokesman for the counterterrorism forces. "We aren't taking any part in this as it's not something regarding terrorism."
He added, however, that if the unrest escalates his forces may be forced to intervene to "protect the legitimacy of the government."
Increasingly tense protests and a series of failed reform measures have paralyzed Iraq's government as the country struggles to fight the Islamic State group and respond to an economic crisis sparked in part by a plunge in global oil prices.
A broad-based protest movement last summer mobilized millions and pressured Iraqi Prime Minister Haider al-Abadi to submit a proposal to reduce the size of the Cabinet and replace political appointees with independent technocrats.
But that proposal has been stalled in the face of Iraq's entrenched political blocs, and in recent months al-Sadr's movement has come to monopolize the protests.
Earlier on Saturday, a bombing in a market filled with Shiite civilians in Baghdad killed at least 21 people and wounded at least 42 others, according to police and hospital officials, who spoke on condition of anonymity because they were not authorized to brief reporters.
IS claimed the attack, saying it used a three-ton truck bomb. The extremist group regularly carries out attacks targeting the security forces and the country's Shiite majority.